"We're branding humans"
by Than Acuff
This could be the biggest season for fat biking, as local fat biking enthusiasts have rallied to bring new groomed trails and Crested Butte will be the host of the Borealis Fat Biking World Championships January 27-31.
"This thing is taking off like the Mars Lander," says Crested Butte/Mt. Crested Butte Chamber of Commerce director and fat bike stalwart Dave Ochs.
The origins of the modern-day fat biking surge can be traced to the Sahara as well as to Alaska. Using fat tire prototypes from Michelin, a fat bike was ridden across the Sahara in 1986. At almost the same time, a man by the name of Steve Baker with Icycle Bicycles in Anchorage was welding rims together and designing bikes to travel across frozen trails in Alaska.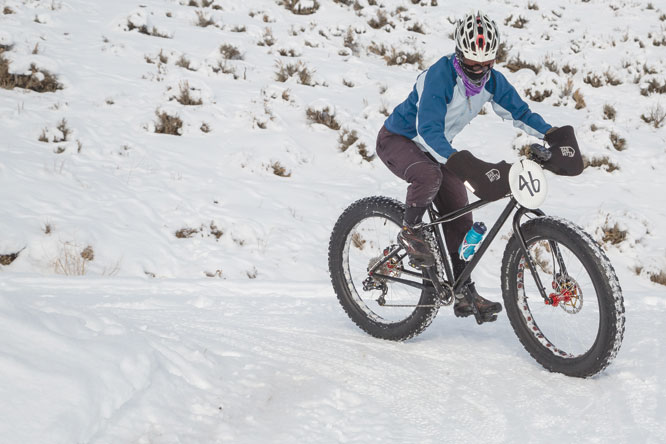 Fat biking has grown steadily over the past couple of decades in states such as Minnesota and Michigan and started popping up in the Gunnison Valley about five years ago. It had its official coming out party three years ago when a fat bike race was included in the Alley Loop weekend festivities. While several have embraced the idea of biking in snow, several others rue the day they get on a fat bike instead of skis.
"We're like the snowboarders in the 1980s," says Ochs.
That said, this year, the sport appears to be taking off with the first-ever Borealis Fat Bike World Championships in Crested Butte January 27-31. USA Cycling does a National Championships. Last year the American Birkebeiner did their first version of a fat bike Birkebeiner, attracting 700 fat bikers.
But thanks to the brainwaves of one Jason Stubbe, the push from Aaron Huckstep and the energy of Ochs, only Crested Butte is the home of the Fat Bike Worlds.
"Crested Butte is seen as one of the founding places for mountain biking and we want to extend that to fat biking," says Ochs. "We would like to champion Crested Butte as a fat biking destination. Crested Butte has every opportunity to lead the charge in Colorado."
While last year saw the advent of a fat bike race series in the valley, this year the series has been scrapped to focus on the Fat Bike Worlds. Nevertheless, Ochs assures there will be a less formal fat bike series available.
"There's talk of a loose series, people getting together to ride and drink beer, but the emphasis is on Fat Bike Worlds," says Ochs.
One doesn't just step into the Fat Bike Worlds though, without some riding and that can be done almost anywhere in the surrounding valleys.
"Technically, you can fat bike anywhere up any of the drainages," says Ochs. "All you need is a packed-out track."
Thanks to the efforts of Gunnison Sno Trackers and a new single track groomer, there will be a trail available in the Lily Lake area leading up to and during the Fat Bike Worlds for people to get a real sense for backcountry fat bike riding.
"Thanks to all of these partnerships, we can create a backcountry fat bike single track experience at 10,000 feet," says Ochs.
Closer to town, fat bikers can ride on the Poop Loop, Riverbend Connector, Teo Connector and the Recreation Path.
Looking ahead, Ochs is in talks with Crested Butte Mountain Resort to get fat biking on the resort, both up and down, as well as in the North Village area.
"There may be a super-groovy downhill fat biking course," says Ochs. "Things are in the works."
Registration is currently open for the Borealis Fat Bike World Championships at cbchamber.com. Demos will be available to use at the event but are limited, so Ochs recommends people sign up early to get on the list.
Venues for the races will include a backcountry course, a course in the town of Crested Butte, and a course on Crested Butte Mountain Resort (CBMR). Winners will have the unique opportunity to get an original Fat Bike Worlds brand anywhere on their body.
"We're branding humans," says Ochs. "Fat Biking is stirring up the bike industry and our country like a trailer park tornado. We are proud to be part of the action. Old-timers here helped found mountain biking. We are carrying on the tradition, creating high-altitude backcountry and town-accessible fat bike single track. Crested Butte rallies whenever bikes are involved and fat biking is quickly becoming a big part of our winter culture. This is the perfect opportunity to showcase our incredible valley with this inaugural event."