Outscore opponent 13-0 over two games
by Than Acuff
The West Elk Blades girl's u19 hockey team opened the regular season on fire last weekend, racking up two wins in a row as they pummeled the Junior Eagles 9-0 and 4-0.
While coach Tony Lambert had an idea that their opponent was on the softer side of things, questions still swirled around his own team as they headed into their first games of the season.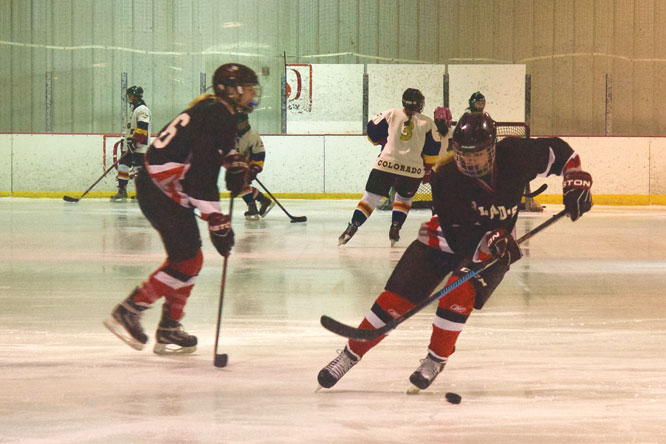 "I had no idea what we were going to get," says Lambert. "We've got a lot of underclassmen who are getting a lot of time."
All questions were answered early in the first game as the underclassmen and everyone else stepped right into their roles on offense and the defense proved to be as strong as Lambert predicted two weeks ago.
"They all played great and our defense was pretty much an iron curtain," says Lambert.
The Blades jumped out to a 3-0 lead in the first period on goals from Kendl Santelli, Jaden Cavarra and Haley Shrieves.
The Blades continued to handcuff the Junior Eagles in the second period as aggressive fore-checking set the Blades up for continued success on offense and when the Junior Eagles looked to ice the puck, the Blades defense cut off the clearing pass and continued to feed it into the offensive zone.
Shrieves scored two more in the second period to complete her hat trick and Madison Lambert netted two as well for a 7-0 lead going into the third period.
"We established ourselves in their zone and completely dominated off of the forecheck," says Lambert.
The Blades slowed things down in the third period with goals coming from Alexis Duke and Sierra D'Aquila sealing the 9-0 win.
The Blades let off the throttle in the second game as the Junior Eagles were suffering from an illness running rampant through their team. Lambert took the opportunity to have his team focus on positioning and passing, taking shots only after completing four passes in the offensive zone.
Four Blades players scored in the game, with Bryar Robbins, Duke, Santelli and D'Aquila scoring one apiece.
The Blades will host their first games of the season this Saturday and Sunday, December 19 and 20. They play in Gunnison at 6:30 p.m. on Saturday and 1 p.m. on Sunday.
"We definitely have to work on our neutral zone transition and better positioning in front of the net," says Lambert.