Stellar conditions for Junior's showdown
by Will Dujardin / westelkproject.com
IFSA (International Freeskiers and Snowboarders Association) athletes from around Colorado, New Mexico, and Utah descended on Crested Butte Mountain Resort for the first of two junior events to be held here, this time the Rocky Mountain Regional Series event.
With a decent start to the year and the resort skiing great, the Crested Butte Mountain Sports Team (CBMST) and local athletes were ready to take on the regional competition. After all was said and done, 14 CBMST athletes competed with a total of 104 athletes, 10 athletes making the finals and five taking podium finishes, highlighted by Carson Hildebrandt and Dane DeFrates going 1-2 in the competitive 12-14 skier boys division and Turner Petersen and Jon Clay Patterson taking third and sixth, respectively, in the 15-18 skier men division.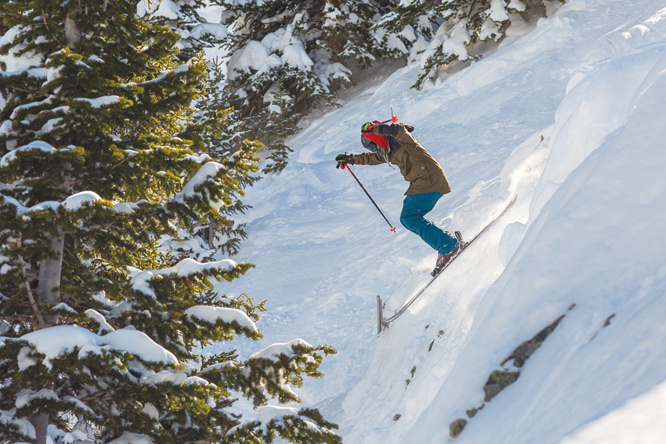 The action kicked off Saturday, February 6 on the Hawks Nest venue on the North Face. Navin Federico had the CBMST's lone U12 start with locals Tor Hudson and Jacob Bernholtz in a division of eight athletes. Navin found himself in fourth place going into finals after Tor and Jacob had control issues. Ella Haverkampf threw down a safe, solid run to slot herself into fourth while local shredder Avery Bernholtz took a quick tumble and was cut from the division's six athletes. Dagan Schwartz, at this point the most-experienced freeride snowboarder in CBMST history, was able to rock a solid run in his small division of two athletes to take first on the day.
In the 34-athlete 12-14 boys ski division, CBMST was represented by a few freeheelers, Dane DeFrates, Luke Shull, and Dylan Alagna, alongside the alpine skiers Jesse Gerber, Nate Ball, Jackson Warner, and Carson Hildebrandt. Luke and Dylan both had strong runs but were unfortunately self-eliminated after falls. Jesse Gerber and Nate Ball found themselves just on the wrong side of the cut in 22nd and 19th, respectively, out of 34, after fun runs in their first competition on their home mountain. Jackson Warner was able to execute his airs and arc some turns to finish in 16th and qualify for finals on Headwall.
The top three runs of the day belonged to Crested Butte locals, Dane DeFrates and Carson Hildebrandt represented the CBMST in first and third sandwiching the local independent shredder, Brooks Hudson, in second, all separated by just 1.5 points for the finals on Headwall.
All four CBMST athletes in the 15-18 ski men division qualified for finals in a field of 38. Matthew Harper-Johnston and Conrad Truettner executed well to take 12th and 11th, respectively, while Jon Clay Patterson had a top run slightly marred by a hand drag control issue to finish in ninth. Turner Petersen was on fire, nailing his airs and staying fluid to find himself in first place going into the finals.
Headwall was a beautiful sight on Sunday with Angle Gully open to 15-18 year old athletes. CBMST athletes were hungry for the podium. Navin Federico and Ella Haverkampf continued their solid skiing to both move up into third place from fourth. Dagan Schwartz had the top runs both days among all snowboard athletes in both divisions to take first in his proper 12-14 boys snowboard category.
The action continued into the bigger 12-14 skier category with Jackson Warner rocking a good line to maintain into 13th place. Dane, Brooks, and Carson were ready for a podium battle with Carson opening up the top three action with a super strong run over, around, and through the rocks in the Upper Triangle of Headwall down onto the Handrail next to Powder 8 gully.
After a remarkable third place finish at the Snowbird National a few weeks ago, Brooks Hudson was ready to send but unfortunately couldn't stick his effort off of Box Rock, being one of only a handful of athletes to attempt the move. Dane DeFrates continued to drop the knee and crush his line, but was barely overtaken by Carson, the boys' finishing separated by .11 of a point after two days of amazing skiing.
The older athletes made some impressive moves in and out of Angle Gully. Unfortunately, Conrad Truettner and Matthew Harper-Johnston had control issues that knocked them down into 17th and 15th, respectively. Jon Clay Patterson had a little work to do and laid down the second-best run of the day with smooth skiing and a good exit through Angle to move up to sixth.
Turner Petersen had the top dogs of the region gunning for him and laid down a rock-solid run similar to Jon Clay's to stay on the podium in third place.
Next up for the CBMST is the Regional-National combination at Taos Ski Valley, N.M. next week, over winter break. Full competition results are available on the IFSA Facebook page.