Low inflation, high action, free beer, lesbian rockers, human branding, Rain Song
[  by Than Acuff  ]
I still wonder why anyone would want to ride a Fat Bike, but given what transpired this past weekend at the Borealis Fat Bike World Championships, there's definitely something to this fat bike thing. Granted, I may have taken a sip of the Kool-Aid, or at least caught a contact buzz from all of the stoke throughout the weekend, but, still. It didn't hurt that SOMA was handing out free eighths of their product to race participants.
This past weekend, close to 300 fat bikers rolled into Crested Butte for the four-day fat bike event and all but maybe two or three were treated to a top-shelf experience. I mean, what could be better than suffering on your bike for anywhere from two to five hours only to roll, albeit somewhat slowly, into a bunch of free Odells beer and a Lez Zeppelin show? And that was just one day of the four-day event.
The weekend was not without its hiccups, not from the organization side of things mind you, but from the riding side of things as the opening event on Thursday had its fair share of carnage.
Individuals and teams lined up at 11 a.m. on Thursday, January 28 for the Relay/Solo race on the North Village trails under bluebird skies and freshly rolled fat bike track. But as the race progressed, fatigue and course conditions led to some fat bike pile-ups, which then led to some blood, sweat and, eventually, beers.
Brick Oven rider Jordan "Lieutenant Dangle" Williford was up front and in the mix for most of the race, and while conditions were fast early on, the track started breaking down under the pressure of riders and the sun.
"The first four laps, the track was rock solid and the racing was pretty tactical," says Williford. "Somewhere in the fifth lap, the track got really soft and I ended up crashing three times. It was less of a drag race then, more about bike handling."
Williford ended up finishing third with Tokyo Joe's/FSA rider Taylor Shelden taking the win and Topeak Ergon and Gunnison rider Dave Wiens in second place.
But the pain came for several others as the track disintegrated and several riders suffered everything from broken clavicles to broken ribs and a host of bloody faces.
continued from page 1
"You could let it rip on that steep descent and were hitting speeds of 30 miles per hour but by the third or fourth lap, it was treacherous," says Williford.
"That hillside is facing directly into the sun—you had to work it, it was tough riding," adds event organizer and Crested Butte/Mt. Crested Butte Chamber of Commerce director Dave Ochs. "I saw one bike do at least three flips. It's gonna happen. That's racing."
On Friday, user groups, government agencies and curious onlookers got together to discuss the role of fat biking while fat bikes were out for anyone and everyone to demo. The day provided a brief lull in the fat bike tsunami only to ramp back up for the premier event, the Borealis Fat Bike Worlds on Saturday, January 30.
Initial weather forecasts predicted the beginning of the impending massive storm to hit on Saturday and could have easily turned the Fat Bike Worlds into a slogfest but, as if Mother Nature herself wanted to see what all the hype was about, she held off. Additionally, the Crested Butte Nordic Center literally rolled out the white carpet for the event, grooming a 5.5-mile long course for fat bikers with 500 vertical feet of climbing.
The open class had a three-lap race that meant a healthy 16.5-mile long race with 1,500 feet of climbing. The elite class of men and women were treated to five laps or 27.5 miles of riding with 2,500 feet of climbing.
"It was a hard course because of the speed involved but I thought it was a good mix of hills and descents with some long flats," says Williford.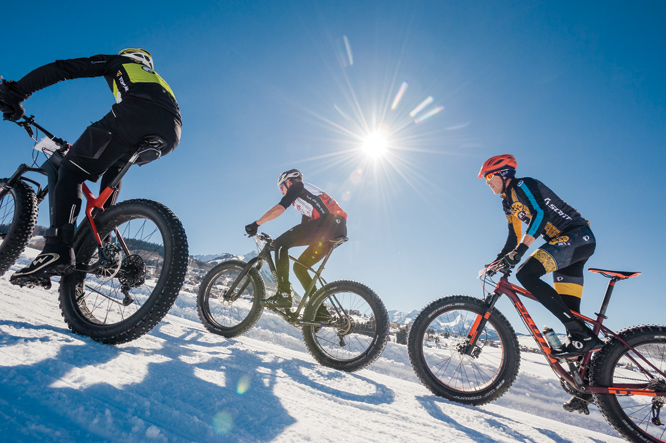 The line-up at the start of
the race had all the prestige
of a major bike-racing event,
and why shouldn't it? It was the World Championships. Cameramen were out running around firing off photos, a drone was launched for the overhead and Warren Miller filmers were hustling around as the riders were positioning themselves in the appropriate start waves.
The wave start proved wise because about 50 yards into the race, the course bottlenecked into a corkscrew section, which could have easily resulted in one massive fat bike fiasco. To keep things from getting too serious though, race organizers did build an optional jump at the top of the downhill section for riders and more often than not, fat bikers rose to the challenge only to stuff it hard on the landing—over and over and over again.
The more proficient riders handled the jump without incident but, overall, I would estimate a 20 percent success rate of all who hit the jump.
Team RideBiker/Isoride athlete and local rider Amy Beisel defended the home trails to take the women's elite world champion title. Beisel is a successful mountain bike racer but had just five rides on a fat bike before lining up Saturday morning.
"It played out completely different than I expected," says Beisel. "I didn't expect to win."
Beisel was in a battle with one other rider for the lead during the first lap but eventually was out in front by lap two and remained "focused and relaxed" to stay in front and take the win in a time of two hours, 30 minutes and 44 seconds.
"The first lap was back and forth," says Beisel. "I would crash and she would pass me and then she would crash and I would pass her. It's a little different from mountain biking technically. You gotta commit to the rut and everything is just slower. You can't react as fast as you would on a mountain bike or you just end up crashing."
With a strong line-up at the front of the pack for the men's race, Williford decided, if nothing else, he would make his move at the start.
"I wasn't really sure what to expect. There was so much horsepower there so I decided to go for the hole shot," says Williford.
Williford got the hole shot and led into the first climb when the race blew up.
"There was an attack on the first climb and it was fireworks after that," says Williford.
The lead pack set a furious pace from that point on and were rolling thunder all race, led by Robbie Squire. Squire races for the Citadel-Holowesko professional road team and jumped into the fat bike fray just days after competing in Argentina's Tour de San Luis stage race. And while this was his first fat bike race of his life, he made quick work of the course, building an insurmountable gap by the fifth and final lap and cruising to the win in just under two hours.
Williford posted the top finish among local men in the elite class, covering the course in a time of two hours, 14 minutes and 25 seconds to come in eighth.
And fat bikers didn't just feel the burn, they smelled it too. One caveat to being crowned Fat Bike World Champion was a quazi-stringent requirement to get branded, and not in the marketing way. We're talking red hot iron applied to human flesh type of branded. While six of the seven World Champions opted out, men's open champion Andre-Paul Michaud lay face down in the snow and took it on the ass, like a champion.
"Robbie [Squire] was noticeably nervous about getting branded and told me, 'I can't get buried in a Jewish cemetery if I'm branded,'" explains Ochs. "I'm not going to force anyone into melting their skin."
The race concluded, Lez Zeppelin took the stage and Ochs became one of only two men to ever take the stage with the band, the other one being the lead singer for Quiet Riot, as he joined them on guitar for Rain Song, even though there was some serious pushback from the band and their agent prior to the show.
"I told them I know the song just like it is on Houses of the Holy," says Ochs. "The lead singer was saying, no dudes ever get onstage with Lez Zeppelin."
But just as the smoke cleared from branding Michaud, Ochs got the call to the stage and he hopped up to play the acoustic backing guitar on Rain Song.
"When I started playing Rain Song, it was the greatest moment of my life," says Ochs. "I felt like a rock star. It was a fantastic honor joining the Lezzies on stage."
The skies then opened up to drop a foot of new snow overnight but did that stop fat bikers from Sunday's Hair of the Dog downhill?
Hell no.
Granted, the final day was a bit muted by the fresh snow but a gaggle of fat bikers was determined to finish the weekend and get their money's worth and get some downhill laps in on Awakening while downing still more free Odells beer.
"I think it shows what fat bikers are all about," says Ochs. "It wasn't the best conditions and they still did it."
So where does that leave us? Are we the official home of the Fat Bike World Championships, sanctioned or not? There are several Midwest fat bike communities that would dispute that and while there is an "official" USA Cycling Fat Bike National Championships in Ogden, Utah in one week, I seriously doubt they'll have free beer and anything close to Lez Zeppelin. According to Ochs, Fat Bike Worlds is here to stay.
"We're talking about it and we're excited about it," says Ochs. "Eliza [Cress, chamber event coordinator] killed it, the volunteers killed it and both towns and the community stepped up huge. There's opportunity to go bigger and make it better. It just fits here. Just like the Chainless Race and the AJ."