Women rise up! 
by Crystal Kotowski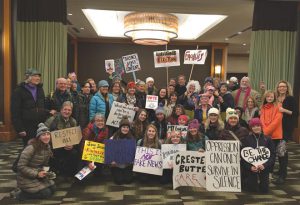 Hundreds of people from the valley participated in last Saturday's women's marches in Crested Butte, Denver and Washington D.C. It seems most came away not only impressed but inspired.
Crowd counting experts have confirmed that Saturday's Women's March on Washington was roughly three times the size of the audience at Friday's presidential inauguration, according to The New York Times. Sister marches occurred in all 50 states and on every continent—with the marching count reaching 5 million worldwide. The quest for human rights, gender equality, environmental justice, democracy—and simply respect—compelled local citizens to attend myriad marches.
"We will not have compassionate power in a progressive country until women have their deserved power. We cannot let the results of our actions over the past 50 years slip backwards," said Crested Butte attorney Jim Starr, who marched in the Women's March on Denver. Starr has participated in a multitude of marches spanning decades and multiple causes. "I am sad we are having to deal with many of these issues again," he said of his history.
Not only were marches held in large cities around the world, but small mountain towns joined the march, too, as evident in Crested Butte. Kathryn Vogel, a co-organizer of the Women's March on Crested Butte, told local marshal's deputies that she expected 30 to 50 participants for the march. That was well short of the numbers that actually showed up Saturday afternoon.
Vinotok Green Man Kyle (Squirl) Ryan spent Saturday morning skiing on the Red Lady lift, carrying a banner and telling people about the march. "Being Green Man this year has opened up a space for me to make many positive changes in my personal life and my community. One of these changes is to deepen my political engagement. I feel that I can no longer vote and complain. I feel that the complacency and feeling of helplessness is too prevalent in our political process and a major stumbling block to our democracy.  Therefore, this was my first, but certainly not my last, political march/protest/action," Ryan said.
Debra Reich and Vogel carried another informational banner around the Magic Meadows Nordic area. Then, the march hit Elk Avenue at 3 p.m. It quickly became apparent that the original estimate was going to be extremely off the mark. In fact, hundreds of people showed up.
"It's estimated that 400 folks came out to say: 'We love and support our women, our water, our wilderness and our Earth warriors.' What a tribe to live and act locally with! It is a strong indication of our shared ethos and commitment," said long-time community activist, Marcie Telander of her participation in the Women's March on Crested Butte.
Nearly 60 additional Crested Butte locals traveled to Denver to partake in the historic march. "As we neared the street it was on; we just gently got swooped up into the sea of people! It was maybe three quarters women and one-quarter men. All ages and colors. Many had pink hats and many had signs! Sometimes we would chant 'Tell me what democracy looks like, THIS is what democracy looks like!' Sometimes we would hoot and holler. Other times we would just be smiling at others and reading the signs. The march moved slowly because there were so many people. Well over 100,000 at last count!" said Kelly Jo Clark, another veteran local activist who participated in several marches during her seminary years.
Red Lady Suzanne Pierson was active in organizing the Women's March on Crested Butte, but traveled to Denver to participate. "The Denver March was tens of thousands of people with the same intention. I was very proud that I was able to march. Peaceful, connecting, passionate, educational, uplifting, fun, creative, and…. just the beginning of a very Clear Women's Movement and Voice (supported by fearless and strong men and smart children)."
Several women also represented Crested Butte in the main march in Washington D.C. Crested Butte local Carol Blitz Smith flew to Washington with family to attend the march. She said the energy was positive and at times overwhelming.
"From the moment we got on the plane to head to D.C. you could feel the awesome energy. Men, women, children were all there to make a statement about equality and the power of the grassroots citizens. It was honestly one of the most inspiring things I've ever done and I think it will be the start of a momentum for people to get involved in the political process and make sure their rights are not taken away," said Smith. "I think this was more than an individual event. Young people especially were talking about the momentum that will build from the march. Social media is how this march started and I think social media will keep it going. Plus people need to reach out and call their congressmen and senators. That will make a difference."
The outpouring of support seems to have catalyzed locals into activists. Many locals seem prepared to stay active and involved. As Telander said by email, "Once again I recognize—Crested Butte is not only a community of action, we join the people across the world co-creating what are now known as communities of resistance. In this vein, I think of our village and our valley as a community of assistance and persistence. This is what it will take after the March of Women to keep the meaning and the momentum, the activism and advocacy alive and powerful. This is where it all lives—at the grassroots—in our home places. The march in Crested Butte and across the world once again anchors my belief that the power in the people is many times stronger than the people in power."
"I'll exercise my First Amendment in an act of peaceful civil disobedience whenever given the opportunity. This is democracy in action. We are the people. You will listen to us. IT'S TIME TO GET LOUD!" added Chad Reich, who also participated in the Women's March on Crested Butte, on how to utilize this energy moving forward.
And Molly Murfee, a participant in the Women's March on Crested Butte, draws inspiration from Buddhism. "Buddhism believes that even things we commonly perceive as "negative" are not actually so—they may be a means to achieving something else. I'm finding this to be true for me. What I am watching unfold before my eyes truly terrifies me in a very profound way. But I'm a writer, and I have a powerful tool.
"I've let this tool sleep for awhile and the call to action I feel in responding to this administration is irrefutable," she continued. "I'm working with visual artist Ivy Walker on a series of workshops to connect us to our place, and use writing and art as means to process the despair many of us are feeling right now. I want to further use my writing as a means of motivating, educating and supporting our community and beyond as we move forward together. We must all ask ourselves, 'What can I offer? What are my talents and aptitudes that can help make a difference?' And then take action on that."
Still, participants know that not everyone feels the way they do. Some wonder how to move forward in way that bridges that gap.
"Although most of the feedback from the marches has been positive, there has been some negative backlash directed toward me also. As everyone knows, our country is extremely divided and polarized, even in our little Shangri-La," concluded Kelly Jo Clark. "I am wondering how we are going to heal this huge chasm. Is it possible, in a respectful manner, to have conversations in order to understand where each other is coming from? I hope so. I will be pondering ways to do that."