Helping people, a passion
story by Dawne Belloise
A stream of people flows in and out of Mike Scott's office tucked away at the top of the stairs in the Crested Butte firehouse. They come to report, to ask questions, or just say hello and exchange stories and jokes.
Scott smiles that he's "All about Crested Butte," and moved his wife and three kids up here three years ago in 2012 when he got the job as EMS coordinator for the Crested Butte Fire Protection District.
"It means I'm in charge of all emergency medical services, overseeing 30 to 35 people in the division," Scott explains. There are two divisions within the district. To locals, he'll sometimes jokingly introduce himself by launching into, "Hi, I'm Mike Scott—no, I'm not Tuck," he laughs and adds that he's "One of three men in town who can dance on beat," and he feels unique but very much accepted in his chosen community.
Born and raised in Oklahoma, he always knew he was cut out to be involved with rescue services. "I've always dabbled in rescue as part of the Boy Scouts Explorer's program," he says of his youth involvement. "My uncle was a firefighter and paramedic for 36 years and as a kid I always went to the station and looked up to him. I knew what I wanted to do at a young age."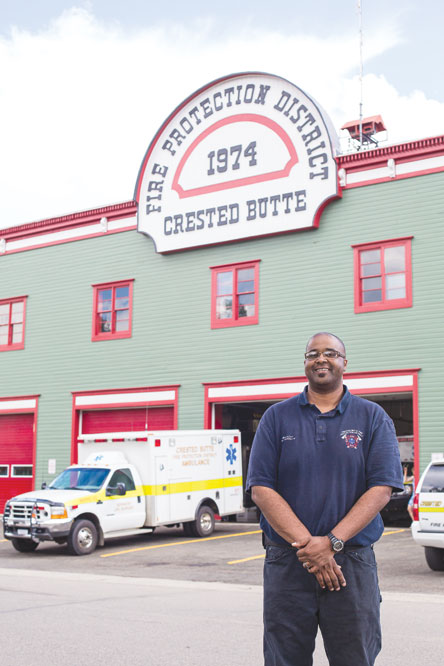 He attended Northeastern A & M, and even then, "I already had my EMT before college and I was working on an ambulance." He impressively earned his First Responder certification at the age of 15, and his first job in the field at 17, also working on an ambulance.
"I was actually going to school to be an agricultural teacher but I met a guy from Utah in college who convinced me to move to Utah for school," he says. However, once in Park City he discovered skiing and the luxury of resort towns, and school was put on hold while he worked ambulance calls and schussed the various slopes of Utah.
Soon after, yet another friend talked him into going to school for video production, since filming tourists on the slopes had become lucrative. Scott moved to Denver and enrolled in classes at the Art Institute of Colorado, graduating in 2002 with a degree in video production.
Just before graduation, he met Mandy, who became his wife. The two managed to start an instant family with the birth of their first daughter, Nevaeh (now 13 years old). He put his video career aside and headed back into full-time ambulance work at the Denver American Medical Response for the Golden Fire Department, at which point he also realized, "EMS and helping people is my passion. It's what makes me happy."
In 2003, Scott decided to move his family back to Inola, Okla., just east of Tulsa, returning to his original job for Creek County Ambulance as a paramedic supervisor. But when a job in the paramedic division for the city and county of Denver became available in 2008, he applied and was employed.
"Denver is a really hard place to get hired, but I was a field training officer and worked in the education department. I used to come up to Crested Butte to teach Advanced Cardiac Life Support (ACLS) when Dave Krow was the EMS coordinator for the fire department and I fell in love with the place," Scott says of his introduction to life at the end of the road.
"My wife, Mandy, loved it even more. When Krow was offered a position with the UN and moved to Holland, there were several applicants who wanted this job," Scott says, recalling the competition for the coveted position.
He was chosen for the job and started in September 2012, moving his family once again. But he claims this time, "I'm not going anywhere! I'll retire here. I feel lucky to be part of this community. What Crested Butte has done for me is given me passion. Throughout the country in emergency services, people lose their passion because we meet people at their worst times. If I'm knocking on somebody's door in the middle of the night, it's not because they've invited me over for coffee. They call me because they need help. The people in this community truly have passion for helping people. We have a lot of visitors but oftentimes you're working on locals, and that's hard but they're truly appreciative. As an educator, I can't teach passion… either you have it or you don't."
He pulls out a thick file of letters of appreciation from survivors and families of victims. He and his crew have had to deal with horrific circumstances, locals with serious injuries or worse, and in a small community, it seems almost impossible to come away emotionally intact.
"It was a job to me before, but it's not a job anymore," Scott says. "I never really got emotionally attached before I came to Crested Butte. This community brought passion back to my craft. I feel like I used to be able to shake off some stuff in difficult situations that I can't shake off easily anymore. I never went to funerals but I've gone to two already this year. We deal with things the average person doesn't have to deal with on a daily basis, and you have to find a way to release that. I'm on the big kick of cry-hug-cry… and eat candy and fried foods."
There is traditionally an open house at the fire station on the Fourth of July and, as imagined, it's also the busiest time of the year. Scott points out, "Our town area grows from 2,500 to 15,000 people that week. We cover 220 square miles, from the top of Kebler Pass to the town site of Gothic and Washington Gulch to the Oh-Be-Joyful campground and East River bridge."
Will he be eating the Crested Butte EMS pancakes during the annual town favorite Fourth of July breakfast kick off? Probably, but he won't be serving them up with the volunteers. He'll be giving tours of the equipment and facilities, and he's also on EMS call.
The crew is sporting a brand new ambulance this year that Scott secured a grant from the state of Colorado to purchase, he notes proudly. The vehicle's base cost was $200,000 but another $100,000 went into the necessary equipment inside. And they recently hired the very first full-time non-administrative paramedic firefighter in our district.
The department did such an exemplary job when Crested Butte turned blue with Whatever USA that the State of Colorado EMS Advisory Council has asked the Crested Butte EMS to speak at the 2015 state conference in November about special events.
In between Scott's high priority work, the family enjoys all the outdoor life together that Crested Butte has to offer. "We ski, we hike a lot, we camp, we raft. I like to hunt, fish, and ride motor and dirt bikes. We've always been outdoors oriented so we totally embrace the Crested Butte lifestyle. I love it here," he confesses.
Scott remains very serious about his work, and there's a playful side he sometimes has to put aside so he can fully focus on the difficult tasks that may lie ahead at any given moment in a split second. "Given the opportunity to work around such great people within EMS, it fulfills the passion and desire that is needed to help people. I worked in a big city and it was fun but became more of a job. Here in Crested Butte, I truly found the enjoyment and excitement of running calls. It's horrible when something happens, and I always hope nothing happens, but if it does I want to be there. I love seeing the people I work with. When I get to teach, I love that, I'm excited to be in front of my people. It's not a job, it's family."