Spann Ranches continue the ranching legacy of the Gunnison Country
by Toni M. Todd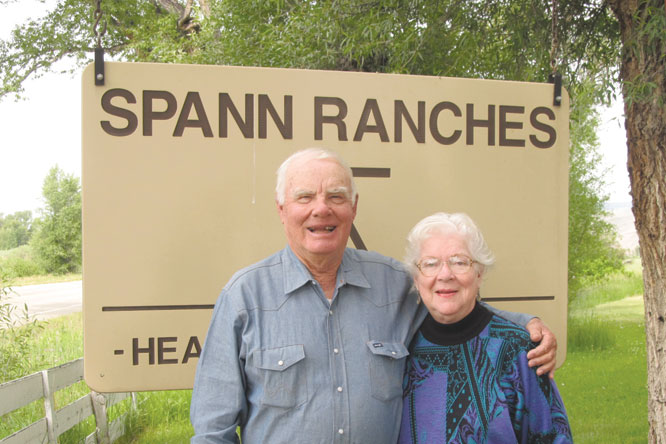 Not many ranch children opt to take on the family business these days. It's a tough life, after all, much easier to move to the city and get a regular job with benefits. The Spann family is an exception. Through more than 130 years and five generations, the legacy of Spann Ranches in the Gunnison Valley continues.
"I love it," says Jan Washburn, daughter of Lee and Polly Spann. "I can't imagine a better fit for me." Her husband, Doug, and brothers Ken and Andy also play vital roles in ranch operations.
"You have to be pretty strong," says family matriarch Polly Spann. "Physically strong. Mentally strong. There are no two-week paid vacations," she says. "Although, when you get to be 80, you can rely on the others to take charge now and then."
Polly and Lee still live in the house where Lee grew up, west of Gunnison. Spann Ranches and the Y-Bar brand include haying operations in Delta and Olathe, with cattle and pastureland stretching east to Gunnison and north to Crested Butte.
The ranch was homesteaded in 1878 by Lee's great-grandparents, the Overstegs, from Switzerland. The original home was a brick Victorian on Highway 135 near Crested Butte South, known today as the White Buffalo Ranch. Lee's grandparents lived at Jack's Cabin. Like most children, Lee left home for a time as a young adult. He served in the Korean War and saw a bit of the world, but there was never any question that he'd returned to the ranch.
"There's a satisfaction you get that you've done your job and you've done it well," he says. "Every day is different. Seasons change. There's calving. Weaning. The bulls are on the road. Again." For Lee, it's all good. Fall is his favorite season, a time when the calves are weaned, the hay is in and the weather's still mild. But it's all worthwhile, all equally important, equally gratifying. "I like to irrigate, ride, hay, feed. My favorite is all of these. You see the grass grow. You make it grow. It's your responsibility to keep the cattle alive."
That's not easy in the Gunnison Country's infamous climate. Lee recalls the brutal winter of 1952 as one of the coldest and toughest on the stock. Tough, but they all made it. "If you care for these cattle, they'll live." He recalls the WWII years as especially difficult as well. "Everybody was gone, off to fight the war. We had no help."
Out in the yard, Polly nods at an old gas pump in front of the ancient wood barn adjacent to the house. "It's an antique," she says. "We've got a lot of antiques around here—including Lee and me!" The house at Spann Headquarters harkens back decades; the family room is warm and inviting, accented by cowboy decor and family memorabilia. A pampered oak piano gives a broad, ivory smile into the cozy room. "I sing and play classical and semi-classical music," says Polly. "All our children are fine musicians, too."
"There's a lot of musical talent in my family," adds Lee, "but I don't have any of it."
Polly describes herself as a "town girl," but says it wasn't such a stretch for a young woman from Gunnison to adjust to ranch life. Back then, many families raised their own food on town lots. "We had a couple of cows," she says, and her father ranched for a time near Crawford. Polly attended Western for a few years. "My major was supposedly accounting, but I was mostly in the music department." When she met Lee, there was no hesitation in joining him on the ranch. "If Lee'd have been doing something different, I'd have followed him anywhere."
"She's gotta say that," he says.
"I love it!"
Polly learned to do just about everything on the ranch, but one of her greatest assets was cooking. She learned to cook big and cook fast, preparing hearty meals for hungry hay crews.
Every spring, all the cows are brought back to Lee and Polly's place to bear and rear their young. The babies are nurtured not only by their mothers but also by the ranchers. "We watch them 24 hours a day for 45 days," says Lee. When the weather warms and the calves have grown strong, they're moved to the sweet grass at Jack's Cabin for the summer. In the fall, that trip is reversed.
Throughout the year, cattle are herded between pastures, into and out of the high country. Ranchers adhere to strict permitting guidelines, but also exercise year-round diligence and stewardship in caring for the land and the animals. "Our life is determined by two things," says Lee. "The weather and the government."
"It's what I grew up doing, too," says son-in-law Doug. "There's always something that needs doing."
Modern ranchers face challenges in a changing world. "It's tough finding people to work," Doug says. There are also occasional conflicts with property owners and visitors, folks who love the expansive views, but don't understand or appreciate the nature and legacy of ranching and its contributions to that. Doug says, "The more people come up here, the harder it is for us to do our job."
"We're all Type A personalities," Jan says. She credits those headstrong characteristics for the family's success. "Nothing would get done if we weren't. Nobody asks permission to do something. We just do it. And we rely on every member of the team to do their part and get it all done."
"We are pleased we've accomplished so much and that our family has decided they want to continue the family business," says Lee. "They're wanting to do it and they're doing a good job."
Lee and Polly Spann have been selected as parade marshals for this year's Cattlemen's Days Parade, sharing the honor with Stan and Luena Cadwell. When you see them rolling down Main Street, give 'em a wave.