Or did they?
by Than Acuff
So much to talk about, so much coffee, so much tourism-based desecration of our surrounding valleys, so much trophy hunting in Africa by Americans with so much money (look up picture of "Texas hunter and businessman" Kerry Krottinger; I think his wife sitting next to him in his "trophy room" is also stuffed), so much rain, so much softball and so much for my effort each and every week covering so much softball.
As Dalynn Trujillo mentioned after the Wine House Monkeys lost to Pitas in Paradise Monday night in comp league playoff action, "Doesn't matter, no one reads the softball stories anyway, except softball players."
That hurt… so much.
Gun control is pro-life.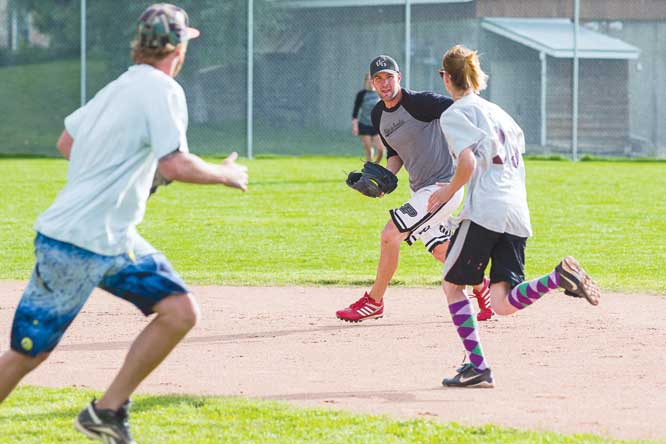 I saw that bumper sticker early Tuesday morning and it confused me about as much as the comp league playoff game Monday night between Pitas in Paradise and the Wine House Monkeys.
If there's one thing I can say about local softball, it is that it never ceases to entertain. The comp league is in the throes of the post-season and with just four teams in the league, they opted to extend the season by changing from the usual double elimination format to triple elimination. That's right: As if they haven't had enough softball already with the regular season and the Ball Bash tournament, they want more.
I can't really blame them. I mean if I still drank beer and liked to play softball, I wouldn't want the season to end either.
Monday night's game was another one that will, or at least should, go down in the history books—history books that no one will read, apparently.
Pitas in Paradise showed up to the playoff game with just six players and called upon Crested Butte News staff photographer Lydia Stern to play to make it a total of seven, all with the permission of the Wine House Monkeys.
Typically, you need eight players or else it's a forfeit, but the Monkeys agreed to let Pitas play in the spirit of local softball sportsmanship.
And, my guess is, they really didn't see the harm. How could they lose to Pitas, who had to play the field with a pitcher, two infielders and three outfielders?
Well, remarkably, they did lose.
The game started out innocently enough. While the Monkeys struggled to find the massive gaps in the Pitas defense with hits, Pitas managed to build an early 2-0 lead on RBI hits, compliments of the brother/sister combination of Drew and Madie Stichter.
The Monkeys appeared to finally unlock the secret to success in the top of the third inning when Barb Winter walked and then scored as Pete Basile knocked a two-run inside the park home run (ITPHR). Mike Strauch doubled and scored on a hit by Kate Schmidt for a 3-2 Monkeys lead.
But Pitas would come right back and rattle off three more runs in the bottom of the third as Mark Bortolin and Rhett Yarborough combined for base hits and the Stichter family pushed them home with two more hits.
An air of panic started to circulate among the Wine House bench and carried onto the field as they floundered at the plate in the top of the fourth and then gave up four more runs to Pitas.
Lauren Stacks led off the bottom of the fourth inning with a single, Yarborough followed with a double and Maddie Cruse scored one with a single. The Stichter siblings then struck again as Drew tapped an RBI single and Madie knocked a two-RBI triple for a 9-3 Pitas lead heading into the fifth inning.
The Monkeys regrouped to knock in three runs over the next two innings while holding Pitas scoreless. Basile doubled and scored off a base hit from Barb Peters in the fifth inning but the Pitas defense threw out a runner stretching for home to hold off an impending rally.
The Monkeys looked to rally again in the top of the sixth inning as Schmidt led off with a double and scored when Mike Neustedter slapped a two-run ITPHR. But, once again, Pitas threw out a Monkey stretching for home, ostensibly killing another Wine House rally and maintaining a slim three-run lead.
Pitas tacked on three more runs in the bottom of the sixth inning with a two-out rally. Yarborough doubled, Cruse singled and Drew cleared the bases with a three-run home run over centerfield for a 12-6 lead heading into the seventh inning.
Caged in like test monkeys at a pharmaceutical facility, the Wine House gathered together to figure out an escape plan before their final at bat. The calming words of the alpha monkey appeared to play out as Basile singled and Peters jacked a double to deep left field to put two on. Pitas infielder Cruse made a shoestring grab to rob Strauch of a base hit but Schmidt followed with an RBI double. Yet, once again, Pitas threw out another Monkey stretching for home to crush the rally and then turned a ground ball into the final force out to secure the 12-8 Pitas win.
Or was it?
Once all was said and done, a protest was filed by the Monkeys claiming it was not a legitimate game, despite the fact that the decision was made prior that the game be played out as a legitimate playoff game. In fact, during the game one of the head Monkeys reminded his team, it was not a forfeit, it was a real game.
The protest has been filed and we shall see what the powers that be come up with. Given all of that, why not go quadruple-elimination?
Surprisingly, I think I now understand the meaning behind the bumper sticker, Gun control is pro-life. Right wing conservatives are notoriously pro-life and anti gun control and I think what the person displaying the bumper sticker is pointing out is the idea that if one is pro-life, how can they be against gun control?
As for Krottinger, you know, the hunter I mentioned earlier. He participates in "conservation" hunting whereby the extravagant money he spends to hunt is then used for animal conservation efforts.
Trophy hunting is conservation.
So much confusion.