Sitting in third in league standings
by Than Acuff
The Crested Butte high school mountain bike team continues to gain strength, posting a series of impressive results this past weekend and moving up into the top three overall team scores for the season.
They opened the season earlier this month and got their feet wet with a mixed bag of results and tough starting positions. Following the first race, the coaching staff and team got together to discuss goals for their next race, the Cloud City Challenge in Leadville.
"We finished seventh as a team in the first race and we thought it was a successful weekend," says coach Torrey Carroll. "We were not that far out of third place so we were looking for everyone to move up in the next race. That was our team goal."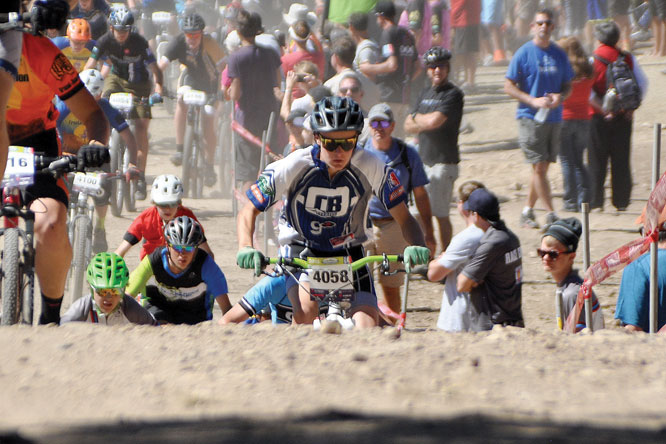 In an effort to make the move up in the standings, the team established their workout pattern in the two weeks leading up to Leadville with a mix of hard days, recovery days, riding local trails and getting in some power-specific workouts.
"We rode to Green Lake as a team and the steep hills provide the intervals," explains Carroll. "We also rode to Gothic and then raced back to the pavement to work on power and riding in the flats because that's where races are won."
Kai Sherman and Patrick Curvin carried the team colors into the varsity race with both cracking the top 15. Curvin had a rough go in his first race and was unable to finish. This time around he lined up feeling green in the gills but toughed it out to place 14th. Sherman continued his charge on the big dogs to finish in ninth.
"His goal was to just finish the race and for him to take 14th was great," says Carroll.  "For Kai to crack top 10 is hard to do."
JV racer Will Johnson missed the first race, so when he lined up for the race in Leadville, he was handed a start position behind 118 other riders. Making matters worse, Johnson had to switch bikes 15 minutes before the race and jumped on Carroll's bike to battle through the masses and take 54th.
Coach Bart Hemminger has the sophomore and freshmen riders building off their work with him over the summer. James Bivens had the standout ride among the sophomore racers. Bivens was in fourth place after one lap and reeled in his closest competitor on the second lap to finish in third when all was said and done.
Finn Wilson battled mechanicals on his second lap and lost a couple of spots but still managed an 18th-place finish. Ian Eldridge fought some personal demons, racing ill and suffering three flats, but still managed to finish the race.
"We were pretty proud of him for finishing," says Carroll.
Tanner Perkins led the freshmen racers in Leadville, battling with one other rider for the race win and eventually falling just 15 seconds shy of the leader to come in second place.
"It was an awesome race. They were riding wheel-to-wheel through two laps," says Carroll.
Liam Elliott had to pause mid-race to get off his bike and throw up, losing three places but hopping back on to finish in 11th place and gained a lesson in bike racing from his coaches.
"We told him next time he has to puke on his bike," says Carroll.
Luke Shull made huge strides from his first race. Shull placed 37th in the season opener but moved all the way up to 17th in Leadville, while Ethan Carroll was right behind him to come in 18th. Elior Bilow placed 45th in his first mountain bike race and Marion Chater moved up from her first race as well to finish in 10th among the freshmen girls.
With 10 of 12 Crested Butte riders improving on their results from the first race, the team finished the day in second place and is now ranked third in the overall standings.
"Morale is good and the kids are motivated and I think they were hungry from the first race," says Carroll. "I think we all expected them to improve but they surprised us with how much they improved."