A Peace of Crested Butte
by Dawne Belloise
When I was born, my parents stopped going to church and stopped eating meat," Peace Wheeler says, smiling with a glint in her eyes. Her father, Bill, was born and raised in Gunnison. Her mother, Joey, was a Boulderite, and they lived in Crested Butte from the late 1970s through the early '80s before moving to Paonia.
"I'm the youngest of five kids. They couldn't afford Crested Butte back then so they moved to Paonia," says Peace, but Paonia was a pretty rough place to grow up. "It's always been conservative and my parents and our family weren't. All my brothers had long hair. The kids weren't very friendly."
In fact, Peace had such a bad experience in first grade that her mother bused her to the Hotchkiss schools where, Peace says, the kids were far nicer. Even though school was socially easier for her in Hotchkiss, the family missed Crested Butte and finally returned in 1996 when Peace was eight. "They loved [Crested Butte] and wanted to raise their kids here. I'm forever grateful they made that choice," Peace says. Her fourth-grade class was the last to be taught in the old school (where the town offices are now) and the following year the kids moved into the brand new Crested Butte Community School. Peace graduated in 2005.
Peace enrolled at Western State College but left after a year, unsure of her direction. "I didn't want to go back simply because it's the socially expected thing to do, and," she determined, "it's not required to make you fulfilled in life."
Following in her older brother Justin's footsteps, she volunteered with the Crested Butte Fire Department, having already earned her Firefighter 1 certification at the age of 18, and then getting certification as a S-130/S-190 Wildland Firefighter via a nationally standardized test that allows her to fight forest fires both here and out of state. She went on for even more extensive training as an EMT-B with an IV certification.
"It wasn't until both Justin and I joined the fire department that we learned our parents actually started the fire department in Marble. Dad was the fire chief and mom was the assistant fire chief when they lived there for a stint before we were born."
After 12 years, Peace is taking a break from her firefighting work with the local department to enable her to pursue other things.
During her fire department years, Peace was also working for Crested Butte Mountain Resort as a lift op and ticket checker initially, and also as a ski instructor for a couple of seasons. But when a spot on the snowcat grooming team opened up in 2010, Peace went for it.
"I had bugged Mark Voegeli about it for years and he knew I had experience with hydraulics and heavy equipment operation through our family business of the rental center. I started as a Uley's sleigh ride dinner driver, hauling the diners up with the sled. It was good to get a full season of experience just learning about the snowcat before learning to do the grooming."
The next season, Peace graduated to grooming, but her very first night up was challenging.
"There's a specific tree up there now named Peace Tree," she cringes with a giggle. "There's a big chunk out of it. It was my first shift, and on the graveyard shift, and it was a crazy white-out storm where we got 12 inches that night. I couldn't see. I was following the shift supervisor, Chad Kaiser, who was showing me the route, turnaround spots and better ways to efficiently groom the slopes," Peace says with a big sigh. "We were going down one of the cat tracks through the trees. He was in one of the smaller cats and I was in one of the bigger cats and he didn't realize that the bigger cat wasn't gonna fit…" Peace trails off, leaving the visuals and the grinding, scraping bang of a cat slamming into a tree to your imagination.
But there's so much more to operating a cat than merely navigating through blizzards on scary vertical slopes and laying down the corduroy. Cat drivers also have to be knowledgeable in maintenance and basic repairs and in extreme conditions. "We end up doing a lot of maintenance on the cats on the slopes. In a blizzard, it's not fun at all. If a hydraulic hose line breaks, you have to know how to swap it out. You have to know how to diagnose what's going on with the cat. It can be tricky because there are a lot of hoses, electronics and mechanicals, nuts and bolts—there are so many things that can be wrong with a cat. We have to at least have an idea of how to solve the problem. It can be nerve-wracking when anything goes wrong and you hope you can get it up and running so you're not scrambling to finish your work."
Currently Peace is a fill-in groomer with CBMR because she also works at Irwin Guides for the Eleven company. It's her second season with the latter, driving the Tucker, the big white beast, from Irwin's office on Belleview up to the Irwin slopes on Scarp Ridge. "I drive to the movie cabin, drop everyone off and hop into the alpine cats to take them up to various locations on Scarp Ridge," says Peace. Unknowing tourists and visitors don't understand the training and expertise it takes to be one of the elite fleet who can qualify as a cat operator.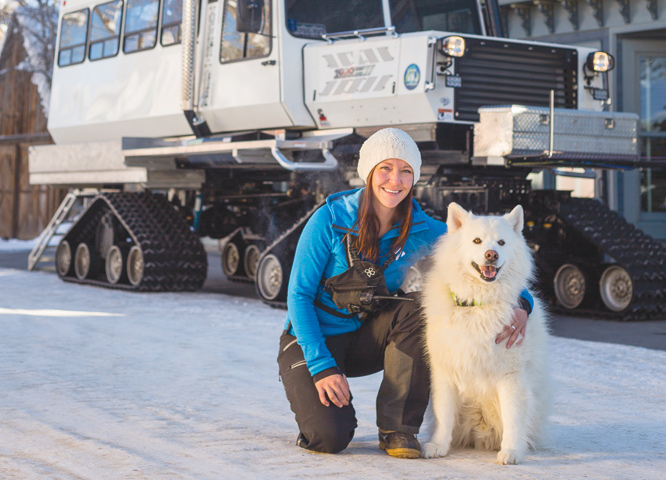 "My friend overheard a tourist on the chairlift say that all the girl cat drivers for Irwin were hired strictly because they were pretty," Peace smirks—despite the fact that she just happens to be gorgeous, she also has more training and experience in not only snowcats, heavy machinery and maintenance but in firefighting, emergency service and safety than most. "So there's a big misconception that we don't have heavy equipment experience—and that made my blood boil, for obvious reasons."
Not only does Peace groom the snow, she makes it. "I've been a snow maker for CBMR for three seasons now," claims the Snow Queen proudly. "It's the most dangerous and rewarding job. You're working around hazardous conditions with a highly pressurized system with air and water. Then we're creating giant mounds of snow with snow guns that we have to snowmobile to multiple times in a shift and even though we have chain brakes, it's still scary slick, so you slide. It can be really terrifying."
In 2007, back when she was a youngster of 19, Peace and her brothers Justin and John bought the Forest Queen bar and restaurant business. "Dunno why," she says. "We kind of wanted to secure something as a family business." Shortly after, her parents bought the building to secure the business location for them. As even loving siblings do, Peace admits, "We fought a lot because of the business and here I was only 19 and not sure what I was doing as a bar and restaurant owner. We ran it for a year, but it came to a screeching halt with my brother John's sudden death," she tells of the heartbreaking loss of her big bro on January 7, 2008.
"He was my roommate at the time. I was out shoveling the snow in our walkway. It was that epic year where it never stopped snowing, it was the year we had to tunnel to our houses.
"John was getting ready to go to the Queen for his bartending shift. He was the best bartender, he was such a social guy, and it was the highlight of his day to get to talk to people," Peace describes.
"My brother Justin went into the house to pick him up for work and found him unresponsive. We called 911. Because we're all really close in the fire department they knew it was my house. My friend Cory Tibljas who was on the department but wasn't even on duty was the first one to arrive. He knew it had to be John. They tried, and almost revived him, but they couldn't maintain it. Officially he had a heart attack. My life changed a lot. It made me realize that you can't take things for granted, especially relationships and friendships. We, as a family, have struggled a lot with it but it's made us stronger, and weaker, at times, but we're constantly reminded that we have to stick together. It's made my bond with Justin stronger. It was hard being back in that building. It's still hard." They closed the Forest Queen business following the loss of their brother.
Peace is still involved as a co-owner of her family's business, Crested Butte Rental Center in Riverland. "We all do everything. It's kind of a nutty operation. We have construction equipment, everything from small hand tools to big boom lifts and bobcats and the other side of the business is weddings and special occasions, renting everything from tables and tents to PA systems and lights—everything except the wedding dress," she laughs.
High on her list of life adventures is to be a world traveler and Peace is finally getting around to doing that. "I made the decision to go to New Zealand because I needed a break," she says, explaining her love for summer here but choosing to follow winter for a change. "I was at Mount Hutt ski field. It's just what they call them," she says referring to calling the slopes a field. "I was living in the town of Methven, an hour west of Christchurch, an interesting little town. Size-wise, it's a lot like here without the character. It's barely above sea level, but the peak was about 6,000 feet."
Peace spent five months there during the New Zealand ski season, running their grooming cats. "I'm going back again this year but I'll leave it open-ended as to whether I go back after this because it'll be five consecutive winters with no summer." Peace explains that all of South Island of New Zealand is exactly like Colorado but more drastic with its sea level to soaring heights mountains. "It made me really homesick when I got out to travel there. I made a lot of friends but it was hard not being around my family and close friends here. Although in general it was positive for me, once I bought the plane ticket it challenged me personally to get out of my comfort zone," and as a bonus, there are no trees to run into with her snowcat down there.
Peace enthusiastically professes her love for her home, which will always be Crested Butte. "Sometimes I forget to remember that we've got it so good here. Getting out and traveling makes me realize that this is absolutely where I want to live but I know that I still want to travel a lot. I'm going to Japan in March to go skiing, because I've always wanted to ski there. I want to go back to Cambodia," where she went just before leaving for New Zealand.
Peace feels that Crested Butte calls to a specific type. "It gets its hooks in the right people because it weeds people out. You either fit the character of this town perfectly, and that's why we're all here, or it pushes you out. We don't chose Crested Butte, Crested Butte chooses us. But the biggest reason why Crested Butte will always be my home is because of the community. They rallied when my brother died, and they're still so supportive. People remind me of John all the time and it means the world to me to be reminded that it's not just us who miss him. Crested Butte and the people who make it what it is have my heart for life."