"The guys stayed solid"
by Than Acuff
Peak when it matters most.
The Crested Butte Titans boys basketball team appears to be peaking just in time, winning two of three games in the district tournament and earning the final spot in the regional tournament this weekend. Coach Brandin Hamilton believes this may be the first time the Titans have reached the 2A regional tournament since moving up from 1A. It certainly is during his career.
Chalk it up to a number of things: better defense, balanced scoring, overall health and a team component that Hamilton knew his guys had from the opening weeks of preseason.
"This is the first time I've had 'my group,'" said Hamilton back in late November. "The juniors and seniors know my expectations and I can watch them show the younger guys. There's real solid leadership."
He also knew this year's team brought a new component with the ability of four or five guys to contribute on offense, a fact that has become apparent during their post-season run.
They opened the district tournament against the Del Norte Tigers on Tuesday, February 23 in Del Norte. The Tigers took down the Titans rather convincingly in their latest match up, but Hamilton and his team believed they still had a shot at pulling off the opening round upset.
"I thought we had a good chance," says Hamilton. "I knew we'd have to play better defense and execute on offense, just the basics."
The two teams traded off baskets to open the game, but Del Norte's transition game and a shooting cold spell from the Titans allowed the Tigers to build an early lead.
"They improved their transition; that caught us off guard a bit," says Hamilton. "We went cold and they just started knocking shots down."
The Titans' defense did their job holding Del Norte's top two scorers well below their average, but another Tiger came out of nowhere to get red-hot and carry the weight.
While Crested Butte adjusted accordingly and played a much better second half, Del Norte was able to hold onto their lead and close out the 56-41 win.
Noah Dumas led the Titans with 14 points, followed by John Theis and Ryan McCudden with 10 points apiece.
The Titans returned to district tournament play on Thursday, February 25 and rolled through Custer County, building a 15-2 lead in the first quarter and cruising to a 41-14 win, including draining a total of seven three-pointers. David Wasinger led Crested Butte with 10 points with almost everyone else joining in on offense throughout the game.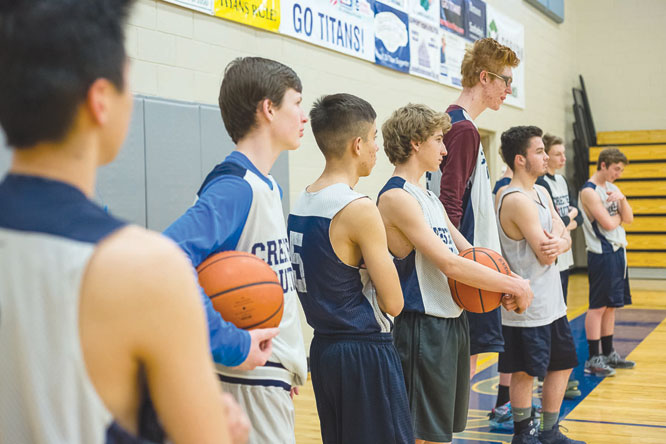 "That's where we are at these days," says Hamilton. "A lot of balanced scoring."
Crested Butte closed out the district tournament against the South Park Burros. A win would push them through to the regional tournament, a loss would put an end to their season, and though the Titans beat the Burros less than a month ago, the game was far from a sure thing.
"It was one of those games where we could lose it if we had a bad game and they had a good one," says Hamilton. "And that's how it started off."
Nerves and ice cold shooting plagued the Titans as they fell behind 11-5 in the first quarter before Hamilton called a timeout. Following the break, the Titans erupted for an 18-1 run, including a handful of much needed three-pointers.
"It just opened up," says Hamilton. "We had a little contribution from everywhere."
The Burros recovered to close back to within seven points of Crested Butte but the Titans buckled down to keep their lead, in tact, finishing out on top 47-37.
"Things weren't going our way but instead of just folding they trusted each other and kept grinding away," says Hamilton. "The guys stayed solid. That game proved that they're a strong enough team to handle adversity."
The good news is, the win pushed the Titans through to the regional tournament. The bad news is, they open regionals against the number one team in the state, Sanford, on Friday, March 4 at Adams State College.