Sets sights on Olympic hardware
by Than Acuff 
Two years ago, Emma Coburn set the U.S. record for the women's 3,000-meter steeplechase, posting a time of 9:11. Yet it wasn't until six months later that she found out it wasn't official.
In this new era of drug testing and drug testing protocol, for a record to be determined official, a drug test must be performed within 24 hours of the accomplishment. Unfortunately, Coburn had no idea, and after basking in the glow of her feat in 2014, she heard the devastating news.
"It was so frustrating because I get drug-tested all of the time," says Coburn. "I was tested a week before that race and a week after the race."
Now, it's official.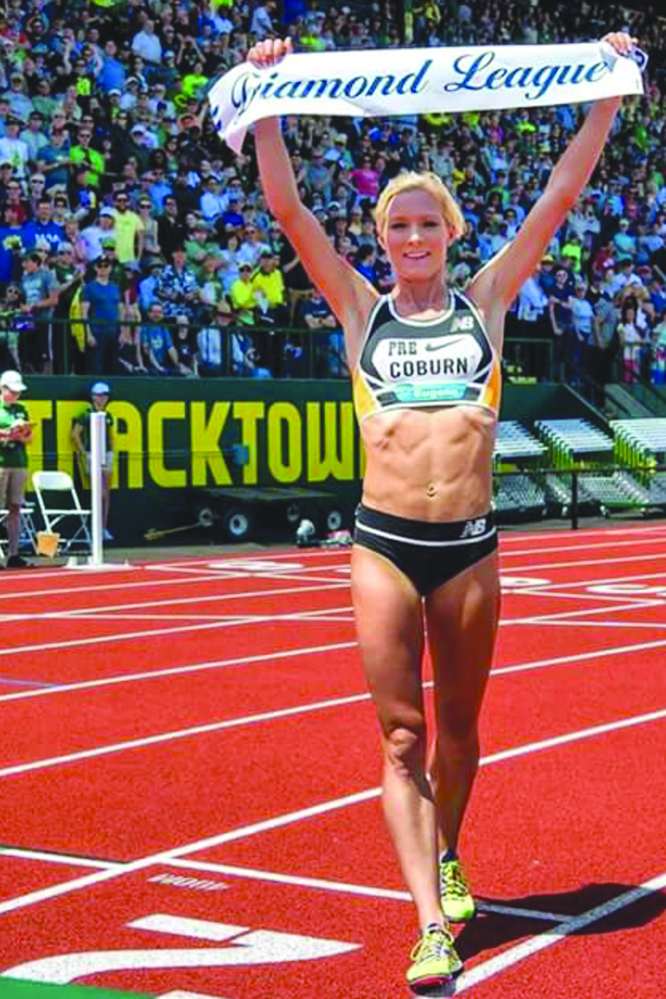 Coburn, former Crested Butte Titan track star and current professional athlete for New Balance, is the U.S. record holder after running a 9:10.76 at the Prefontaine Classic in Eugene, Ore. on Saturday, May 28, breaking the previous "official" mark of 9:12.5.
She had a tough stretch between the news in 2014 and the race last weekend. Upon hearing about the initial time from 2014 being deemed unofficial, Coburn set her sights on breaking the record in 2015, but strategy, illness and injuries got in her way. Her strategy for races fluctuated between running a tactical race and running a fast race.
Unfortunately, she was often sick or not up to 100 percent when the time came to run fast and her 2015 season proved challenging, to say the least, concluding with an Achilles injury.
"It was a little chaotic," says Coburn. "I was able to patch through my season but when I was healing it was rough."
Coburn typically racks up 80 to 85 miles per week of training when healthy but her injury severely hampered her training regimen as she entered the fall of 2015 and through the winter of 2016.
"There were four to five months where I couldn't do it and that was really scary leading up to an Olympic year," says Coburn. "It was scary in the dark days of winter and fall."
As the healing process continued, Coburn feared that her first race would not be until the Olympic trials in July, which could leave her chances at making the team headed to Rio on the brink. But, as time passed and the healing continued, a light appeared at the end of the tunnel. Coburn was able to get back to her training ways and first tested the waters two weeks ago running in a 1,500-meter race.
"That was good," says Coburn. "I didn't get a PR [personal record] but it gave me some confidence."
And while training was going well and the 1,500 race was solid, the true test of her training and Achilles wouldn't come until the Prefontaine Classic.
The Prefontaine is a Diamond League professional race attracting the top track and field athletes from around the world. Coburn saw that two of her peers had just set a blistering pace in a Diamond League race earlier in the season and knew that she was free of any pace setting.
"I knew these two women would push it and I wouldn't have to lead," says Coburn. "So I had no real game plan. I just figured if I stayed near them and ran my splits I'd have a good day. I knew a time of 9:20 would be a super-good day."
She followed her plan and was cruising along at her preset splits, but with two laps to go she got a boost when she got some news from her boyfriend.
"With two laps to go he yelled, 'You could get the record,'" says Coburn. "I was just running and going through the motions and when he yelled that, I thought, I should engage more, close the race strong and get the record."
She did, followed protocol with drug testing and is now in the record books.
"To finally break it and have it official is such a relief," says Coburn. "It's a relief to have it done, clean, official and simple."
Now it's time for Coburn to turn her attention to the U.S. Olympic trials, a.k.a. the U.S. Nationals, in July. Only the top three finishers at the Olympic trials make the U.S. Olympic team and despite being the current U.S. record holder, Coburn still has to finish in the top three in the steeplechase if she wants to go to the summer games in Rio de Janeiro. Coburn has won the U.S. Nationals every time she has raced but anything can happen on any day.
"Hopefully I can keep that streak alive," says Coburn. "You have to be top-three on that day, which is a little difficult because anything can happen. It's just nerve-wracking to have that one day to be perfect. You could get food poisoning, lose a shoe, anything can happen. Even though I've run 9:10, there are plenty of girls that can have a great day, run a PR and beat me."
Provided Coburn keeps her streak going, she will then be off to Rio, her second trip to the summer Olympic games. Her concerns about the Zika virus have settled after hearing from the doctors of the U.S. Olympic Committee and she is confident things will be fine.
"Hearing the news initially about Zika was really scary, but after talking with the doctors of the U.S. Olympic Committee I don't think it will be a negative impact on my Olympic experience," says Coburn.
Additionally, with one Olympic experience in the bag, this time she's going for some hardware. She is currently ranked seventh in the world, placed fifth at the Track and Field World Championships last year and with her Achilles healed and a U.S. record under her belt, things are looking good.
"I want some hardware eventually before I retire," says Coburn.