by Than Acuff
With the school year coming to a close and all of the work associated with it, Crested Butte Community School third grade teacher Stevie Kremer somehow found time to win the Red Bull Female Summit Quest race on Mt Yuhzu in China on June 5. The race was invite only and starts at an elevation of 15,000 feet and climbs 5,000 feet to the 20,000-foot high summit of Mt. Yuhzu before turning back around and running back down.
Not only is Kremer a teacher, but she is also an athlete for Salomon and has racked up numerous trail running titles, including winning the overall World Skyrunning title in 2013 and 2014. The race in China was an exclusive invite-only event with only five women picked worldwide to compete. Kremer got the call in mid-March and was excited about the idea.
"Initially I was psyched," says Kremer. "I was told it was 20 kilometers and all uphill and I prefer uphills. Also, they would pay everyone that just finished the race so I thought I had nothing to lose."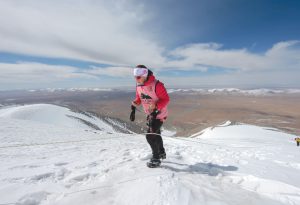 But, as race day drew closer, new details of the race emerged and it started to look like an entirely different endeavor. No longer was it 20 kilometers uphill but 12 kilometers up and down. Furthermore, while she was initially told the race topped out at 18,000 feet, it actually topped out at a little over 20,000 feet and racers would need mountaineering boots and crampons.
"When everything started changing, I started getting nervous," says Kremer. "I've never worn mountaineering boots or crampons, I didn't even know how to put crampons on."
Organizers offered athletes a full week to help acclimatize to the altitude but with Kremer's hectic work schedule she arrived at the venue only one day prior to the race. While the rest of her competition had spent significant time at the venue, not only getting acclimated, but also getting familiar with the course, Kremer was teaching third graders and then hopping on a number of flights and taking the final four-hour car ride to the start at 15,000 feet, then laying down for a sleepless night before the race start the next day on Sunday, June 5.
The race started with a 4-kilometer run on and off a trail to the transition area at the start of the glacier where racers switched from running shoes to glacier travel gear. With no knowledge of the course, Kremer locked in on the leader and kept her close ever mindful of how the altitude might affect her.
"Luckily I just stuck with her and not knowing what to expect from the altitude, I took it easy at the beginning," explains Kremer. "Once we got to the glacier part I felt better than expected."
While the leader was sipping soup and getting assistance from her husband with getting her boots, crampons and harness on for glacier travel, Kremer was alone to figure it out on her own.
"I fumbled at the transition, put a crampon on the wrong way and she got a five to ten minute lead on the glacier section," says Kremer.
Feeling strong and roped in with her gear finally on correctly, Kremer proceeded to reel in the leader, pushing herself to a comfortable pace that allowed her to eventually take the lead.
"I was definitely out of breath but I never felt that 'drunk feeling' that I read about," says Kremer. "I was so scared of that drunk feeling."
Kremer reached the top of Mt. Yuhzu first and then turned right around and started running downhill still in crampons and still roped in per race rules.
"The most surprising part was running down and not nailing my front points and falling flat on my face," says Kremer.
Kremer tried not to see where her closest competition was but couldn't help it with the course above tree line on a wide-open mountain slope.
"I tried not looking back but I could see her the whole time and I knew she wanted it," says Kremer. "She'd been training for the race on the course and blogging about her training since April."
Kremer remained free of any carnage on the descent, taking the win and coming in four minutes ahead of her closest competition.
"Besides the mishap with my crampons I'd say I had a pretty good race," says Kremer.
Ever the committed educator, Kremer was on a flight out of China that night and was back in the classroom by Tuesday morning.
With the school year wrapped up and summer in full swing, Kremer returns to the racing world this weekend as she heads to Germany to race up the highest mountain in that country and then goes to Greece the next weekend to race up Mt. Olympus.