Crista Ryan's story is the epitome of Crested Butte ingenuity: doing what it takes to get things done. It reflects honing the Jack-of-all-trades skills most locals must embrace to survive in this town of extremes.
Crista was working at django's for four years, learning the extensive wine list and pushing herself to learn even more about the business, when she was encouraged to interview for a position with the Crested Butte Music Festival (CBMF) as part-time operations manager. They were specifically looking for someone to run their new two-day bluegrass festival since they had never done a multi-band bluegrass outdoor event.
She went into that interview completely honest about her experience. She knew nothing about opera or classical music but Crista had gotten excellent references and recommendations from her bosses at django's, as well as others, and although she didn't have the background, she knew herself to be a hard worker and she sold them on the concept that she could figure it out and would work herself to the bone for them.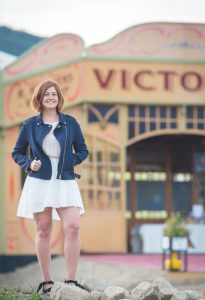 So they hired her for the position in 2010. This spring, six years later, she became the executive director of the CBMF, having accomplished her goals and having organized a multitude of events since that first bluegrass festival.
Crista spent her childhood in Wilmington, Del., as the eldest of three kids of a close-knit family. Her family had a beach house there, where she passed most of her time. Crista still considers herself a beach girl and confesses that she misses the salt life a lot but she also says, "I like the juxtaposition of living in a city and living in a small town."
As a child, she grew up enamored of art of all mediums, drawing and making her own jewelry, riding her bike to the bead store to stare for hours at the endless strands of beads of every hue. Crista attended an all-girl Catholic school from grades six through 12, and when she reached her high school years she got involved in sports, playing Olympic development soccer. She graduated in 2000.
Out of high school, the young girl had no clue as to what she wanted to study or do with her life; the only thing she knew was that she didn't want to do math or accounting. Crista enrolled at Salisbury State University, outside of Ocean City, Md. "I was just kinda there," she remembers. "I went to play soccer but realized after I got there that I was really sick of playing soccer, so I transferred to the University of Delaware," and she graduated in 2004 with a degree in history and journalism with a minor in women's studies. She says her entire family owned their own businesses, so she went to work for her aunt in fine home building, and, she laughs, went to the beach a lot.
Her aunt, Sally McDaniel, owned Butte Bagels here in town, and her cousin, Kyle Anderson, had grown up in Crested Butte. He convinced Crista to come for the winter of 2004 through 2005. Crista had been visiting Crested Butte every year since she was 12 years old, mostly in the winter for vacations. So she packed up her life and moved out, recalling how starstruck she was living that first full-time, full-fledged winter, where the snow dumped nonstop.
Living at Chadlington House with her cousin, Crista worked as a crosswalk guard for the town of Mt. Crested Butte, and of course, learned to snowboard and the artful science of hanging out. When the lifts closed she bolted south to Costa Rica and Central America. When she returned, Crista realized that she missed her friends back east, the ones she had been with basically her whole life. She felt it was somewhat intimidating to just up and move here and make new friends, and the culture was far different from the East Coast.
"But I felt strongly that I wanted to do things differently from my friends back east, to make my own road," she says, noting that her back-home friends were lawyers and career people who had real jobs right out of college. "But I made a few really good friends here. I started to make my way and started to really like it here and I felt good about doing things differently from my friends or what my parents wanted me to do."
That summer of 2005 while she was looking for work and couch surfing in Crested Butte, Crista ended up getting a job at Cowboys (formerly the Powerhouse and now Bonez), even though she had never waited tables or worked in a restaurant. She also got a job teaching kids at Paradise Place preschool.
As romance often unfolds in the workplace here, Crista started dating her manager at Cowboys, Eric Dishmon, and they're still together today. During the time she worked at Cowboys, after owner Jimmy Clark passed away, Eric became part owner, Crista got pregnant, and she giggles that, "2007… it was a a pretty big year for me."
Their son, Rowan, was born that year and after her entrance into motherhood, Crista stayed home to care for her son and her other local cousin Sarah Smith's daughter as the two infant cousins were born only three weeks apart. Both Sarah and Crista were working at preschool during their pregnancies and while Crista was babysitting, Sarah went back to teaching, this time at Crested Butte Community School.
"Motherhood changed my view on things, motivation-wise, because I needed to make money. Eric and I had started to build a house, then the recession hit. I think we got the last land construction loan in the valley. So it motivated me to start thinking about more of a career. I was working at django's at the time and I like the service and hospitality industry. I enjoyed the social aspect and the part of it where you bring someone a product that they really enjoy. I felt like I grew and I learned a lot while I worked at django's.
"Now, as executive director of the CBMF, I feel really lucky and proud and I still have a lot more to learn. It's really cool. I manage a staff of five year-round people. I do less event and logistics and more development and working with the board, more long-range planning and financial planning. There's a real learning curve. We went from 50 events at 16 different locations to one venue operating like a bar, restaurant and performance space with 42 performances, with 28 of those in the new Mirror Palace tent. And I get to see a lot of music in the summer. That's the greatest part of my job, working on something all year and actually getting to see it come to fruition and it brings so much visible joy to people. I have a lot of respect for virtuosos. I get to see a lot of emerging artists, from Charles Yang to Alexa Jarvis, people who are so passionate about their art. It's wonderful to share and see other people's joy in the events that I'm helping to put on."
One might say that you can never take the beach out of the girl, or the girl out of the beach, but Crista is here in Crested Butte because she says, "It's an awesome place to be a human and to raise a kid. You walk out your door and you see astounding landscape. You have freedoms that you don't have to worry about in other places. I very much appreciate living in a small town where you walk into a coffee shop and they know what you want. It's like Cheers," she smiles. "Everybody knows your name and you feel like that all the time. You get to hear people's different stories and opinions."
With summer and the CBMF in full swing, Crista is slammed with work right now but she does find time to enjoy all the outdoor activities there are to enjoy here. "I just started to stand up paddleboard and I hike a lot and run. I love CB South because I can just go outside my door and there are a ton a families there," she says of her home just a few miles down the road in a little aspen grove up on the hill. "And now with Tully's, it's so awesome to be able to get a beer in your own neighborhood and at the same time I can go two switchbacks up the road and be in wilderness. You can have your friends right there but then you can also be in solitude in Crested Butte South."
Besides loving the small community life in Crested Butte South, Crista has a deep visual and aesthetic attachment to being here in the mountains, specifically in the north end of the valley. "Part of what appeals to me, when I first moved here, is riding my townie at night and seeing the stars. The stars are like falling on you, you can touch them. You can't do that everyplace. You can't see the stars. It's addicting and you want to be here and be around that. When you're here, it's like you're in on this secret with the other people who live here. It makes for a great feeling waking up."