End of an era – Mary Yelenick Playground closing this weekend
This Sunday, May 21 will be the last opportunity to play at the Mary Yelenick Playground in Town Park. Enjoy the Pirate Ship, swings, and play equipment this weekend for the last time. The play equipment will be donated to the town of Pitkin and final design for the new pirate themed playground will begin this summer with construction in 2018.
ICELab storytelling session
Join the ICECafé for a casual hour and a cold beer for ICELab's first round of Storytellers this Thursday @ 5:30 p.m. It is free and all ages welcome. Storytellers is a chance to take a peek "behind the business" of some of the pinnacle businesses that instill pride and inspiration in the Gunnison Valley. This first series features Ian Glas & Andris Zobs on the follies and flub-ups behind the build of IDSculpture. Laughter imminent.
You Are The Force workshop
In this workshop discover the scientific proof that there is a life force within us, since we are part of an interconnected universe, just as ancient myths and religions have always espoused. Explore how to "use the force" to your benefit. Monday, May 22, 6:30 p.m., pot luck at the CB Chamber of Commerce. Bring a dish to share.  970-596-5386.
Learn about Mountain Manners
The Mountain Manners Stewardship course series offers "Down & Dirty Locals' Mountain Manners" Saturday, June 3 from 9 a.m. to noon for the super-affordable price of $35 with instructor Molly Murfee. This course is available in early season in a quick, cheap and down-to-business format for locals wanting to learn how to treat our backcountry right. The entire course takes place outdoors. All eight of the Mountain Manners Stewardship Courses are based in the Leave No Trace™ tenets and give you the low-down on low-environmental impact travel through wild, fragile places. Reference materials and fun SWAG provided at all classes. Register through Mountain Manner's sponsor, the Crested Butte Wildflower Festival, online at www.crestedbuttewildflowerfestival.com.
Shavuot feast at Shofar Fellowship
A joyful celebration of God's gifts of the Torah at Mt. Sinai and the Holy Spirit in Jerusalem is being held at the end of the month. Join others on Wednesday, May 31 at 6 p.m. for the celebration and Shavuot dinner, at 1825 N. Highway 135, Gunnison (house in Discount Self Storage complex). For more information and to make reservations RSVP by Monday, May 29 at (970) 349-1899.
Marimba Workshop at the GAC
Learn the uplifting music of Zimbabwe in a fun summer morning workshop at the Gunnison Arts Center on Saturday, June 3 from 9 a.m. to noon, taught by local troupe members from Marimba Mu Gomo (Marimba in the Mountains). The class is for five to 12 students, taught by Barbara Haas. The fee is  $25 for adults, and $20 for ages 10 to 18. The instruction will be tailored to all skill levels. The workshop will be held outside on the GAC courtyard. Please bring a hat, sunscreen, water and a small snack. The last 15 minutes of class will be a mini-performance for friends and family.
Birthdays:
May 18- Charlotte Camp, Marion Elizabeth Frame, Isabel Young, Ashton Malory, Bob Bernholtz, Tim Egelhoff
May 19- Reed Meredith, Joe Garcia, Matthew Evans, Mason Pruett, Calla Fenlon, Michael Mollison
May 20-Ellie Penney, Tracy Smith, Jill van Tiel, Danielle Talbot, Frank Nunes, Mark Hochraden, Kiley Sahr, Stephanie Clark, Charles Young, Ivy Walker, Maeve Murray
May 21- Erica Hogan, Jerry Deverell, Mary Frame, Bobbi Pogoloff, Katherine Hargrave, Henry Sunter, Andrew Hadley
May 22- Glenda Harper, Jennifer Oberling, Rita Wengrin, Colton Parr
May 23- Kathy Wiggins, Bob Piccaro and brother John, Jenner Currier
May 24-Mary Perkins, Laura Magner, Oceana Friedman, Jack Dietrich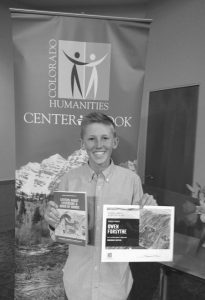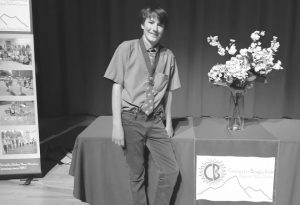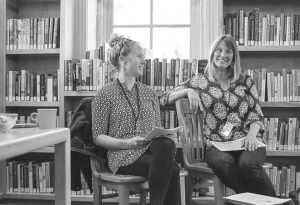 Cameo Question: What keeps your creative juices flowing?