By Dawne Belloise
Manifesting the future today
In the Beginning
In a world of conflict and uncertainty, overpopulation, global warming and depletion of the planet's resources, there are people working beyond the parameters of both imagination and currently available technology to manifest a better future on earth, with a vision that reaches far beyond our world.
Zenia Tata is one of those humanistic futurists envisioning and creating programs competitively based on incentive to enable scientists, innovators and inventors to develop new tools to help further humanity, from medical applications, to robots on the moon, to on-demand clean drinking water anywhere.
The projects and subsequent concepts and inventions Zenia helps initiate seem right out of science fiction. To hear her enthusiasm and strong sense of purpose, as well as learning about the monumental task her organization, XPrize, is taking on, is to have a beacon of hope lit in a dark night.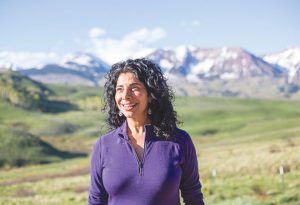 Zenia was raised in the swarming environment of chaotic Bombay, India, which she describes as "The New York of the east." She grew up in a shared apartment, living with 17 family members. "It's how we lived. It's mostly cultural," she explains of her extended, close-knit family. Her father was a serial entrepreneur, engineer, inventor and innovator, and her family name, Tata, is well known for its humanitarian work. Her mother was a chocolatier, making gourmet confections, a very uncommon profession in India, especially for a woman.
After living in such a vibrant, teeming metropolis of culture, coming to America and coping with its divergent way of life was difficult for Zenia. She was 21 when she arrived in Santa Monica to attend flight school. At the time she said she hated America. "It was cold and isolating, and I had never slept alone in my whole life because I had shared my bed with my grandmother from the time I was young. Before my grandfather died, I slept between them," she says of her feeling of alienation from the lack of communal warmth.
The autonomy of American culture was unappealing to Zenia, especially in the megatropolis of Los Angeles where her roommates were so self-involved they never bothered to get to know her, let alone converse with her. "In LA, if you try to get to know someone, it's considered prying," Zenia says.
Zenia knew what she wanted to do with her life at the young age of seven. "I knew I wanted to spend my life doing something that helped a lot of people, not a few, but a lot, but I couldn't articulate how and to say that sounds so self righteous," she says. However, Zenia comes from a family of forward-thinking activists who created a corporate social responsibility (CSR) organization 120 years ago and that history significantly influenced her path.
In Bombay, she experienced the poverty and class differences, not just in her neighborhood but endemic throughout India. "Every day you wake up in the morning and there's the family in the street waking up. There are the little kids bathing in the puddle, they're tapping the fire hydrant illegally to get water. You see them every day, you know them by name, they wear your hand-me-downs, they use your textbooks in school, your parents pay for them to go to school. They're almost like extended family. You see the hardship and the suffering, so [helping them is] something I knew I wanted to do."
She started fulfilling her commitment while attending St. Xavier, a Jesuit college in Bombay. Zenia volunteered as a medical coordinator in the slums as part of the Social Service League for social causes or working in adult literacy and advocating for children in the sex trade. From the time she was 16, Zenia had been exposed to atrocities and hardships that others endured but being in service to humanity was expected of her in the Tata family. She graduated in 1990 with a degree in English and French literature, although she feels she should have focused more on physics and the sciences, which she excelled in.
The Trekkie Beyond
Science fiction fueled her imagination from an early age and she recalls excitedly, "I loved space and always wanted to be an astronomer and astronaut, but then I heard that you had to be very good at physics and mathematics and I was very good at physics but I didn't like math. I grew up watching Star Trek. I'm a big Trekkie and that whole thing with Star Trek and science fiction played a very big part in my life and my work."
It inspired Zenia to stretch her boundaries and understanding as a non-tech person. Star Trek not only inspired so many other youngsters to study science, it also triggered many futuristic inventions that are now in use today. "I always loved flying as a child. I was drawn to the skies, although in Bombay you don't see stars because of the pollution and the light. I got my first glimpses of stars in a high school adventure club, camping outdoors," she says.
Once in the United States, Zenia discovered that flight school was very expensive, as was everything in America. She was waiting tables at TGI Fridays and living in Venice with seven other people. But Los Angeles just wasn't a place she wanted to be, so she went to visit her cousin in New York City, driving across country, taking all the smaller highways. And that's when she changed her mind about America the Beautiful, seeing the rural landscapes and the country's grand, national parks.
"I was broke, living out of my car, and I didn't have any money for car insurance," she says, which prompted her to take the roads less traveled. She discovered Joshua Tree, Sequoia National Park, Death Valley, Brice Canyon, Escalante, Zion, Painted Desert, and Petrified Forest.
"I didn't know about the national parks of America. I grew up in a socially conscious family, not a nature-conscious family. We lived in the heart of the old city. There was nothing about nature in Bombay. You never experience anything other than what's outside of your window so I had no concept of what a national park was."
When she took off on her cross-country adventure it was the dead of winter and she only had one jacket and a pair of combat boots but Zenia feels that trip changed her in ways she could have never imagined. "I was traveling all alone in vast open wilderness spaces and I was afraid. It was daunting but it wasn't unsettling. I had seen the horrible, nasty fear that other humans put inside of you when they threaten you. Nature doesn't do that. It's more about the fear of the unknown. It's primal. At the same time, it balances your soul out with peace. It changed my mind completely and I fell in love with America."
Zenia worked her way across the country waiting tables at TGI Fridays as she went, earning gas and travel money.
Working across America, she had made friends in resort lodges and Zenia went back to Sequoia to work for the summer of 1995. Afterwards, she went to Alaska to pursue her piloting, flying up in the bush in Juneau. She had a stable job as a social worker as head of investigations for the state department in child abuse and neglect. It was there that she met her hubby, John Ferguson, a third-generation Coloradoan who was backpacking through. It was 1999 and it was love at first sight. One weekend in early June 2000, John brought Zenia up to his special place, Crested Butte, where as a kid, his family would fish the Taylor.
It rained all weekend and still, Zenia fell in love with it. "This became our Mecca," she smiles. "This is where we do the things we love, working in Denver, but living in Crested Butte." They came up to their mountain condo every chance they could get for almost 20 years until last year, when they decided to take the leap of faith and move here full-time. John gave up his career at Schwab as a financial advisor to start his own business here. They built their dream home on Paradise Road and this past May, they moved in.
The Future is Now
"I've always worked at the nexus of technology and entrepreneurship for the greater good. I have the best job in the world, extraordinarily stressful but I love what I do," Zenia says of her job as executive director of global development and international expansion for XPrize, a non-profit organization she describes as an innovation accelerator.
"We believe that if you want to find radical innovation, the kind that changes the trajectory of humanity, you can't expect people to work on it in their spare time, you have to incentivize them to work on it. There are only three things that do that: the first is money, the second is giving people a chance to be inventors and to be the first to accomplish something, and the third, which is far larger than the first two, is the chance to really make a difference in the world. I very much believe that as human beings we have altruistic souls; I believe in the goodness of humanity. We are at our happiest when we're helping someone, even if we don't know that person.
"At XPrize, we design and launch multi-million-dollar competitions to solve humanity's grandest challenges," Zenia explains. For example, XPrize opened up the private space sector, and its projects encompass everything from space to ocean exploration, to the future of water, energy, food, and medicine.
Their board and advisor committees have brilliant members who have already made a difference in the world—people such as Larry Page, founder of Google, James Cameron, Arianna Huffington, and Richard Branson. Elon Musk just stepped off the board to focus on SpaceX but is still helping fund projects such as a tablet that teaches math, reading and writing skills in only 18 months to children who are in a zero-literacy area in sub-Saharan Africa.
"They believe in our mission to build an abundant life for all," Zenia says of the contributors she mentioned, and noted that there are many more.
Early on, XPrize realized that you couldn't be a company that's focused on the needs of a few hundred thousand people because there are six billion other people who don't have access to food, water, energy or medical services, the essential necessities of life.
"It's very challenging because it's trying to understand the root causes of poverty, of why certain things are happening and then change it at a very fundamental level and when you're changing it with economics, with markets, and market connection, technology is a great enabler, it's not the be-all and end-all, but a great bridge to getting to a state of betterment for humanity. When you're working with these things, what you're doing is, very covertly, you are building democracy from the ground up for these countries, you're building resiliency in these populations. They're the poorest people of the planet but 18 months after you work with them, they're not poor anymore. Now they have an income. They're people who have a part of the economy," Zenia says of the Ghandian concept of teaching people to rise up with assistance, learn, and then continue to improve their lives on their own.
Pushing the Boundaries
Zenia was brought to XPrize to help shape the company in thinking about what the future of this planet would be. "I believe, as many in XPrize do, that as a human species, our destiny is to leave this planet. Our destiny is not quite the stars yet because we don't have technology that's even remotely close—yet. But our destiny is off earth, we are an exploratory species," Zenia says. She's not talking about abandoning the planet, but pushing the boundaries of exploration to understand who we really are as human beings and our place in the universe.
Focusing on the inclusion of solving the issues of six billion earthlings, XPrize founder Peter Diamandis realized that for the survival of our planet and species, the organization had to be innovative and have compassion. The foundation's people explore the beneficial uses of exponential technologies, an exponential mind set that puts into action new business models and new ways of thinking. "I'm doing a futuring project right now, the future of housing, imagining what housing would be like in 2040, what would make housing sustainable, accessible, affordable for all and culturally appropriate," Zenia believes, and the indication is, we're going to go back to communal living.
She just launched two futuristic prizes in India. The first is atmospheric water extraction using all renewable energy at a price point of two cents per liter, with a quantity of no less than 2,000 liters a day, enough for a community.
The other competition Zenia recently launched concerns women's safety, utilizing the edge of internet technology called Li-Fi—it's like Wi-Fi but through light frequencies. The winning team will develop a hidden device or sensors in clothing that will alert help when someone's in need or trouble.
"We've also just launched a program with the Vatican for climate change and by the end of this year I'm going to take on my first impact futuring map in climate change, like an impact map, a road map for climate change. The Pope is amazing and very progressive and we're in partnership with [the Vatican] to focus on climate—a lot of our ocean work has been focused on climate," Zenia says.
Some of the other prizes awarded for inventions that were developed are a Star Trek–type "tricorder" that fits in the palm of one's hand and scans people to diagnosis a variety of diseases and conditions like blood pressure, oxygen levels, heart rate, blood sugar. On the communicable side it can differentiate between pneumonia, diphtheria, flu, typhoid, and malaria. The results show up on your mobile phone. From this, devices like the Fitbit were developed.
Xprise's teams from across the world competed for a $30 million Google Lunar XPrize to put a robot on the moon and this fall, a team from India will put their robot on the lunar surface.
Zenia explains why private funding for projects like these is vital. "Government and big industry are not innovating for the masses. They're all about getting a better bottom line. We strategically remain a non-profit because the minute I take your intellectual property, the best minds won't innovate for us anymore," Zenia says.
"We are the people we've been waiting for," Zenia says passionately. "We have to stop this BS about waiting for someone else to save our planet, save the day, explore new frontiers or create a cure for cancer. No, we are the people we've been waiting for and if it's not you, then who, and if it's not now, then when? We've already passed the tipping point on the environment. We've already had this damn election, what more are you waiting for? We all have this opportunity every day, and in some ways, for me, being able to live here in Crested Butte in such remote beauty and isolation proves that. Everyone, all of us, has a hand to play in this, no matter who or where you are, you have to create that opportunity no matter how small or large the impact because that feeds our altruistic souls as humans."
For more information about the projects visit XPrize.org and find Zenia Tata on TED Talks.