The doctor is in
by Dawne Belloise
Elliot Brown's first glimpse of Crested Butte was in 1997 when his cousin, Andy, bought a home here. Andy is the son of the longtime part-time, now octogenarian resident Morty Brown, whose long white ponytail is oftentimes seen streaming behind him as he flies down the mountain with his "80+ Club" skier decals plastered on his helmet.
For Elliot and his family it was love at first sight and they'd spend their ski vacations here, building fond memories over the years. Elliot became attached to the beauty and the lifestyle, so much so that now he returns for extended stays about five times a year.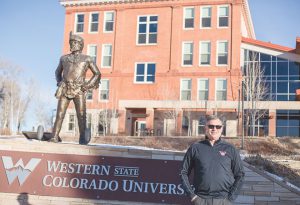 Elliot was born and raised on Long Island, N.Y., where his father was an insurance investigator and his mom was court stenographer. When Elliot's father was seasonally sent to California to work, Elliot's mom, Elliot and his younger sister went along. After his father's job was completed, the family would load up in the car and travel to different areas of the country, using the AAA TripTiks, a predestination travel guide map. Elliot remembers the program, long before Google maps came along.
"You told them where you wanted to go and they put the trip together, like a paper GPS they'd print out for you."
As a child, Elliot got to see many parts of the United States. His sports were ice hockey and downhill skiing with his local ski club. His Uncle Morty would take him on ski vacations to Killington, Vt.
Elliot knew from an early age that he wanted to be a doctor. He graduated from high school in 1979, proficient in math and science. His inspiration came from his family pediatrician, who, much later in life, actually became his father-in-law.
He confesses that although he had the smarts to get into medical school, he just didn't have it together yet. With the newfound freedom of being in college and away from home for the first time, he joined a fraternity, which wasn't quite conducive to focusing on the difficult studies required to get through med school. In fact, he was actually asked to leave the prestigious Rensselaer Polytechnic Institute.
"So, I then took bio-medical engineering courses at a local college, Pratt Institute in Brooklyn. I changed my major because, based on how poorly I did as a freshman at Rensselaer, I thought I'd never get into med school again," he surmised.
He learned his lesson, however, and was accepted into Tulane University in New Orleans. "The engineering classes were early in the morning while my friends were sleeping, and while they were in class in the afternoon, I could get my homework done," he says, noting that this schedule helped him focus without the distraction of partying friends. He graduated in 1984 with a bachelor of science in biomedical engineering.
Elliot's concentration was in electronics design, but he still had his dream of someday becoming a physician, so he applied to several medical schools but was rejected, despite his reformation after failing his first year. Eventually, he was admitted to Saint George's University School of Medicine in Grenada.
"It was 1984, Reagan had just invaded and occupied Grenada. It was different and interesting to be in a place with American soldiers roaming around and interacting peacefully with the civilians, and the civilians were very positive toward Americans and what Reagan was doing over there. They wanted to be a free country. It was interesting to get to know Grenadians and it was a real taste of poverty as well," Elliot recalls. "For the first time in my life, I realized you didn't need that much to be happy."
He loved and excelled in his classes and was serious about his studies. In 1986, he applied to American schools as a third-year medical student and was admitted to New York Medical College in Valhalla, Westchester, N.Y. and, he says, "I never looked back." He graduated in 1988.
"I wanted to specialize in cardiology and was offered a position as a fellow at New York Medical College," where he spent the next six years, from 1988 through 1994, after which he joined Valley Medical Group, a private cardiology practice in Clifton, N.J., where he's been for 23 years now.
All the while, Elliot would visit Crested Butte, throw darts at Kochevar's, listen to music at the Princess Wine Bar, which, he says, "Allows you to meet a lot of Buttians. I befriended Garth Mangels, the Princess bartender, and one night while drinking bourbon and chatting, I posed the question, 'What can I do to be more rooted in the Crested Butte-Gunnison area so that I have to come out here more often?' Garth recommended that I email the dean of the biology department at Western State Colorado University (WSCU) to inquire about visiting professorship opportunities. One email led to another and I was offered a job as an adjunct visiting professor. I teach a two-week, one-credit senior seminar to pre-med and pre-health students."
Now in his third year as adjunct professor, Elliot also helps recruit new students on a national level to bolster the pre-med program and he happily says, "Now I'm out here a number of times a year to meet with faculty and maintain my position."
The tides are shifting for Elliot as he feels more and more attached to life in the mountain town as opposed to the hectic city life he still returns to. "When I return to New Jersey from Crested Butte I can't believe how many people I live around. And the idea that I have to join a gym just to be able to do things in order to breathe in Colorado, which is my real outdoor gym, just doesn't go along with my deepest essence anymore. It's not the same as throwing your mountain bike into the back of your pickup truck, buying a sandwich at Clark's Market and hitting the trails."
So it was a dream come true this summer when Elliot finally purchased his home on the mountain and he feels he can be a part of the landscape more consistently.
"I have thoughts that in maybe ten years I'll be able to work in the clinic here or the Gunnison Valley Hospital. I'll continue to maintain my contacts with WSCU as well. I'll be applying for a Colorado medical license soon. It's actually not retirement, it's moving here. To me, to be mountain biking or skiing full-time while I'm not working, to have access to all the area has to offer, and to have all my mountain toys, from Blue Mesa to the top of Mt. Crested Butte, and to be able to medically take care of the people in the Gunnison Valley as well as inspire students at WSCU, while playing in the Rockies would be my personal definition of what my path and purpose are," he smiles.
He notes that his three kids, Russell, aged 27; Julie, 23; and Jessica, 22, who visited throughout their childhood, will be coming back more frequently now that he has a home here.
"I have no desire to see the integrity of the area change," Elliot states emphatically. "It's not easy to live here full-time but it's an extremely special place. For me, these people need to be respected and supported, from the miners who inhabited the place to the people who are here now running their businesses, raising families, and creating art and music. Spiritually for me, every day when I wake up and see Mt. Crested Butte, all the aspen trees and the foliage, the foxes and the elk, I think of how much fun it is to play in the winters and summers.
"It hits me in two ways—I look at the mountain as a mother figure that gives forth all of this life to us but also sets the example for me because all it's doing is being that perfect mountain that it was created to be," Elliot concludes. "I just use it as a guideline to know what the purer sense as to what my path was created for. The mountain is the benchmark of how excellent you can be when you're the most true to yourself."