Wheels on Heals
by Than Acuff
With only four teams in the competitive league again this year, odds are the Rent-A-Gades will repeat as league champions. Not only did they return this year with almost their entire roster from the 2014 title team, but they picked up a couple of players from teams that disbanded over the off season to add more pop to their already explosive line up.
Take note though, I'm usually wrong. The other three teams are no slouches either and could make the season interesting. But when Rent-A-Gade Jerry "Wheels on Heals" Heal knocks an infield single and then makes it to second base with another uncharacteristic burst of speed, it's obvious that the team is determined to strive for a repeat.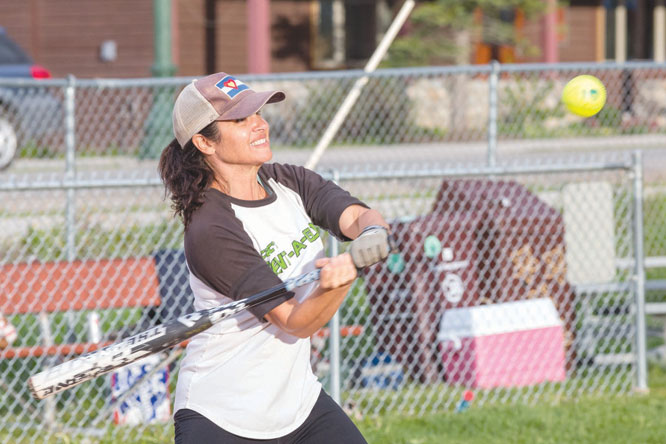 They opened the 2015 season winning their first two games, taking down the Wine House Monkeys last week and following with a 13-10 win over Pitas in Paradise Monday night at Gothic Field.
The Rent-A-Gades came out hot in the top of the first inning, scoring three runs on a double by Josh Schumacher, sac fly RBI from Andrea Schumacher and a fielder's choice RBI by Erica Canada.
Canada backed her bat up with her glove in the bottom of the first inning with a gymnastical grab in deep right field to deny Scott Sanders an extra base hit.
But the Rent-A-Gades are far from perfect as they stalled the next couple of innings while Pitas gained steam to take a one-run lead.
Drew Stichter tripled and then scored on a single by Lauren Stock in the bottom of the second inning and Pitas tacked on three more runs in the bottom of the third. Mark Bortolin and Polly McGrane singled, Maddie Stichter drove one run in with a base hit and Sanders drilled a two-run home run to straightaway centerfield for a 4-3 Pitas lead.
The two teams then traded off runs in the fourth inning as Canada drove a run in for the Rent-A-Gades and Justin Marting singled and scored on a base hit by Bortolin.
The "barn-burner" soon got blown open in the top of the fifth inning though as the Rent-A-Gades scored six runs with a potent mix of a spark, hot bats and aggressive base running.
Justin Wheeler opened things up with a towering solo shot over the left field netting, but it was the effort of Jill Pitt that really got things going. Pitt punched a base hit through the infield and then caught the Pitas defense slacking and stretched for a double to ignite the Rent-A-Gades bench.
Kari Roberts, playing with pupils dilated, drove an RBI double down the left field line and Nick Catmur, who with Canada are two big off-season Rent-A-Gade acquisitions, then turned an infield single into a RBI infield triple. Leah Fisher joined in with an error-assisted RBI single and Andrea capped the rally with a two-RBI single for a 10-5 Rent-A-Gades lead.
Roberts, Catmur and Fisher combined again to tack on two more insurance runs in the top of the seventh inning that proved to be instrumental in the Rent-A-Gades win as Pitas made one final push in their final at bat.
Rhett "Yard" Yarborough kicked off the late game push with a solo shot. Maddie singled, Sanders singled and then Stichter clobbered a three-run shot off of Town Hall in right field to pull within three.
Stock stepped up to the plate to keep hope alive with a grounder up the middle but Rent-A-Gade shortstop Jeff Snyder sprinted to his left for a sliding scoop and jumped up to fire to first for the third and final out, sealing the 13-10 Rent-A-Gades' win.