"We now have a foundation to build on"
by Than Acuff
The build-up was big. In April, the Gunnison Valley Roller Girls headed to Alamosa and won their first bout in the team's young existence against the SLV Scarlet Rollers. On Saturday, the two teams met again, this time at Big Mine Ice Arena, with the local team ready to show their hometown fans how far they've come since they last hosted a bout in Crested Butte.
"They were fiery," says GVRG coach Toby "Toby Electric" Levin. "We knew exactly what we wanted to do and we were ready to take it to that next level."
The crowd, while somewhat subdued, was strong in numbers and were treated to hits, power jams, blood, an ambulance ride, chaos and carnage, and when all was said and done, the GVRG recorded their second win of their existence as they handed the young Scarlet Rollers team a 275-137 drubbing.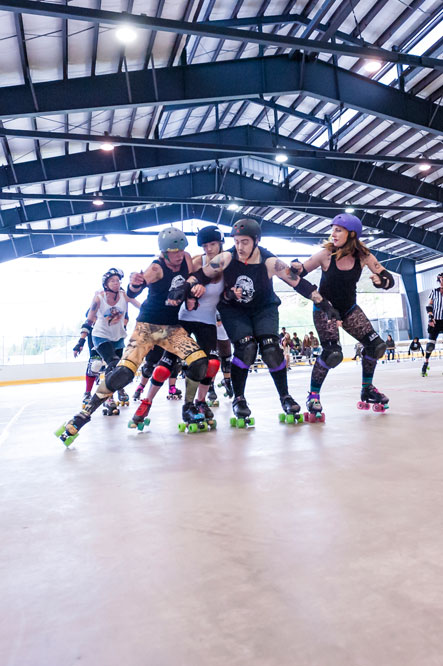 And it wasn't all about the all-star jammers. Sure, Betty "Betty D'Brawl" Philbin was on fire again, September "Ran Sack" Sack racked up her fair share of points for the home team, as did Montrose recruit Ashley "Foxy Knoxy" Slater, but it was the hard work of blockers like Renee "Crash Nasty" Newton, Angie "Angel Mauler" Mauldin (who did some damage as a jammer as well) and the ever-popular Candice "Dyke Ditka" Bradley that opened up lanes for the GVRG jammers while keeping the Scarlet Roller jammers bottled up.
It didn't come easy though as the Scarlet Rollers gave GVRG a run for their money in the first half. GVRG jumped out to an early 12-0 lead paced by the jamming of Ran Sack but the Scarlet Rollers came back as jammer Wanda Bonghit charged out to a power jam to give the Scarlet Rollers a 38-37 lead midway through the first half.
The two teams then traded off turns on top before GVRG jammers Tyler "Eleanor Bruisevelt" Brown, Sioux "Siouxnami Threat" Emery, Betty D'Brawl and Foxy Knoxy opened up a big ol' can of whup to rattle off 48 unanswered points, building a 105-57 advantage on a series of consecutive lead jams and forcing the Scarlet Rollers to call a timeout.
Crash Nasty and Dyke Ditka mixed in bruising hits on Scarlet Roller blockers to keep the GVRG lead and the Scarlet Rollers suffered a huge blow with seven minutes left in the half when their most effective jammer, Wanda Bonghit, went down with an injury and was carted off on a stretcher to Gunnison Valley Hospital.
The injury proved to be a rallying cry for the Scarlet Rollers as they ended the first half with a power jam to close the gap and finish well within striking distance, down 124-91.
"The first half went well and we came out exactly as expected," says coach Electric. "But they're a tight-knit family, just like we are, and when one of their players got hurt, they rallied off that injury. Penalties struck us at the end also and they jumped on that."
Following some halftime words from Toby Electric, GVRG came out firing on all pistons. Ran Sack and Siouxnami Threat opened the second half with back-to-back jams to build a 151-91 GVRG lead.
"I just reminded them of what we're here to do and to have fun," says coach Electric. "We just came back out having fun and continued doing what we do."
Coach Electric also installed a new strategy, switching up the jammers and reorganizing their plan by improving communication and instilling a passive defense.
Ten minutes into the second half the GVRG really took hold of the bout as Betty D'Brawl linked back-to-back power jams and the blockers executed the passive defense strategy to extend the GVRG lead even further.
Stout blocking and big hustle quickly quashed lead jams by the Scarlet Rollers and Ran Sack closed the bout with one final jam to cap the 275-137 win in top form.
"I thought the second half was really good," says coach Electric.
In the true spirit of roller derby, an injured Wanda Bonghit was cleared to leave the hospital with bruised ribs and her internal organs still intact and made it back to Crested Butte in time to join the post-bout festivities at Kochevar's.
The GVRG team will take a break from bouts this summer as work starts to pile on but looks to return to action with a couple more bouts later in the summer and into fall. Until then, look for GVRG athletes to be out on the streets and in parades spreading the good word of flat-track roller derby.
"We now have a foundation to build on," says coach Electric. "We're going to get out this summer and give our love to the community and then later this summer give the community some more derby action."