"I'm savoring the moment because I know it's not going to happen every year"
by Than Acuff
Ranked second in the world, heavily favored and with three national steeplechase titles to her name already, New Balance athlete and former Crested Butte Titan high school stand out Emma Coburn remained grounded when preparing for the United States Track and Field National Championships on Saturday, June 27.
Her personal record time in the 3,000-meter steeplechase is 9:11.42. Her closest competitor's best time was 9:24, along with a slew of other opponents in the same range. Nevertheless, anything can happen.
"They're close enough to me that if I made a mistake, they'd be right there," explains Coburn. "It wasn't a lock."
Coburn ended up finishing in a time of 9:15:59 for her fourth national title in five years. Still, even with her fourth national title, she remains grounded.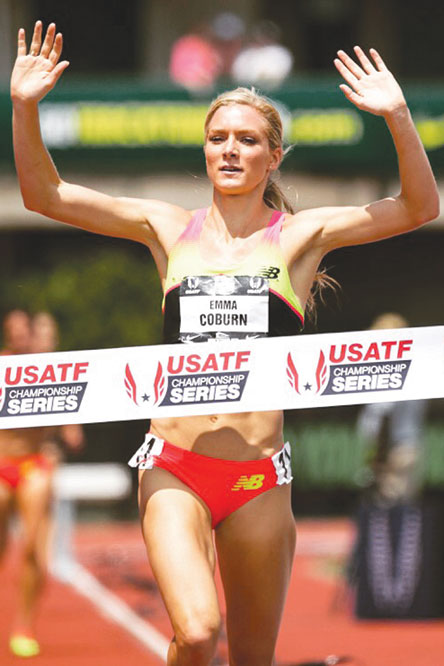 "The first time I won in 2011 was a real shock," says Coburn. "Now, the happiness is still the same, just less shock and more appreciation. It's still just as sweet. I'm savoring the moment because I know it's not going to happen every year."
It had been a while since Coburn raced a steeplechase. The last time she lined up for the event was in Morocco back in September. Since then, event scheduling, including her brother's wedding, kept her out of steeplechase races.
"I knew I wouldn't be able to get in training, races and a wedding," says Coburn.
To fill in the gaps, she raced in a couple of 1,500-meter races and then put in a block of training in Boulder in June while still going to her brother's wedding. During that time she set a new personal record in the 1,500 meters and her training block in Boulder in June proved fortuitous.
"I hadn't raced that much but things went well," says Coburn. "I just had to do some pretty hard race training."
The race itself at nationals went smoothly. Coburn settled into second place for the first four laps right behind the lead and when they hit the water jump after four laps, Coburn's technical strength shone through. She took over the lead on the water hazard and pulled away for the win over the final three laps.
"Sometimes it's nice to have some help the first half of the race," explains Coburn. "I just tried to surge ahead and took over the lead for the last three and a half laps."
Coburn punched her ticket to the track and field world championships in Beijing at the end of August with the win. It will be her second trip to the big show. In 2013 she made the trip to compete in South Korea and finished in 11th place once all was said and done.
This time, things are a little different. Coburn is currently ranked second in the world and has posted the second fastest time in the world to date this year. Still, her expectations remain somewhat guarded. Her ranking is based on last year's races and Coburn knows that most racers step up their game in a world championship year.
"When the world championships happen, people pull out all the stops," says Coburn. "It's hard to know what to expect from the field. I hope to be top five, but it's really unpredictable."
Until then, Coburn jumps into the professional racing Diamond League circuit with two races in July in Europe. She then returns to Boulder for one last block of training before heading to Tokyo to fine tune for the world championships.