Happy birthday America!
Welcome to the busiest week with the busiest day of the year in Crested Butte. You and 15,000 of your closest friends can watch a unique small town parade Saturday morning and partake in a celebration of America's independence. It will be the first time in decades Denis B. Hall won't be on the grandstand announcing the parade so we tip our hat to him for a job well done. Have a great time everyone and Happy Birthday America!
RMBL lecture at the museum
On Monday, July 6 the Rocky Mountain Biological Laboratory will hold its Douglass Distinguished Lecture titled 'How Nature Paints Flowers' by Dr. Mark Rausher of Duke University's Biology Department. This talk is FREE and will take place at 7:30 – 9 p.m. at the Crested Butte Mountain Heritage Museum located at 331 Elk Avenue.  There is no need to reserve a seat, just grab a friend and go!
Connor paintings on display
Longtime local artist Carol Connor is showing her paintings at the Moon Ridge Gallery during July. She will be hosting an opening during the July 2 art walk from 5-8 p.m.
Gunnison Arts Center Invitational, First Friday Art Walk
Enid and Paul Holden are sponsoring an art invitational at the Gunnison Arts Center for local artists Joe Bob Merritt and Natasha Ivy on Thursday, July 2 from 6 to 8 p.m. This is open and free for the public. Merritt is a visionary artist and architect who has displayed his art nationally and also won a grant for a piece displayed in the Burning Man Festival. Ivy's work was inspired by the African bushveld and the Rocky Mountains, bringing her natural artwork to the masses.
Help feed the people
Do you have a backyard garden? Do you want to help feed people in need? Mountain Roots invites all home gardeners to sign up to grow a row for the hungry with their Backyard Harvest program. They will pick up donations weekly, group produce together and distribute to families in need. Every donation counts. For more information, call Natalie at (202) 250-1869 or visit www.mountainrootsfoodproject.org/Backyard_Harvest.html.
Whatever award
Mosaic USA, who organized last September's Bud Light Whatever USA event in Crested Butte, took top marketing honors at the 25th Annual PRO Awards Gala last week winning the Platinum PRO Award for Best Overall Campaign for the "Whatever USA – An #UpforWhatever Weekend" program.
Therapy and horses open house
Cochetopa Therapeutic horsemanship will host an open house on Wednesday, July 15, from 4 to 7:30 p.m. Cochetopa Horsemanship teaches basic horsemanship classes to riders with disabilities. The horse is a proven teacher and therapist for riders with special needs. See their lesson horses in action, and experience horse painting at 8610 Hwy. 114, which is 8.75 miles south of Hwy. 50 on Hwy. 114.
Baby Oliver
Oliver Benjamin Chicoine was born May 14 to Erin Jacobs and Ben Chicoine. Oliver weighed six pounds, seven ounces and was 20 inches long. Congratulations!
Birthdays
July 2– Jackie Ingham, Glo Cunningham, Anne Campbell, William Johnson, Monica Arias, Caitlin de Compiegne
July 3– Nathan Bilow, Sandy Shea
July 4– Molly Eldridge, America, Michelle Zanga, Jesse Gerber, Samantha Merck, Jeff Westling
July 5– Alissa Johnson, Chloe Eskew, Rachael Baskfield, Ali Sunter, Blair Hall, Kimo Donnell, Kyra Martin
July 6– Kristen Andersen, Oliver Houseman, Elise Jiganti, Chloe Crawford
July 7– Gordie Spencer, Justin Bigelow, Jeff Schneider, Cole Byron, Milana Milisaljevich, Kristina Johnson, Thomas Pruett
July 8– Roxie Lypps, Katey Helm, Cheryl Leonard, Gloria Wojitalik, MJ Vosburg, Dave Velardi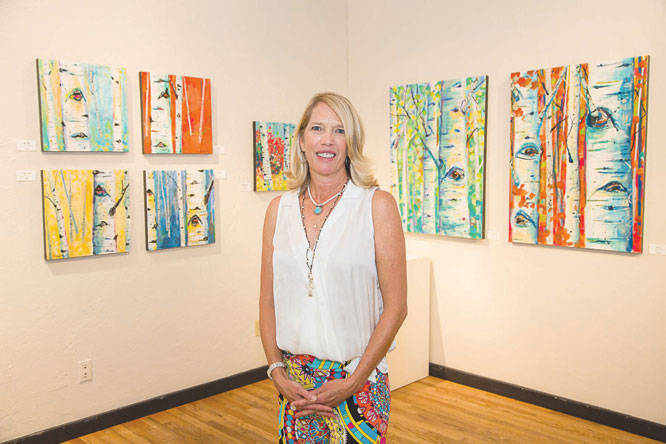 COLORADO COLORS:  An art reception for Blair Garth was held at the Center for the Arts on Friday, June 26.       photo by Lydia Stern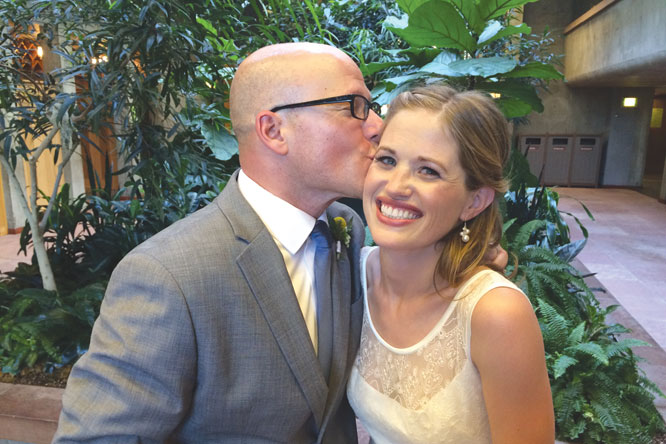 CONGRATS!:  Eddie Stern and Ellen Steiner were married on Friday, June 19 at the Denver Botanical Gardens. A healthy Crested Butte contingent was in attendance.       photo by Mark Reaman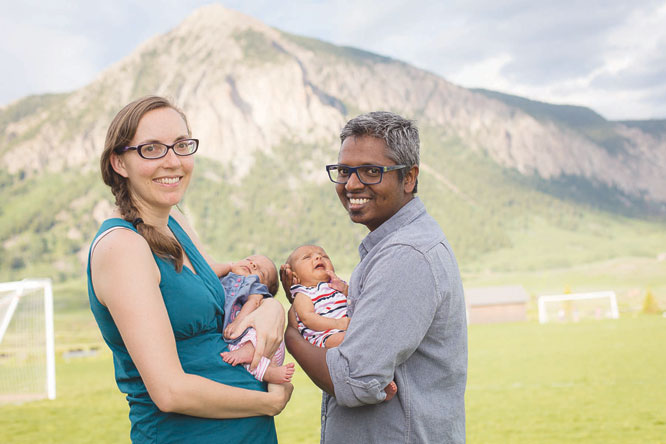 TWINS!:  Sahira and Anya Ramgoolam were born to Danica and Arvin on May 19 at 5:17 p.m. weighing 5 lbs. 6 oz. each.  Congratulations!       photo by Lydia Stern
Cameo Question: What do you want to see in the 4th of July parade this year?

Soldiers.
Terry Anderson

Clowns.
Savanah Pepper

A message of peace.
Phil and Marguerite Roy

Fireworks.
Neil Rentfro

Animals.
Kennedy Bohanon