Next up: time "in the pain cave"
by Than Acuff
With an expanded season of racing this year, the Crested Butte high school mountain bike team got a jump on preseason training by starting the first week of August with one goal in mind.
"It was all about base miles for the first two weeks," says coach Pete Curvin.
While some riders were jumping into the training regimen for the first time, several others came in well ahead of schedule.
"We had some kids come in with some base miles after working this summer as mentors for the DEVO program," says Curvin.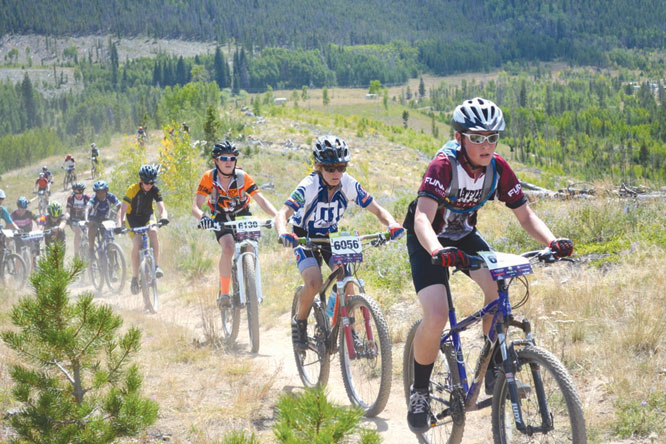 As the team of 13 riders worked to lay down the foundation, the coaching staff of Curvin, Graham Elliott and Torrey Carroll then turned to speed work to get the athletes' legs firing at a higher rate.
This season the team has athletes riding in a variety of classes with Patrick Curvin and Kai Sherman in the varsity class and the rest of the Titans competing in either the freshmen or sophomore races.
The team got their first test on Sunday, August 27 when they headed to Frisco for the first race of the season. Eleven Crested Butte riders made the trip and the team got in some course inspection Saturday before spending the night camping as a team and lining up on Sunday for the season opener.
Sherman led the Crested Butte team in the highly competitive varsity boys' race, placing 18th overall while Patrick fell victim to a stomach bug mid-race.
Sophomore boys Finn Wilson, James Bivens and Ian Eldridge held their own in their race with Bivens placing seventh, Eldridge eighth and Wilson finishing in the top 30.
"Two top 10s is an amazing showing for the first race," says Curvin.
Freshman girl Marion Chater was thrown into the hot seat for her first race. Riders are called to start at random and Chater found herself on the front lines of the freshman race. Chater dealt with the nerves accordingly and held off a majority of the riders to cross in 13th place.
"She was awesome, super strong in her first race ever," says Curvin. "She was very nervous but stayed composed."
Freshman Tanner Perkins had the top performance of all of the Titans. Due to a random drawing for the start line, Perkins got the short end of the stick and was handed the final starting spot among the freshmen class of over 80 riders. Perkins took it in stride, charging his way through the masses to finish the race in sixth place.
"The kid is an animal," says Curvin.
Liam Elliott joined Perkins in the top 10 to place eighth.
"I was proud of all of the kids," says Curvin. "They had a great weekend."
The Crested Butte team now has two weeks before their next race in Leadville on Saturday, September 12. The coaches plan on continuing speed work and getting the varsity boys some harder rides leading up to the next event.
"The next two weeks will be high-end workouts, lots of intervals and working them as hard as we can," says Curvin. "A lot of time in the pain cave."