Two racers set sights on returning to Junior Nationals
by Than Acuff
Over the summer, Crested Butte Nordic Team head coach Austin Ross started the process of getting his athletes ready for the upcoming race season. While summers for kids are jam-packed and participation in summer workouts can be spotty, a handful opted in for the training.
"We definitely had some stuff going on last summer and the ones that were there got some really good training," says Ross.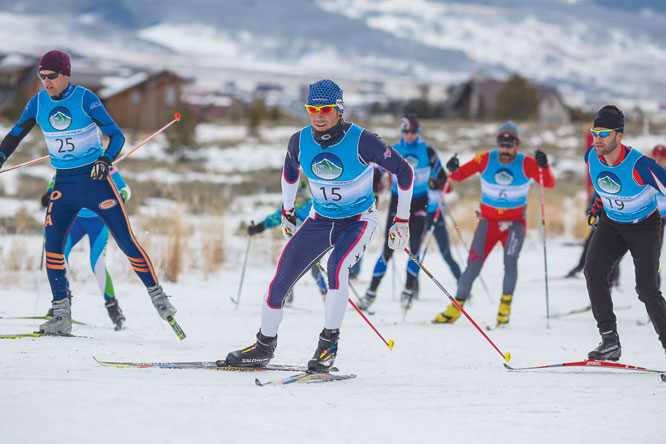 Fast-forward to October and November, when a series of storms dropped snow in the Crested Butte area and Ross was able to get his athletes on the snow by the second week of November. With their preseason training regimen in place and close to 17 athletes signed up, Ross had more skiers than ever before make the annual weeklong trip with him to the Thanksgiving camp in West Yellowstone.
"We had 10 skiers, which is the biggest group since I've been there," says Ross. "It was good that we were able to shake some of the rust off before the big week."
The camp in West Yellowstone brings teams and professional Nordic racers from around the country together for a series of training days as well as some races. Ross takes the Crested Butte team there as part of their preseason preparations to get them a full week of workouts as well as some inspiration from the pro racers in attendance.
Given the format of the week, Ross' expectations for his skiers at the races in West Yellowstone are somewhat guarded. For him, it's really about the training.
Nevertheless, while Ross described race results for his kids as a "mixed bag," there were some race highlights for the Crested Butte team as Woody Martineau won the novice biathlon race with Benjamin Swift coming in fifth place in a field of 60 racers.
"We head up there so we can get a really strong focus on our training right out of the gate," says Ross. "It's a jump start to the season and it's a cool opportunity for the kids to get some inspiration. It was an awesome week of training and we saw a lot of progress in their skiing."
Now the team is hitting the local trails on a regular basis with the comp team training four days a week and the devo team getting in three days of workouts with Ross and assistant coach Molly Susla as they prepare for the onset of the regular season.
"I think we're on track," says Ross. "We've got a good group and some new blood. Our focus right now is on a combination of things. It's a long race season so we want to start in a good place."
Leading the charge once again will be Aiden Truettner and Martineau. Both made it to Junior Nationals last year and are looking to return to the big show again this season.
"They're both capable of returning to Nationals and putting up some good results," says Ross.
The team's first Rocky Mountain Nordic Division race will be right here in their backyard, as Crested Butte will host the first event of the season December 19-20.