"It's still a pretty thin snowpack"
by Than Acuff
Speed suits and skinny skis will inundate the north end of the Gunnison Valley as Irwin and Crested Butte Mountain Resort host two days of ski mountaineering (skimo) racing on Saturday and Sunday, December 12-13.
The skimo racing season got under way with a race at Wolf Creek on November 21 and the local contingent of skimo athletes opened the season with a strong showing as Marshall Thomson and Jon Brown placed second and third in the men's race, and Bradley Richmond and Stevie Kremer took second and third in the women's race.
Now, the Rocky Mountain skimo racing world has its sights set on Crested Butte, the second stop of the race series.
The two-day race weekend in Crested Butte is a week later than usual and organizers hope that move pays off with more consistent coverage for the course.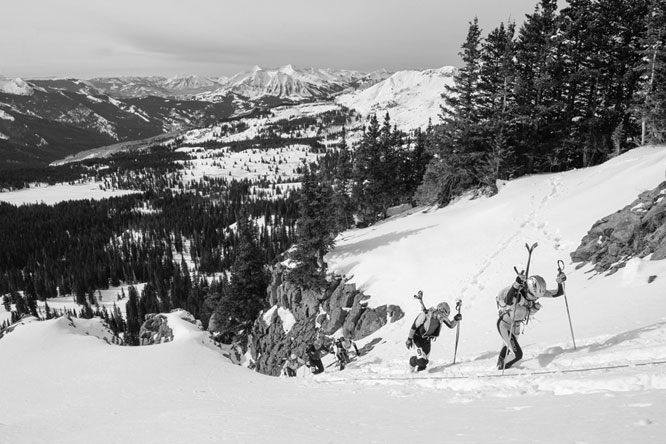 "We pushed it back a week hoping that a week later would produce better snow conditions," says race director Bryan Wickenhauser.
Saturday is the showcase event as skimo athletes will head into the hills for the Irwin Guides/Griggs Orthopedics race presented by Millet, held on the Irwin cat skiing terrain. The race at Irwin is unique in that it provides a backcountry venue and challenges racers with a variety of potential conditions.
Unfortunately, conditions are a bit thin at the Irwin race venue and the outlook for more snow is dubious.
"It's still a pretty thin snowpack," says Eleven snow safety director Billy Rankin. "We've got a base of about 24 inches, deeper in some spots where it's been blown in."
While the race has run on a thin snowpack once before, Rankin would like to err on the side of caution for this year's race.
"We pulled off the race before, but, in retrospect, that was a risky endeavor," says Rankin. "People were skiing over rocks and we're lucky no one got hurt. We have to look at snow coverage not from just a racer's standpoint but from a rescue standpoint."
That sentiment rings loud and clear this year as an athlete at the Wolf Creek race broke his leg during the race.
While there are some storm blips on the long-term radar, the Irwin race remains in flux with no plan B option available.
"Whether it's a lack of snow, too much snow, high winds, there is no plan B up there. It's Irwin," says Wickenhauser. "It's either on or off."
Race organizers and the safety team will convene on Saturday, December 5 to make a decision on whether or not the race is on, or at least to get a better idea if any significant snowfall is on the way.
"If there's a storm midweek, we may delay the call but right now, the long-term forecast is looking bleak," says Rankin.
If Mother Nature does cooperate, athletes can count on a backcountry experience on the Irwin venue and some high-altitude suffering. The race starts at 10,800 feet and will involve 5,000 vertical feet of climbing throughout the course, including a boot pack section. Rec class racers will have a shorter option.
Day two of the race weekend is the Crested Butte Vertical Race, presented by Millet and Griggs Orthopedics at 8 a.m. on Crested Butte Mountain Resort. The Vertical Race is nothing but a 2,100-foot uphill crushing from the base area to the midway point of the high lift.
"Go until you almost black out and then feather it back," says Wickenhauser.
Thanks to massive snowmaking, the course should be open and ready for athletes the day of the race.
Skimo racing will continue in Crested Butte when the town series kicks off January 13 and Crested Butte Mountain Resort is slated to host the Gore-Tex U.S. Ski Mountaineering Nationals February 12-14.