"Basically, everybody is running and gunning for the Lady Blades"
by Than Acuff
The Blades u19 girls hockey team has become a bit of a dynasty in the Mountain States Girls Hockey League (MSGHL). They've made the finals six of the last seven years and they won both the league and state titles last year.
This year the team is looking to make a return to the finals, if not win it all again, but it won't be easy. For starters, the MSGHL continues to gain strength throughout the league. Also, the Blades are the team to beat and will be playing with a huge target on their backs.
"Our league is definitely getting stronger," says Blades head coach Tony Lambert. "Basically, everybody is running and gunning for the Lady Blades."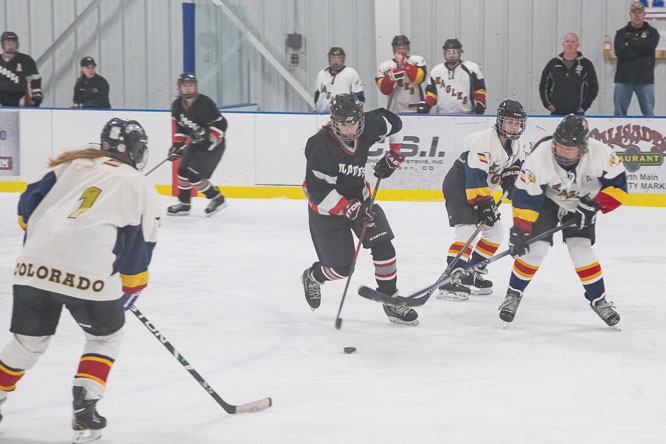 The coaching staff of Lambert, Katie Bremer and GJ Santelli return for another season and while the team lost several players to graduation, they have the numbers and talent to replace them and potentially step it up a notch this year.
"We lost six starting seniors but we have a super strong senior class again this year and a great junior class," says Lambert. "This is probably the fastest team I've ever coached."
Preseason workouts started the first week of November with the entire team pulling together for two practices a week starting the third week of November.
Workouts, as always, are focused on fitness, skills, bringing the younger players up to speed and figuring out lines. One thing is for sure: The defensive side of things is firmly in place.
"We have a young goalie who is very good and we are probably the best defensive team in the state," says Lambert. "We've still got some work to do."
Lambert has big plans for the team outside of the state and hopes to take them to a tournament in San Jose, Calif. over the Martin Luther King holiday weekend. Lambert has taken a Colorado all-star team there before but he hopes to take a team comprised of mostly his players this year and throw them into the AA division.
"We're going to play some big AA programs," says Lambert. "It's good to get our girls some recognition and it bumps up their play."
The Blades open the regular season league play on the road as they head to Denver to face the Junior Eagles on December 12 and 13. They play their first home games of the season in Gunnison on December 19 and 20. Until then, the Blades will continue preparing for what could be a tough but successful 2015-2016 season.
"It's definitely going to be a battle," says Lambert. "The girls are going into the season to keep the tradition going and make it to the finals."