Stiff conditions, stiff competition
by Will Dujardin/westelkproject.com
The Freeride World Qualifier (FWQ) series rolled into town last weekend and the action was hot while the snow was cold and chalky through the two events.
Through the two-star and four-star FWQ events, Crested Butte local athletes Ryan Hoynacki, Rob Vandervoort, Kele Thorsen, Will and Ed Dujardin, Mark Mikos, Mary Boddington and Brittany Barefield all found the podium among stiff competition and a stiffer snowpack.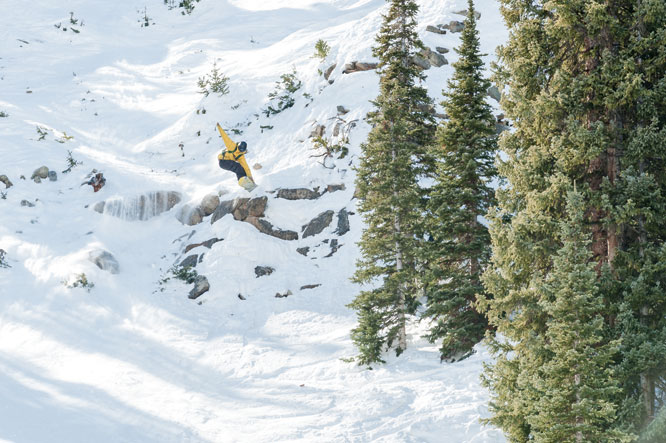 The action kicked off with the two-star competition on Hawk's Nest on Friday, February 26. The snow held up very well through inspection as many people made moves off the first set of cliffs and took it left into a little bit of Old Pro to hit some more before shredding down to the Slipper section into the finish.
Will Dujardin had a rerun after a random skier skied onto the course and got in his way at the top of his line. His rerun was good enough for fifth place, young gun Max Kaupas was in fourth, Ed Dujardin had a couple spins into third, Ryan Hoynacki took second and Ryan Faye lit it up into first place. The Mackenzie brothers had notable performances, with Gary Mackenzie doing a switch one into the venue and busting a backflip to hit sixth place, while Max skied into eighth.
In the snowboarding Rob Vandervoort threw down a solid line to take third while in the ladies' skiing side it was an IFSA alumna battle with Tasha Heilweil taking the victory, followed by her Altabird teammate Sydney Ricketts in second and former Crested Butte Mountain Sports Team (CBMST) athletes Emma Patterson and Brittany Barefield in third and fourth, respectively.
The next day, the pre-qualified athletes took to the famed Headwall for day one of the four-star FWQ event. Some people would call the conditions hardpack but the athletes knew better as they ripped lines through Angle Gully, off of Box Rock and off the Handrail to impress the judges.
After the action settled down, Ryan Hoynacki led what was essentially a five-way tie separated by .2 points at the top of the ski men with Griffin Dunne, Teton Brown, Casey Rivas, and Ryan Faye hot on his heels. Mark Mikos was in sixth with Will Dujardin close behind in eighth with WSCU athlete Tucker Volbrecht and the coach Ed Dujardin in striking distance as well.
Rob Vandervoort battled some strong riding for a solid run in eighth behind Chance Lenay and Roman Kristl in first and second, respectively, while Mary Boddington threw down a run on the women's side that had her in the lead by over three points.
On the ladies' ski side of things it was a battle in Angle Gully led again by Sydney Ricketts and Tasha Heilweil with locals Ashley Bembenek, Kele Thorsen and Brittany Barefield finishing in striking distance.
After Staircase had been previously announced as a finals venue, the Sock-It-To-Me Ridge was decided upon to host the finals on Sunday, February 28, where the snow was better and there were a few more options to be had than in a limited and partially sunbaked/frozen Staircase. It's a quick venue, but Sock-It-To-Me Ridge showcased some really impressive skiing through the Cesspool and Little Hourglass sections, last used as a qualifier day for the adult event in 2010.
Rob Vandervoort laid down the best run in his snowboarding division by two points to move up to second place behind Roman Kristl, whose solid run put him in first place after Chance Lenay's control issues slipped him down to eighth.
Mary Boddington was almost overtaken by Erika Vikander but held on for the women's snowboard win, with Randa Shahin in third.
In the ski women's division Sydney Ricketts smoked through Cesspool to wrap up first place after Kele Thorsen gave her a run for her money through Little Hourglass to get top run and move up to second place. Unfortunately, Ashley Bembenek couldn't hold on in her run out after she went huge in Little Hourglass, opening the door for Tasha Heilweil to hold on to third place and Brittany Barefield to move up to fourth after a strong run through Little Hourglass. The creative Canadian, Kylie Sivell, doubled her Little Hourglass exit to take fifth and Jacqueline Pollard had the third best run of the division, coming through Cesspool to move up to sixth.
The ski men put down one of the more impressive division-wide performances in recent memory with not one of the 24 skiers taking a fall. There were a few takers for the big 30 to 35 foot move on the skier's right of Little Hourglass and it paid off for some as Ed Dujardin moved up from 16th to 10th after some ridiculous in-air adjustments to stomp. Max Kaupas had the top run of the day off the same move, coming up from 18th to seventh. Will Dujardin had the second-best scoring run of the day through Little Hourglass to move up from eighth to fifth, while Ryan Hoynacki slipped to fourth with a strong run through Little Hourglass.
Mark Mikos showcased some real solid skiing to move up to third while Griffin Dunne put down a reliable run to build on his day one score into second place. Ryan Faye, who tied with Will for second-best scoring run of the finals, had only been .2 behind the leader going into the day and his greasy run through Little Hourglass secured him the overall victory, wrapping up the double event win for the weekend and grabbing himself some valuable FWQ points.
Big props are going to the Kiwi, Elliott Murray, for sending a huge air off a pillow in between Little Hourglass and Cesspool, but the judges knocked him on his backslap and control issues to the finish.
A huge thanks goes out to the athletes for shredding these chalky, hard pack venues at Crested Butte Mountain Resort and keeping it safe, and of course to the incredible event staff at CBMR for putting on another great event. The FWQ IFSA series continues this week in Taos, where the two-star will go down on Thursday and the four-star on Friday and Saturday.
Freeride World Qualifier Final Results
Women's Ski
Sydney Ricketts 63.77
Kele Thorsen 62.20
Tasha Heilweil 59.73
Brittany Barefield 58.30
Kylie Sivell 57.33
Jacqueline Pollard 56.33
Kaki Orr 55.20
Veronica Paulsen 53.00
Alex Riedman 51.90
Katarina Seibert 51.80
Women's Snowboard
Mary Boddington 48.73
Erika Vikander 47.83
Randa Shahin 45.83
Lynn Neil 44.90
Robyn Borneman 44.53
Marissa Krawczak 40.37
Tarra Naddef 36.30
Morgan Shippen 35.23
Rose Struble 15.17
Camila Brown 14.40
Men's Snowboard
Roman Kristl 60.57
Rob Vandervoort 57.87
Davey Baird 54.97
Jake Hutcherson 53.97
Brian Bozack 53.53
Brennan Metzler 53.07
Zach Husted 52.97
Chance Lenay 52.90
David White 51.87
Brian Stenerson 42.33
Men's Ski
Ryan Faye 68.33
Griffin Dunne 67.60
Mark Mikos 66.67
Ryan Hoynacki 65.83
William Dujardin 65.70
Tristan Brown 64.23
Max Kaupas 63.87
Casey Riva 63.87
Andrew Rumph 63.50
Edward Dujardin 63.40