Have a great Christmas, Hanukkah and New Year
Crested Butte likes celebrations so there is no war on Christmas or Hanukkah or anything else here. Get out and enjoy whatever it is you want to celebrate. The streets and the lifts are crowded with people happy to be in a good winter place. The snow is soft, the energy is buzzing and the days are now getting longer! What's not to love? Have a great holiday everyone!
Headwall opens Christmas Day
Crested Butte Mountain Resort has the best kind of news for skiers and snowboarders waiting for the Extremes to open. The Headwall opens Christmas morning.
Wolfpack Alumni Hockey Game
Fans, friends and former players gather 'round Big Mine Ice Arena on Friday, December 23 at 7:15 p.m.to share some yuletide cheer at the Wolfpack Alumni Hockey Game. It's an annual tradition pitting the current high school hockey team against former high school players. This year there will be a fundraiser for the high school hockey program as well so bring some cash for the inaugural "Puck Toss" and a chance to win $100 in cold, hard cash.
Historic Holiday Walking Tour
The Crested Butte Mountain Heritage Museum will host a special Historic Holiday Walking Tour on Thursday, December 29 at 1 p.m. Bundle up and come to the museum at 331 Elk Ave.  The tour takes about an hour and a half and is easy since it goes up and down Elk. Private tours for three or more people can be booked by making an appointment with Glo Cunningham.  Donations of $10 for an adult and $5 for a child are suggested. For questions, more information or to contact Glo Cunningham, please call the museum at (970) 349-1880.
Celebrate the start of Hanukkah with B'nai Butte this Saturday
Saturday, December 24 is the beginning of the annual Hanukkah celebration. Join members of B'nai Butte at 6 p.m. for the first night of Hanukkah at the Brick Oven Pizzeria on Elk Avenue. Join the group for the lighting of the Hanukkia outside the Brick and for the pizza party that follows. Pizza and non-alcoholic beverages will be complimentary. Hope to see you there and the congregation will meet each evening between Saturday, December 24 and Saturday, December 31 for a nightly lighting of the Hanukkia outside the Brick at 6 p.m. sharp.
Register now for January dance classes
The School of Dance and Dance Collective are taking registrations for January classes. Parent/Baby-Toddler Dance Class is a four-week session: Thursdays, January 5, 12, 19, 26, 10 to 10:50 a.m. in the Pump Room. Grade 5+ aerial conditioning/open facilitated play is also a four-week session taking place on Saturdays, January 7, 14, 28, 2 to 3 p.m. and Sunday, January 22, 1 to 2 p.m. at CFTA.  Adult Beginner/Intermediate Aerial Silks (Intro to aerial follow-up class) is a five-class session: Mondays January 2, 9, 16, 23, 30, 6 to 7:15 p.m. at CFTA.  Check it out at dancecrestedbutte.org to register now for a spot and get all the information. More class registrations and performances coming up in February, too.
Vandenbusche to teach a winter class in Crested Butte
Duane Vandenbusche will teach "The History of the Crested Butte Area" at the Crested Butte Community School on Thursday evenings from 7 p.m. to 8:30 p.m. this winter. The class will begin on January 26 and end April 20. The course will cover geography, water, silver and gold mining, ethnic people, coal mining, early day skiing, satellite mining camps, ranching, polka music and narrow gauge railroads. Slide shows on early day skiing will be part of the class along with presentations on Crested Butte history and narrow gauge railroads. To sign up for the class, contact Extended Studies at Western State at (970) 943-2885.
Birthdays:
December 22- Bryan Shea, Todd Azud, Kay Holz, Jessy Jarvis, Chuck Reynolds
December 23- Neil Ganous, Steph Johnson, Roland Mason
December 24- Ronnie Holze, Charlie Tintera, Pat Glantzberg, Nola Hadley, Scott Yost
December 25- Jesus, Bobby Quint, Brock Smith, Aimee Eaton
December 26- Marilyn Mancini,    Chris McLaughlin, Dale Archer,                     Dan Morse, Eli Freed
December 27- Mikaela Berglund, LC Adams, Mike Nelson, Mary Mike Haley, Kathleen Haley, Jeff Dixon, Mary Zimmerman
December 28- Amaryllis Foss, Lindsey Schauer, George Harrington, Doug Pearlman,Kyle Mattingly, Vince Scola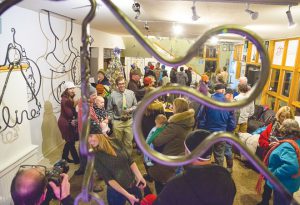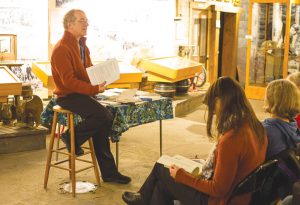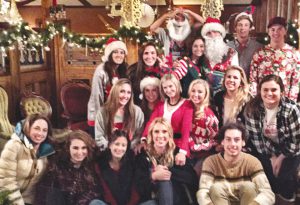 Cameo Question: What brings you the most joy during the holidays?