By dawne Belloise
Since I've moved here, all I've done is study and take tests," laughs volunteer EMT and firefighter Erin Croke-Renfro, a Colorado native, born in Empire, across Highway 40 on the way to Winter Park. "It's the first town you come to and you'll miss it if you blink. There's maybe a couple hundred people," she says of her tiny hometown.
Erin's grandfather was the last to be buried in the Irwin Cemetery up on Kebler Pass. Her mom, Linda Wheeler, grew up in the Gunnison Valley and graduated from Gunnison High School in 1966. So Erin is much more connected to this valley even though her family moved to Gaston, Oregon when she was five.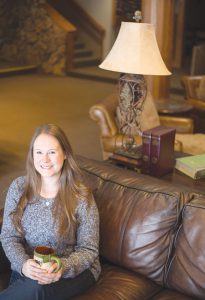 "It's a lot like here. You get to know everybody real well," she says, comparing her childhood home with Crested Butte. "We lived in the country on about 20 acres. We had horses. They bought the farm," Erin grins. Her mom wanted horses to be a part of her kids' life. "I have a younger sister and a brother in between who passed away of a rare liver cancer at almost five years old." Her brother's death profoundly affected the family.
Erin's dad moved back to Denver in 1989, while her mom stayed on the farm to raise the girls. Erin spent summers in Empire at her grandparents' house and she feels that she experienced the best of both worlds in doing so. She laughs that in Oregon she never owned an umbrella, even though the weather was consistently dreary and damp. "You went out in your rain boots and raincoat. It wasn't a second thought because if you didn't, you were inside all day." Her days were spent riding, caring for and showing horses throughout grade school and high school. "Horses are like potato chips—you can't have just one. I got my first horse for my ninth birthday."
Erin was sure she knew what she wanted to do after high school and after graduating in 1997, she was still very involved with horses, riding for a rodeo drill team. "We did choreographed drills. We were a high-speed precision drill team, so we usually did a rodeo half-time kind of show. We traveled all over Oregon and southern Washington."
After a couple of years, she figured she had better buckle down and start college. She enrolled at Portland Community College with ambitions of transferring to Oregon State to study recreational forestry.
"I had some friends who worked in the forestry department building trails and I thought, what fun, riding four-wheelers around and hiking around the woods all day. Then I learned that most of my friends were actually glorified volunteers and it was really hard to get a job with the forestry service because it was a very coveted position."
So Erin switched majors to criminal justice, and she admits it was a childhood fantasy since falling in love with Rin Tin Tin, a German shepherd police dog. "I had wanted to be a homicide detective with a shepherd dog since I was five," she says of the dream of every kid who watched the popular 1950s show and its reruns. Erin had planned on going to police academy in 2002 but while working at a bank, she met her hubby-to-be, who didn't want to be married to a police officer, so she abandoned the dream of a career in law enforcement and they married in 2005.
Meanwhile, Erin was progressing up the career ladder at her financial institution and that made more sense to her than to continue college. She and her husband moved to Ocean Park, Wash. on the Long Beach peninsula in 2008. When the marriage ended in 2011, Erin decided to move to Crested Butte. "I had vacationed out here a few times and fell in love with Crested Butte from the first time out here in the summer of 2007. She knew she wanted to live here.
So she quit her bank job in Oregon with no intention of ever being employed in a bank again. "I'm going to do anything but banking," she told herself, and although she idles very well, after about four weeks of job searching she went back to banking and didn't miss a beat.
Her bank back in Oregon, Wells Fargo, also had a branch in Gunnison, where she was able to keep her seniority and title. It was basically a transfer. Erin was a certified personal banker and small business specialist, later moving into mortgages in late 2012. She was moved up to the Crested Butte offices through 2014, and was laid off when the bank decided to close the offices up here, "All I had known was banking, but it was a blessing in disguise to be laid off."
Erin had joined the volunteer Crested Butte Fire Department as soon as she moved here, and even before relocating to Crested Butte, while visiting in the summer of 2011, she enrolled in fire training, following with EMT classes in 2013. She became certified as an EMT in 2014. "So when I was laid off at the bank, I was already doing a lot of volunteer work, taking a lot of shifts at the Crested Butte Fire Protection District. I really wanted to find a job that would allow me to continue taking volunteer call shifts."
She had taken on a side job as an office helper for Mindy Costanzo, who had opened a real estate office in Crested Butte and was trying to digitalize her files. Erin wound up converting 30 years worth of records into digital files, spending her days scanning and shredding, and she easily slid into the role of office manager until 2016 when the office was moved back to Gunnison.
She became the assistant for Corey Dwan at Sotheby's International Realty in February 2017 and appreciates that "Corey allows me to continue to take volunteer EMS shifts during the day, and allows me to up and leave to assist with emergencies. I'm very dedicated to my volunteer work with the fire department, so having an employer and a job that allows that is absolutely wonderful."
In addition to all her positions, Erin is also secretary for the Crested Butte Fire and EMS Volunteer squad as well as the coordinator for the Fire Department's incredibly popular 4th of July pancake breakfast. "It's been fun. It takes a lot of planning but I'm starting to get it down." This year she built a website for the volunteer squad and headed up a lot of the fundraising efforts. "In 2016 our EMS division was named Ambulance Service of the Year for the State of Colorado. We provide an extremely high level of care through our EMS service."
With the free time Erin has, she enjoys all those things that make Crested Butte home to those of us who choose to live here. "I do try to ski and I've had a pass every year. I get out about 30 days a year. It's not a lot," but with her busy schedule, a full-time job and on call volunteer work, she manages to squeeze in some powder time. "I average working about 60 hours a week between volunteering and my job," she says, but she's still so grateful to be living in a town whose people are real.
"What drew me here was the community. I didn't have that at the beach; they were all second homes and the people who lived there were weird beach people so you didn't get to know them. Here, it's a community. You get to know people, and that's partially why I joined the fire department right away, it was a way to meet people and make friends. I feel that the community is still here but I do feel the changes. The community is what keeps the charm, and it's the locals that really make up the community and give Crested Butte its charm. It's the first place I've lived that I really feel like I belong and that's what keeps me here and what I love about this place."