12th Night Bonfire is this weekend
Join the Crested Butte-Mt. Crested Butte Chamber of Commerce for the annual 12th Night celebration on Friday, January 5 at 5:30 p.m. Come to the Four-way parking lot for s'mores, hot chocolate and free libations around the bonfire! Drop off your Christmas tree in the back of the Four-way parking lot starting at 10:30 Friday morning, or bring it with you to the bonfire. Kid-friendly and adult beverages will be available, and be sure to bring a roasting stick for s'mores! As always, 12th night is free and open to the public!
Center's culinary and vintner soup stock class in Mt. CB
The Crested Butte Center for the Arts is putting on a Stocks-and-Soup seminar on Thursday, from 5 to 7:30 p.m. Perfect for the cold winter months, get hands-on experience using leftover cuts of meat and vegetables to make stocks ready to implement in a variety of recipes. Reduce kitchen waste by using throwaways, avoid MSG and other additives found in processed foods, and get rid of eating out of a box and can. Combine this course with "French Mother Sauces & Beyond" (January 17) for the grand finale of "Cooking with Your Valentine" (February 1), or take it as a stand-alone offering. Meet at Tracker's Lounge in the Lodge at Mountaineer Square. The instructor is CBMR executive chef Chris Park.
Try being a silver smith starting next week
The Center is also sponsoring a silver-smithing series starting next week and continuing on Thursdays in January. Create a set of five stackable sterling silver rings, each with its own metal texture. Learn soldering, annealing, chasing and polishing, as well as safe and correct handling of a jeweler's tools of a torch, ring mandrel, chasing hammers, soldering tools, abrasives, motorized drill and flex shaft. Take home a packet of step-by-step instructions and list of resources for tools and metal to continue working at home. The classes take place on Thursdays for three weeks. Instructor: Meaghan Young.
Meet the Masters: Pop Art & Pinot at the Gunnison Arts Center
Feeling dandy with Andy. For this Meet the Masters AND Series, Thursday, January 11 from 6 to 9 p.m. at the Gunnison Arts Center. Instructor Cheri Isgreen will teach attendees about Andy Warhol and his influence on art. Enjoy sipping on pinot while creating your own Warhol recreation with acrylic paints on canvas. The cost of $40 per person includes two drinks, light apps and supplies. Pre-registration is required. Special: Sign four people up for the price of three.
Help out the museum
If you are starting off the new year with a little house clearing, the museum is looking for a few items to assist them in their operations. So if you have any of these items taking up extra space in your homes, please consider donating them to the museum: computer monitor, printer, sturdy shelving, medium-sized blackboard, heavy-duty paper trimmer, banker boxes, clipboards, and giant binder clips. Please call the museum at (970) 349-1880 if you wish to donate any of these items to the museum, with their thanks.
Birthdays:
January 4- Aiden Truettner, Broderick Truettner, Conrad Truettner
January 5-Roxana Alvarez
January 6- Nathan Wojtalik, Mike Miller, Jim Schmidt
January 7- Kathy Hecker, Mike Klein, Zeb Early, Angie Greevy, Gordon Reeves
January 8- Ryan Sylvester, Maggie Chlipala, Mary Martin, Sandy Murphy, Eliane Wissocq, Sandy Parker, Cody Hillman, Elvis
January 9- Jeremy Rowland, Michael Baim, Cotton Harris, Lena Weisman, Megan Clark
January 10- Ben Morello, Mark Soleri, Anthea Schmid, Izzy Acuff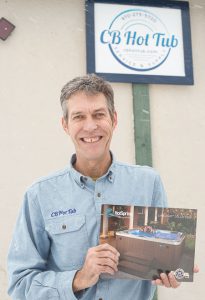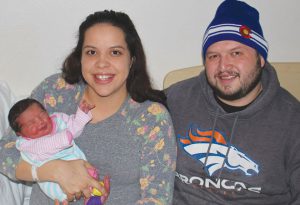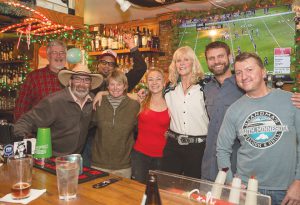 Cameos: What was your biggest highlight of 2017?