Champions: Wet Grocer
John Wheeler Memorial Sportsmanship Award:
Dave "Mac" McGuire
Tommy Villanueva Memorial MVP Award: Janine Pleau
Female Home Run Derby Champ: Molly Keating
Male Home Run Derby Champ: Roberto Olives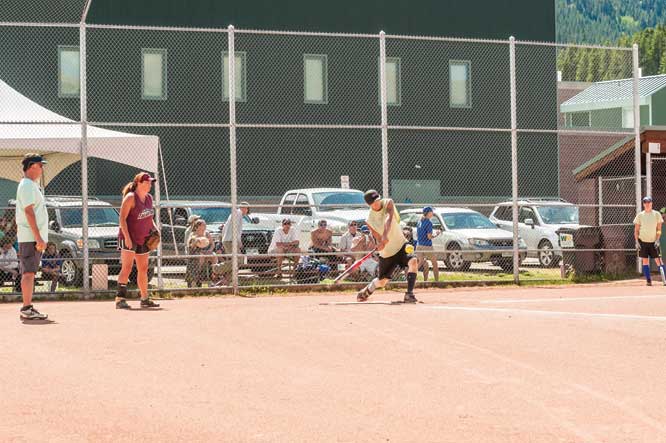 Ball Bash success—Thanks to all
To the Community:
Thank you to everyone who came out to support the 14th Annual Crested Butte Ball Bash, the tournament was a huge success! The annual Ball Bash supports both the Crested Butte Parks and Recreation Youth Scholarship Fund and the Tommy Rueben Villanueva Sports and Recreation Fund. This year we kept the momentum going with great team participation and sponsor donations.
Congratulations to our tournament champions, Wet Grocer from Gunnison. They defended their title to make it two in a row. Each year the Villanueva Family gives out an MVP award in honor of their son Tommy. This year the MVP award went to the Wet Grocer's captain and first female winner, Janine Pleau.
In addition to the MVP award the Wheeler family chooses one player throughout the weekend that poses sportsmanship, in honor of their son John Wheeler. The 2015 Sportsmanship Award went to Crested Butte's own Dave "Mac" McGuire for his inspiring dedication both on and off the field.
The Ball Bash Home Run Derby is always a fun and entertaining event. The derby was full with 30 contestants for the second year in a row. Molly Keating from the Crested Butte S.W.A.R.M took home another Women's Home Run Derby title, while Roberto Olivas from Glenwood Springs put on a show to take the title on the men's side.
Thank you to all of our generous sponsors for making this annual event possible.
The date has already been set for next year's Ball Bash, August 13-14, 2016, so mark your calendars!
Thank you,
Crested Butte Parks and Recreation Staff