"What do you need? Ox…y…gen…."
[  by Pat Addabbo  ]
From midnight ski races through avalanche terrain, to 109-mile mountain bike races exceeding 12,000 feet of climbing, Crested Butte is well known for its epic, if not unique, suffer-fests.
This past weekend the Adaptive Sports Center and Crested Butte Mountain Resort added to the list the Off Road Handcycling World Championships featuring 15 competitors vying for a title that had not been crowned in six years.
For the unfamiliar, off-road handcycling consists of pedaling, with your arms (or arm, in the case of triple amputee Tim Brown), a three-wheeled, 45-pound mountain bike over rugged terrain. For individuals with spinal cord injuries and amputations, off-road handcycling enables access to areas miles from the closest wheelchair ramp or accessible wide-path. And like any sport, there are those with big lungs and high pain tolerances that like to beat themselves up for a few hours at a time to see who can cover ground the fastest.
Friday evening exemplified just that with a hill climb from the base area of Crested Butte Mountain Resort to the top of the Red Lady Express lift, covering 2.5 miles with 1000 feet of vertical gain. Seth Arseneau of Albuquerque, N.M. took an early lead, setting a bicep-bruising pace up the summer road.
But Colorado Springs favorite and Mt. Evans Hill Climb record holder Drew Wills slowly reeled in Arseneau, taking the lead half-way up the ascent, holding on for a 23-second victory with a finish of 49 minutes 12 seconds. Local (and manufacturer of all but three bikes in competition) Jake O'Connor rounded out the podium with a time of 1:08:48.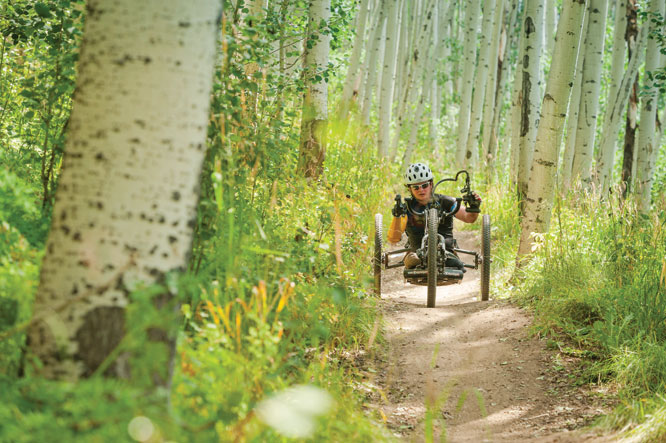 Saturday, a mass start in the cross-country discipline from the five-way intersection saw former motocross racer Pat Dougherty of Boise, Idaho take a blistering hole-shot, but as the grade steeped, the big guns prevailed as Arseneau and Wills jockeyed for the lead onto the first section of singletrack.
Arseneau gained a minute advantage through the rock gardens of the Westside trail and ventured deep into the pain cave, widening his lead to over 13 minutes by the finish, covering the 5.1-mile course in 49 minutes 26 seconds. A battle raged for second as O'Connor rallied down the Painter Boy and Awakening descents, but Wills' climbing prowess proved to be too much, finishing in 56:57, 83 seconds ahead of the local bike builder.
After two of three disciplines, the overall title came down to a decisive and unforgiving run down Avery. Rock gardens and root drops loomed over the riders' heads with much nervous chatter about the increase in technical challenge since the last edition of the world champs. Coming out hot from the starting gate, Wills fell victim to a dropped chain that set him off the pace, finishing outside of the top-five scoring positions.
O'Connor and Arseneau were left to duke it out, with Arseneau needing to finish within three places of O'Connor to claim the championship outright. As the strong DH favorite, O'Connor put down an impressive winning time of 6 minutes 43 seconds, but Arseneau ran a clean line down Avery in 07:51, finishing second in the category and first overall, the 2015 Off-Road Handcycling World Champion.
Most impressive, perhaps, was the party on the Butte 66 deck following two days of racing, with athletes still able to raise a glass after a few thousand hand cranks around the resort.
The 2016 Off-Road Handcycling World Championship is set to go off next August 19-21.
Results
Uphill
Open
Drew Wills 0:49:12
Seth Arseneau 0:49:35
Jake O'Connor 1:08:48
Dave Poole 1:16:02
Dan Marshall 1:19:30
Tim Brown 1:37:43
Dan Reily 1:48:52
Sam Ferguson 2:10:20
Craig Maestro 2:10:21
Rick Marion DNS
Sport
Dave Hosick 2:10:06
Women
Rosa Post 1:37:40
E-assist
1. Pat Dougherty 1:42:56
2. James Watson DNF
3. Jim Chrisman DNF
XC
Open
Seth Arseneau 0:49:26
Drew Wills 0:56:57
Jake O'Connor 0:58:20
Dan Marshall 1:03:51
Dave Poole 1:08:57
Tim Brown 1:20:39
Dan Reily 1:24:06
Sam Ferguson DNS
Craig Maestro DNS
Rick Marion DNS
Sport
Dave Hosick 2:08:21
Women
Rosa Post 1:27:22
E-assist
Pat Dougherty 1:08:56
James Watson 2:28:59
Jim Chrisman DNS
Downhill
Open
Jake O'Connor 6:43
Seth Arseneau 7:51
Dan Reily 7:54
Tim Brown 9:28
Dan Marshall 10:32
Drew Wills 11:02
Rick Marion 16:56
Dave Poole DNF
Sam Ferguson DNF
Craig Maestro DNS
Sport
Dave Hosick DNF
Women
Rosa Post 14:00
E-assist
Pat Dougherty 11:44
James Watson DNS
Jim Chrisman DNS
Overall
Open
Seth Arseneau
Jake O'Connor
Drew Wills
Dan Marshall
Dan Reily
Tim Brown
Rick Marion
Dave Poole
Sam Ferguson
Craig Maestro
Sport
Dave Hosick
Women
1. Rosa Post
E-assist
Pat Dougherty
James Watson
Jim Chrisman