by Dawne Belloise
I was adopted by two fantastic, amazing and supportive parents," Kat Hassebroek says, quite adoringly. "Dad was an accountant and consultant, Mom was originally a petroleum engineer and then became a school teacher after she had us."
The "us" includes a brother. They lived in Houston until Kat was 12, when her father's company transferred them to Taipei, Taiwan. Kat attended an American school there.
"It was awesome, mind expanding and culturally expanding. It was very international and I had friends from all over the world. Every one of my friends was from a different country or different culture," Kat recalls. The diversity is what she loved most, and it shaped her perspective. "We hung out, we took the bus everywhere, and we haggled with the street urchins. We were kind of given free range and it was a very freeing experience."
Kat tells of the ex pat community, noting, "It's not like one of those places where you live in a compound. We lived with multi-culture and we were all part of the community. I got to travel too because I played soccer and did a lot of theatre. The island of Taiwan is so small it fits within the state of Texas and since there weren't any other local international schools, we had to travel to compete. We'd be competing with other Southeast Asian international schools from Jakarta, Manila, Hong Kong, and Bangkok, among others. With theatre, we traveled to Europe, going to Brussels and London. It was a pretty cool way to grow up."
When the family moved back to the States, to the southland of Atlanta, Kat had just turned 16 and for her the culture shock was not pleasant.
"I continued my theatre involvement but I wasn't fond of my experience in the south." She fled to Boulder right after high school graduation in 1996, attending the University of Colorado for psychology. "I was part-time in school, part-time IBM employee doing emergency ordering to keep businesses' technical equipment up and running 24/7. I was taking a break from theatre for those six years I was in Boulder."
Kat's parents had had a condo home in Mt. Crested Butte since the early1980s and they spent part of every summer in Crested Butte from the time Kat was four years old. "We came up every summer, even when we were in Taiwan, returning overseas for school in the fall. As a kid, I loved the summers in Crested Butte and everything there was to do here—the mountains and roller blading at the base area. There used to be a circular waiting area at the bus transit and it was perfect for a rollerblading kid."
Kat learned to ski in the winters when the family came here during her early years. "Buttopia was the name of the ski school. I was four and five years old and I loved that too. That's where my love affair started with Crested Butte, at a very early age.
"After a brief stint working at Ben and Jerry's in Vermont, I ended up back in Crested Butte working for ski school sales for a season while dad was finishing construction of their new Skyland home. And then, I started my illustrious career in property management," Kat grins, bubbling with genuine enthusiasm. "I was with Crested Butte Property Management for a couple of years and currently, I've been with Peak Property Management for over eight years."
Kat is a vibrant actor onstage, a natural, having directed her own "productions" from the age of three when she entertained her parents with home shows. Recognizing her talent and love of the stage, they enrolled her in Houston International Theatre School (HITS) the next year when she turned four, and she continued to be involved throughout her school days.
Kat felt her school training in Taiwan helped her acting skills flourish tremendously. "It was a really well-funded arts program and it was something I was really passionate about. I started auditioning for school plays. My teachers were very supportive and encouraging and I learned a lot from them."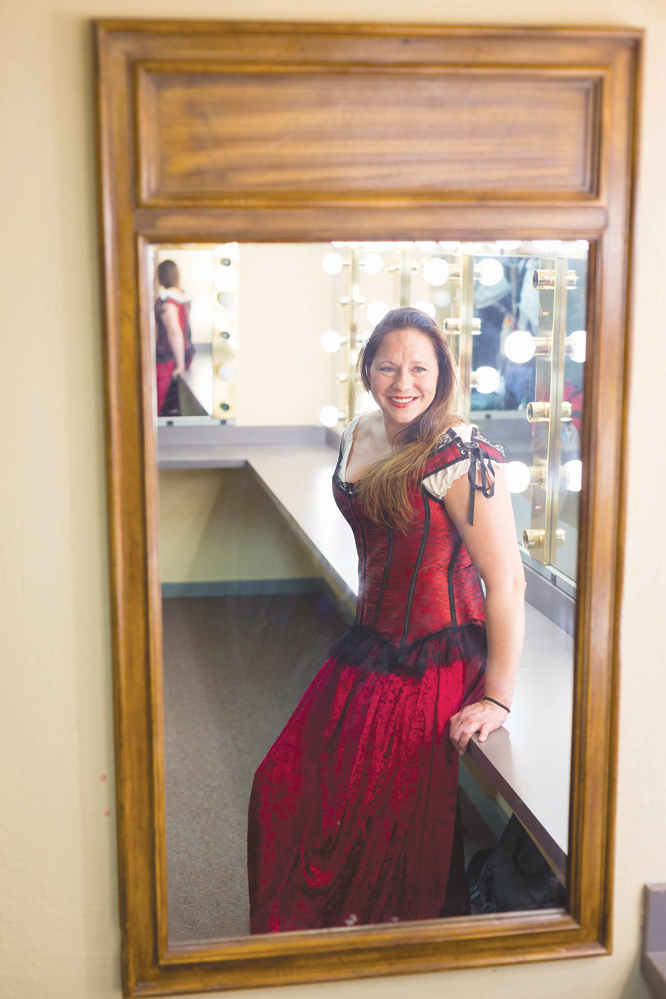 The theatre director in her first year of high school had been Kevin Spacey's acting instructor, as a measure of the quality of the programs and instruction, and Kat found him to be highly inspirational, so she continued her studies stateside. "When my family moved to Atlanta, my theatre teacher, Jay Freer, was an incredible source of knowledge in the arts. He taught me a lot and through him I was given opportunities that I would not have had elsewhere. His wife was a professional actress and had theatre connections in NYC so that every year he'd take a group of us students there to see a lot of theatre. On two occasions we had the privilege of attending an acting workshop with Uta Hagen, who was a renowned stage actress and coach. She wrote two of the books that universities use for acting classes."
Kat decided to make Crested Butte her year-round home in 2003, and she became involved with the Crested Butte Mountain Theatre, participating in more than 25 shows, from acting and directing to producing and serving on the theatre's board.
Kat can be seen in this year's holiday play, Oliver!, in the role of Nancy, whose character she describes as, "The love interest of the nasty, nasty, dirty, bad crook, Bill Sykes," she laughs. "Nancy is also the somewhat savior of Oliver, for which she pays dearly, the ultimate price. My favorite role, aside from Nancy in Oliver!, was Adelaide in Guys and Dolls," a past production at the Mountain Theatre. "Playing Nancy is one of my dream roles. I played an orphan in Oliver! as a child actor in HITS and I always wanted to play Nancy, so it's a dream realized. Velma in Chicago is a dream role I haven't played yet but would love to."
When not involved in a Crested Butte Mountain Theatre production Kat also has a small production company in collaboration with another local thespian, Brent Laney. "It's called Sock It To Me Productions. We do some improv stuff, and we're still doing Driving Fuzzy Bunnies, which is a series of 30 very short plays, anywhere from 30 seconds to two minutes and the audience picks the order. We'll be up and running those shows again in February at a restaurant or bar near you… some of them are written by Brent, others come directly from the Chicago Improv Group that started the production and made it available online."
In keeping with the tradition of wearing many hats in Crested Butte, Kat also performs weddings as a licensed marriage officiant. "It was a natural progression from the stage," she laughs, "when my best friend from college asked me to perform her wedding a decade ago." She's been doing it ever since.
Kat is popularly known about town as The Karaoke Queen. "I started running karaoke at the Lobar (now the Red Room) and moved over to the Talk of the Town for the last couple years." Every Thursday night from 10 p.m. to 2 a.m. she spins the tunes people think they can sing, and some of them actually have a talent but after a few drinks everyone thinks they're a star and Kat grins, "I wish there was a gong. I wish I had earplugs sometimes and other times I'm amazed by the level of talent that we see in both locals and tourists alike. We are a regular summer favorite for the whole Rocky Mountain Biological Labs [RMBL] group. They're stuck out at Gothic and I think they really look forward to their weekly karaoke outing. It's fun for everyone."
Recently Kat has a brand new endeavor with her creating partner Kristin McGill, called Crested Butte Photo Booth, a mobile photo booth that can be set up at any event. "It's a free standing pop-up tent booth with props, tons of costumes and the immediate satisfaction of walking away with photo strips of your choice of black and white or color or both. The strips are all fully customizable by us. It's fashioned after the vintage photo booths one would find at carnivals, malls, and very hip shops," she explains and says the website has all the definitive info (crestedbuttephotobooth.com).
"I'm also working on my real estate license and hope to have it before summer. I did sit on the board of the Tourism Association for three years. I want to expand my theatre involvement to more directing and producing, and expand my business endeavors. My life has been very multifaceted, with lots of chapters," a reflection perhaps of growing up in diverse cultures in a positive environment. "I give my parents credit for encouraging me to be who I am, to express myself and for supporting my creativity through art. They made me who I am and I'm forever grateful that they picked me."
Kat feels she's picked the right place to call home. "I'm here because I love it here. This is the only place I've ever lived that I can walk out my door every morning and be blown away by my surroundings. I fall in love with this community over and over and over again—the support and the love that this community gives to each other keeps me here and encourages me to participate and give back to my community whenever I can. I have no plans for leaving."