Can you dig it?!
by Than Acuff
Crested Butte is often considered the birthplace of mountain biking and could very well now become the birthplace of fat biking, at least for the Rocky Mountains and beyond. The Borealis Fat Bike World Championships, a.k.a. Fat Bike Worlds, is coming to Crested Butte Wednesday through Sunday, January 27-31.
We've seen 'em, those fat bikes I mean, riding around town, up and down the surrounding valleys, at Crested Butte Mountain Resort and even on some of the skin tracks closer to town. And while fat biking is huge in the Midwest (more than 700 fat bikers competed in the first annual Fat Bike Birkebeiner), it's still in its relative infancy in the mountain towns of the West, until now.
Thanks to the brains of one Jason Stubbe, the inertia of Aaron Huckstep and the fevered energy of Crested Butte/Mt. Crested Butte Chamber of Commerce director Dave Ochs, Crested Butte and Mt. Crested Butte will host the first-ever Fat Bike World Championships.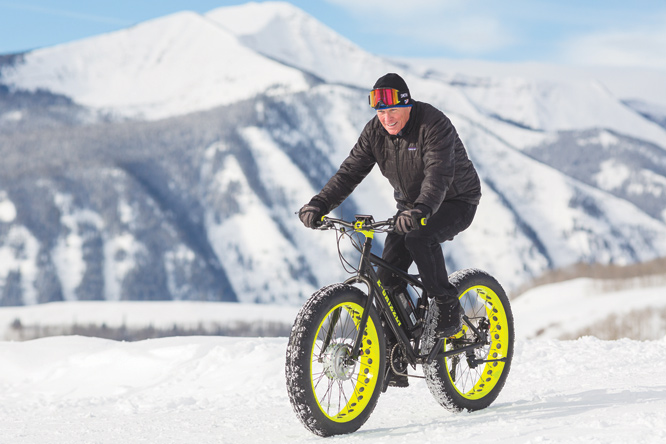 "We've been hosting fat bike races as part of the Alley Loop the last four years and last year the light bulb went off," explains Ochs. "If we're going to do something, let's go all the way. Fat bike racers are popping up in a lot of mountain communities, the momentum is there so… go big or go home."
So far more than 200 fat bikers are registered for the Fat Bike Worlds, hailing from Costa Rica, Nicaragua, England, and Ireland, as well as around the country.
"I'm blown away. It's awesome," says Ochs. "I think we're going to hit 250, maybe more."
The Fat Bike Worlds kick off on Wednesday, January 27 with the Kick-Off Party sponsored by Chopwood Mercantile at the Brick Oven at 5:30 p.m., but the action starts on Thursday, January 28 with the first race of the weekend, the relay/solo race on the groomed trails of the North Village by the Snodgrass Trailhead, at 11 a.m. Grills will be fired up and beer from Odell Brewing will be available for racers and gawkers.
The trails were "track-packed" by Crested Butte Mountain Resort (CBMR) and Ochs and his crew have been out grooming a 30-inch wide singletrack with a groomer (complete with some Doug Bradbury enhancements) specific for creating fat bike trails.
"CBMR pretty much committed that area to fat biking," says Ochs. "We laid out the track with fat biking in mind. The course has sweet bermed corners and just great flow."
The day wraps up with an event shindig at Montanya's Distillery at 6 p.m., where participants can wash the sting of fat biking away with some award-winning locally distilled rum.
Friday, January 29 riders and fat bike fans can rest, relax and jib flap at an all-day conference on all things fat biking as well as continue to get in some additional riding. Conferences will be going on in the Annex at Mountaineer Square and rides will be happening starting at 11 a.m. as a modified route on North Village will be primed for the Fat Bike Conference for land managers, resort reps and fat bike enthusiasts alike to enjoy spinning on fresh corduroy.
The whole fat bike contingency is then invited to the Avalanche with more free Odell's beer starting at 5 p.m.
The four-day fat bike fest comes to a climax on Saturday, January 30 with the official world championship race on the Crested Butte Nordic trails starting and finishing at the Town Ranch on the outskirts of the town of Crested Butte. The course will include sections of Nordic trail typically closed to fat bikes but, thanks to the permission of Crested Butte Nordic, will be opened for the prestigious event.
"Saturday's a big day and I'm super-excited about it being in town," says Ochs.
The racing starts at 11 a.m. and the course will begin at the Town Ranch behind the community school, head up a portion of the rec path and then onto some tasty groomed Nordic trails before returning to the start. Elite racers get six laps on the 5.5-mile long loop for a total of 33 miles and 3,330 feet of climbing, while the open class will get three laps.
"It'll be pretty hard for the elite riders but it's 100 percent rideable," says Ochs. "It'll be very similar to what mountain biking is like in Crested Butte."
Ochs expects the elite class leaders to finish in about two and a half hours and when all is said and done, seven world champions will be crowned, from men's and women's elite, men and women juniors, men and women champions over 55 years old and a hand cycling Fat Bike World Champion.
Each champion will then get the distinct pleasure of having the Fat Tire Worlds logo literally branded on their body as a lifetime reminder of their achievement.
At 2:30 p.m., once the smoke has cleared from the branding party, Lez Zeppelin will step onto a mobile stage set up on the Town Ranch, plug in and rock. Five dollars cash gets you into the show and, of course, there will be plenty of food and Odell's beer flowing.
The Fat Bike Worlds comes to a close on Sunday, January 31 with the "Hair of the Dawg" downhill event. Starting at 11 a.m. fat bikers will be gathering at the base area and ride to the top of the Painter Boy lift. From there they will have the option to drop down the Awakening downhill track or the Teaser downhill track, both of which start at the top of Painter Boy and finish at the bottom of Painter Boy. Both tracks have been packed by the CBMR packing crew and snowmobiles in preparation for slayage.
"We're crazy-excited about this," says Ochs. "There's plenty of opportunity for rad downhill fat biking."
Fat bikers must get themselves to the top as there will be no lift service for bikes available, and both Saturday and Sunday offer a chance for fat bikers to get famous as world-renowned ski filmmaker Warren Miller will be in town to catch the action for his next film project. Did I mention there will be even more Odell's beer flowing?
For more information, course descriptions, registration and all things Fat Bike Worlds check out www.cbfatbikeworlds.com. Online registration is open until Sunday, January 24, after which registration will be handled by the chamber of commerce.