Dara the Explorer
by Dawne Belloise
Because her parents were into learning different disciplines for careers, in her young childhood Dara Buchele-Collins was shuttled between Montana, New Mexico and a gated community in California (which she says was probably exclusive simply to keep the DEA out—it was a super funky, hippie community). Between them, Dara's parents studied forestry, nursing, preschool education and jointly, massage therapy. Dara laughs, "Can't you tell by my name that I was raised by hippie parents?"
The family settled down in Ft. Collins when Dara was six, and that's where she grew up from that point forward. "All that moving would have been harder if I had been older. At that young age you don't get attached enough to people outside of the family. I think this is why I like to travel around so much and have been to so many places," Dara concludes.
Dara graduated from Poudre High School in 2000 and admits, "I had no clue what I wanted to do. I debated going to school but I wasn't really sure if that's what I wanted to do. I particularly didn't like high school. I was bored with it. I didn't really want to do more school at that point so I moved to Estes Park and lived and worked at the Stanley Hotel."
Dara attended the front desk of the inspiration for The Shining. Living in the dorms, she gained some worldly experience through the international staff that also lived and worked at the hotel. "A whole bunch of Scottish and Irish guys, a couple of Russians and a girl from Bangladesh," she recalls. "It made me think about traveling, leaving and going somewhere else."
After a year and a half, Dara went looking for National Park jobs and determined, "Alaska seemed different and fun and far away. I worked in Denali at a hotel front desk, again living in the dorms with tons of people from all over the country, mostly Americans. There was no real plan, it was all about just going, seeing something different, not being in Ft. Collins. I knew I didn't want to stay in Alaska for the winter, I like sun way too much to live somewhere without sunlight."
Researching other resort areas, it became a toss-up between Tahoe and Big Sky. Dara says, "I ended up at Big Sky. It was a good winter skiing and playing. That was the winter I figured I needed a plan and not wander around working random jobs."
Dara somewhat reluctantly moved back to Ft. Collins to come up with a plan, attending school part time and working, but that was short-lived. "After a year I felt stuck and I knew I needed to leave. I knew I needed to do something but I was totally lost. I had a friend who was moving to Gunnison to go to WSC."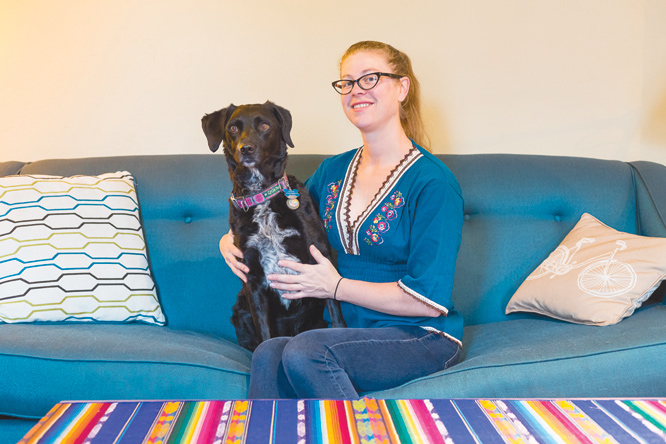 I came up with him a couple of times and decided that I'd go for it. It was mostly just for the change and I knew Crested Butte was right down the road and I could ski and get jobs at hotels… not that that's what I wanted to do but just that I could do that while I figured out other things."
It was 2003 and Dara found herself behind the front desk at the Grand Lodge when she had the revelation that Crested Butte felt like it should be home base for a while. "It took me two years to get moved up to Crested Butte from Gunnison. I took a retail job at Peak Sports for four winters and loved it. During the summers I worked at Rocky Mountain Trees, later moving to the Alpengardener in Crested Butte South for three years."
Dara also earned her Master Gardener certificate, a program through CSU extension services. "I loved gardening. My mom gardened heavily so I grew up with it even though I ignored it as a kid. It's hard to make a living in the garden centers, though, because it's such a short growing season here. I was looking for something else that would be more consistent and year-round."
In 2012, the year that the earth and everything ever known was supposed to come to an end, Dara took a job at the paint store Mountain Colors. The owner, Kim Raines, was looking for a dependable employee and so Dara became the paint store manager.
Three years later, she's still helping people decide the best colors for their homes, fences and lighting situations. She can expertly pick out specific shades that many don't have the experienced eye for but can make all the difference in subtlety. "I love my job and I love helping people with color. I like having a job where I'm constantly learning something new and that's what so great about Mountain Colors, I'm always learning something and I get to disseminate that info to others."
A ski injury a year ago brought about a realization, the sense of being trapped and immobile, which triggered in Dara a desire to travel. She had gotten a taste of enjoying a vastly different culture as a high school exchange student in Japan and she wanted to experience that again. "I did a lot of traveling in the southwest—Moab, Escalante, Grand Gulch, southern Utah stuff, for mountain biking and hiking," but it was a last-minute, spur of the moment itch that made her take that leap.
Dara booked a flight and packed her bags for a two-week discovery trek through Ecuador last month. As most travelers understand, that sort of spontaneity can be addictive and oh so liberating.
A friend of a friend had moved to Ecuador so she tagged onto that friend and went. "We started in Quito. It's a big city," she says of the world's highest capital (at least in altitude). "It's a little overwhelming, as any city is. I had to take a step back. We stayed at a hostel in the old town, surrounded by huge mountains and active volcanoes. From there we went to Mindo for a day trip to do a chocolate tour," where they show how the delectable treat is grown and processed from tree and pod to candy.
From the town of Tena, the gateway to the Amazon, Dara rafted the river after hiking through the thick, lush jungle with a guide. She then continued on to Banos, where she quenched her thirst with the sweet juice of fresh-squeezed sugar cane and tasted taffy made from it. "I really related to Banos because the overarching feel is a lot like Crested Butte. It's also a tourist town and they're independent with cute little shops that sell native goods." She was especially taken by the local peoples. "Everyone's so friendly and open throughout the country, so open to meeting new people—they're not dismissive."
Perhaps more important to Dara is what travel represents and can do for personal growth. "Part of travel is always about changing and growing. All travel is about an evolution of self. Sometimes the changes are big and sometimes the changes are subtle. Traveling gets you out of your comfort zone. It reminds me that there are friendly people all over the world and getting out and meeting them should be part of life. It should remind us to be more open and inclusive. I want to meet the people and understand why they live where they do. Meeting other cultures and people shows us how similar we all are."
Although exploring and traveling is on the top of Dara's list, she's enamored of her chosen home in Crested Butte. "I want to keep trying to figure out how to travel more but still be here. I love it here. It's a great community and a good feel. And snow has always been a part of my life. Snow and sagebrush are two things I'd have a really hard time living without. I like the community and having my home base here. From the start, this felt like home. I'm still trying to figure out what I want to do… I'm not sure I'll ever finish figuring out what I want to do. I always want to be learning something and there's always something new to learn and new to do."