Mike Arbaney's home's architecture and decor is a ski-bum-guy-house, a throwback to the days of a more raw Crested Butte, reminiscent with posters of the resort's ski runs and events, lighted beer signs, and the notorious leg lamp in the window. It is, in a breath, unpretentiously refreshing and nostalgic of a time when neighborhoods were intact with down home local friends making their way through the seasons and dirt streets.
The coffee table is covered with stacked issues of motorcycle and hotrod enthusiast magazines, fodder for any discerning motor-head with a penchant for fixing vintage gas-powered street machines, some of which sit magnificently out in Arbaney's front yard.
As the fourth generation born in Aspen and raised in Basalt, Mike says he feels like he's won the life lottery being able to live in Crested Butte. Besides his family working in the silver and ore mines, Mike's history is steeped in Colorado pioneering mountain life, and he says, "One of my very distant relatives had hiked over from Leadville to Basalt to start a ranch. He had a bunch of daughters and he bought each one of them a ranch and then married them all off. Unrelated to working in the mines, they grew potatoes, hundreds of acres of potatoes. And potatoes are still my favorite food," he laughs. "My parents still grow an acre of potatoes in Basalt."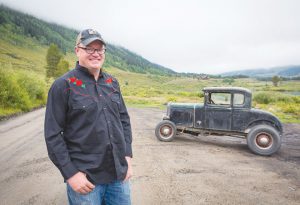 Basalt was a pretty small town back when he was growing up. Mike's senior high school had only 32 graduates in his class of 1995. As a child, he and his buddies did anything and everything that had to do with being outside—building forts and being boys. His father and uncle worked as ski instructors at Snowmass the very first year the resort opened, and Arbaney did a lot of skiing from the time he was three years old. He also went hunting and fishing through his growing-up years in the Roaring Fork valley.
In school, Mike's creativity was expressed through his artwork, mainly watercolors. But he was also working in construction at an early age, all through high school, building what he describes as "Big fancy houses up in Aspen. I loved working construction and I was making really good money for a high school kid. I didn't have plans to go to college because I was pretty content, but I got a lot of pressure from teachers and peers to continue my education." When he was awarded a large scholarship from the Colorado 500 Bike Ride, a charity dirt bike ride that funds mountain community organizations, he thought, "Oh man, now I have to figure out what I want to do."
One day, while he was out on a construction job on an Aspen house, he had a revelation about his future. "I wanted to know why we had to do all the complicated things we do on the construction site, and that's what triggered me to go into engineering, wanting to know how things work."
Mike attended Colorado State University in Fort Collins, graduating in 1999 with a bachelor of science degree in engineering. He started his own company in Crested Butte, Structural Inc., in 2006. "Architects are my main clients. I do the structural parts of those plans because nobody wants their house to cave in."
Before moving to Crested Butte, right out of college, Mike went to work as a structural engineer in Carbondale. Then 9/11 happened and Mike recalls, "Everything just stopped in construction, but I was on salary and I basically went out hiking, biking, or fishing every day since I didn't have any work. It was awesome, but I realized it wasn't going to last too long."
Sure enough, Mike was laid off shortly after, but he decided to make the best of it. "I took off and did a three-week motorcycle trip, meeting my parents at Sturgis [the infamous meetup in North Dakota for bikers]. When I got back, I wasn't sure what I was going to do. A friend told me there was an engineer in Crested Butte, David Houghton, looking to hire, so I called him. He said he wasn't looking for anybody, but we talked for about half an hour and he decided he could use somebody with a structural engineering degree. I stopped by the next day and he gave me about ten hours of work a week."
With a sparse work schedule, Mike found plenty of time for the slopes. "When you're only working ten hours a week you can ski a lot," he says with a big grin that you can imagine encrusted with ice from faceshots in powder.
A few years ago, Mike bought a parcel of land in Crested Butte South to fulfill his goal of building his dream house.
" Small house, giant garage, big fancy kitchen," he describes, his hands waving to express the size of a huge garage to shelter his vintage metal babies. He pulls out blueprints of a massive building he calls his Garage-Mahal that will hold four cars and a bunch of motorcycles. He's already well on his way with a plentiful collection of antique cars and motorcycles.
"My dad has always been into motorcycles and hotrods, so I grew up with it. I remember sitting on the back step of my house when I was a kid, polishing aluminum parts for his 1951 Indian motorcycle. When I was 14, my dad found a 1942 Harley in Naturita and we bought it for $500," he says of the screaming deal.
"He helped me restore the whole thing and I learned how to paint, do the pin-striping and the wiring, and we took it to Sturgis that year, in 1994. I won first place at the bike show and got a trophy as tall as I was. I've had this affinity for cars and bikes forever. I like to go to car shows and I single out the ones that have more recreational opportunities, like in Moab I can go mountain biking on Porcupine Rim and still go check out the cars. In Las Vegas, it's all rockabilly music and costumes, and I like that show because the style of cars that are there are the style that I really love—traditional 1940s and '50s hotrods and customs."
Arbaney's wanderlust seems to go hand in hand with his affection for beautiful vehicles. It gives him a sense freedom and he aspires to travel a lot more in the near future. About five years ago, he headed off to India with Steve Belz, a former Crested Butte artist.
The duo flew into Delhi and bought two Royal Enfield motorcycles. "They're a classic cycle," Mike explains, "and we toured through the Himalayas on them. We went over a pass that was 18,000 feet and we got to see all the Buddhists temples on the way. Intense is a good way to describe India." He uses his uncle's imagery of his own experience.
"If you want to know what it's like before you get there, just remember back when you were a kid and you kicked the biggest ant pile you could find and millions of ants came out going in all directions for no rhyme or reason. India is just like that only with people." The bikers cruised through non-tourist areas where Arbaney felt the real freedom of a motorcycle.
"I liked riding because you're really out in the elements and you feel more connected. You feel more freedom, you're not connected to anybody's schedule, you can start and stop anywhere you want," as opposed to using public transportation, he clarifies. "If you're traveling on a bus, you can't stop and take a picture or stop at a restaurant you think looks good. On a motorcycle, you can do whatever you want, wherever and whenever you want. You can go get lost."
Recently, he took a few weeks to motorcycle around Alaska after flying into Anchorage. "I'd never been to Alaska and it's always been someplace that's fascinated me. I rented a motorcycle and went wherever the weather was nice, all over the state. The second part of that trip was rafting down the Kisaralik River, near Bethel, in the western part of Alaska," Mike says of the river run he did with close Buttian friends.
"There are ten different species of fish in that river and we caught all ten. It was cool to see those glaciers and big mountains and it's cool to be in a place that hasn't been screwed with." Mike feels that Alaska has nature as it's supposed to be.
Mike is also a prolific painter, and his favorite subject is, of course, creating canvases of cars and motorcycles. His illustration-quality watercolors of antique cars, resplendent with shine, combine his love of both painting and cars. He had attended the Canvases and Cocktails classes through the Crested Butte Center of the Arts (CBCA) and he laughs, "Actually what really happened is that I was out walking one night, admiring Crested Butte mountain and the stars above. It was dominating my senses and I thought that it looked just like Van Gogh's Starry Night. The next day I got an email from the CBCA saying they were going to do a class recreating that very Van Gogh painting in Canvases and Cocktails."
Mike attended that class, interpreting the famous painting in his own style—a panorama of town dropped into the forefront with swirling dark blue night skies dotted with stars. It got him switched from watercolors to acrylics.
"It's a hobby. Having an engineering job, it's nice to have something totally out of the scope of work, something so different and helps me to relax." He sometimes has to force himself to take a break and make time to paint, "Even if it's just a tiny painting because I feel like if you don't do it because you don't have time, the next thing you know a year goes by before you've painted again."
Although traveling to foreign places is high on Mike's list, he's not leaving Crested Butte too long for unknown parts. In a perfect world, Mike plans on starting to build his Crested Butte South house this coming spring, with its enormous garage and big kitchen where he can bake his mouth-watering pies. "I want a big fancy kitchen because I like to cook and make fancy pies." He pulls out his phone with photos so scrumptious you can almost catch the aroma, from his peach pies to Bronco-themed pies, replete with the Bronco logo.
"I make pheasant pot pies too and no, they don't taste like chicken," he laughs. "I love it here. It's a great place to come home to. I don't see myself ever moving but if skiing ever gets boring, I'm out of here," he says. "But until then, this is home and I don't know how it could get boring. I have a job that I really like, I have a good business. Plus, there are lots of great outdoor activities and the fact that you have all the biking trails right from town and backcountry skiing so close. The Al Johnson is my favorite Crested Butte holiday. I've only missed skiing it once in the 16 years I've been here. Another thing I really like about this place is that it's still a tight-knit community and it's cool to go to the post office and run into people you know."