Good partnerships across the board helped in the decision
By Mark Reaman
Get ready to get your fat bike on all over the upper valley this winter. The local Gunnison National Forest District has approved grooming for nearly 37 miles of new trail after it received a proposal last fall from the Crested Butte Mountain Bike Association (CBMBA) to expand grooming for fat bikers, hikers, Nordic skiers and dog walkers.
Gunnison National Forest District ranger John Murphy signed the decision on Friday to allow most of the proposed grooming. Murphy signed the order under a Categorical Exclusion (CE) that indicates there are no extraordinary circumstances that would warrant further analysis under an Environmental Impact Statement (EIS) or Environmental Assessment (EA).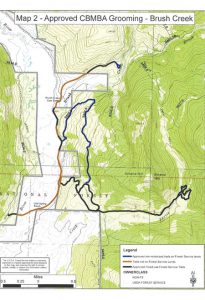 Permitting should not take long so CBMBA executive director Dave Ochs said to look for the expanded trail system to be up and operating starting this week. If the weather cooperates, Ochs hopes to have the Gothic section groomed by the time this paper comes out and the Brush Creek trails groomed by the coming weekend.
Not surprisingly, Ochs was stoked by the decision. "I am over the top, crazy excited and so appreciative of the Forest Service and the efforts they put in to make this happen," he said.
The Forest Service decision includes motorized grooming on the road between Mt. Crested Butte and Gothic for non-motorized uses; just about ten miles of trail will be groomed in the Brush Creek area, including the Strand Bonus trail, the Canal trail, and the Farris Creek Road area; and nine miles of the Cement Creek Road that lies on Forest Service lands.
Murphy did not allow the proposal to groom a loop at the far reaches of the Upper Cement Creek trail as a single track trail because it would add to snow compaction that could impact potentially high quality Canadian lynx habitat. Cement Creek Road will be open to both motorized and non-motorized users.
Trails in the North Village on Snodgrass and on property included in the Crested Butte Mountain Resort ski area permit were not part of this decision but will be groomed.
Ochs said not getting permission to groom the top of the Cement Creek trail is fine with him right now. "We'll be pretty busy with Gothic and Brush, and supporting Al Smith's efforts in Crested Butte South," he said. "That loop would have required some riding to get to. Sure, that would have been great, but we're very glad to concentrate on the stuff even closer and more accessible, and we very much respect the concerns from the Forest Service on that particular loop. Al Smith already does amazing work out there on Cement—we are so proud and happy to partner and support him."
Conditions apply
In Murphy's decision document, he noted that the grooming would be allowed between November 30 and March 31 of each year on a probationary basis for two years. If all goes well, CBMBA would be issued grooming permits in five-year increments at the district ranger's discretion after the probation period.
Murphy did not allow grooming of the Upper Cement Creek trail "due to issues brought forth in the analysis regarding newly compacted routes through quality lynx habitat."
High Country Conservation Advocates public lands director Matt Reed appreciated Murphy's overall decision and the sensitivity to potential lynx habitat.
"High Country Conservation Advocates welcomes the Forest Service decision memo, which approves CBMBA's proposal, with some key environmental safeguards," Reed said. "This decision provides an opportunity for the growth of human-powered recreation, while positively addressing sensitive lynx habitat, conditional approval, minimum snow depth, and seasonal grooming limitations. We look forward to continued engagement with CBMBA, the Forest Service, and our community, to protect wildlife and natural resources while providing sustainable recreation opportunities."
Two years to shine
The two-year probationary period will give CBMBA a chance to work out any kinks with the grooming program. "We're glad to have two years to shine and help even more people understand just what we're trying to do, which is provide an amazing winter trail and recreation experience for all users," explained Ochs. "We will be doing a total of 37 miles of grooming—that includes the 'out and backs'—or it will be parallel trails, so out one way, and the other back. [The] exception is Brush, where it's going to be 10 miles of real deal track."
The amount of grooming will be determined by conditions at the time. "We have no plan to groom on a fixed schedule. We will play it by ear with conditions and area needs," said Ochs. "We have no desire to be out there in avy conditions, whiteouts, or with a forecast of multiple days of snow. Our goal is to provide an amenity when the pow skiing and other options go dry, to fill voids and create more diverse and unique experiences. For the most part we will be grooming at dusk and when less use is on the ground.
"We have a workhorse of a sled that was purchased from the good folks at Irwin, and have made a lot of custom additions and add-ons to our groomer, a Yellowstone Track Systems 30-inch groomer, courtesy of the one and only Doug Bradbury," Ochs continued. "Laying track is a hoot, as we have one or two on the sled, and one person actually 'rides' the groomer to help shape track, make berms, and compact the riding surface as best as possible. Just like summer trail work days—setting winter track is crazy fun, and something to be proud of once you lay the magic carpet down! Let alone, one person can build a berm in the snow in 10 minutes, where it's hours of work in the summer."
While admitting that fat bike travel is relatively new, Murphy said nothing in the decision changes the allowed mode of travel on existing snow trails contained in the proposal since fat bikes are already allowed on the Gothic Road, Brush Creek Road and the Cement Creek Road in the winter.
"Regular monitoring will occur during the probationary period to determine impacts to roads, summer use trails and areas that were permitted for off-trail over the snow use. If impacts are observed, adjustment to the permitted areas or other mitigations will be considered to reduce any impacts to resources," Murphy's decision document reads.
There must be a minimum of a foot of snow on the roads before any grooming can take place and at least 20 inches of snow at the Bush Creek trailhead.
Acknowledging that trailhead congestion is an issue, Murphy said his hope was that "by partnering with CBMBA, the Forest Service will actually be able to manage these areas in a more effective fashion than is currently possible. Information dissemination and education of trail users will be essential to the success of the project."
While keeping those winter trails and trailheads maintained will be a lot of work, Ochs emphasized that it is a lot of fun, too.
"I am very excited for the experience and we have learned a lot already in just one year of grooming, studying conditions, working the groomer for a desired outcome, and creating a great experience," Ochs said. "Brush Creek is going to be a good bit of work, but it will be worth it and where we are hoping to really break ground on something that is truly unique and world class! We are so honored to have the support we gathered from the community, the grant funding and support from the towns, and we are breaking up CBMBA operations into winter and summer ops, so we can better examine and document the income and expenses that each season will present. The experiences so far have been of great value, and it has made our club and organization an even more cohesive and effective team."
Good partnerships keep things rolling
Murphy said part of the logic for the decision and the relative speed of it was to follow a new initiative coming from the Washington office to streamline the special uses application and approval process. Having a cooperative applicant also played a big role.
"Streamlining the process would allow the Forest Service to process applications for special uses more quickly and efficiently than we have in the past," Murphy explained. "The fat bike grooming application was processed the same way we have historically processed these types of proposals. We expedited the review and approval of this proposal because of the great deal of support there was for the proposal and to meet the spirit of the new initiative. Dave Ochs was willing to work with us to make adjustments to the original proposal to eliminate certain issues that could have caused delays. An example was in Cement Creek, where about 10 miles of proposed grooming was eliminated from the proposal. This was because the proposed route would have caused additional snow compaction in high-quality Canada lynx habitat. This may have resulted in a need for additional consultation with the U.S Fish and Wildlife Service delaying the approval of the proposal.
"Grooming this route would have impacted a fen which may have been determined to be an extraordinary circumstance and could have elevated the NEPA from a categorical Exclusion to and Environmental Assessment," Murphy continued. "It takes a lot longer to prepare an Environmental Assessment than it does a Categorical Exclusion. I would credit Dave's willingness to work with us to address these sorts of issues as the primary reason we were able to process the application so quickly."
The Forest Service received 127 comments on the CBMBA proposal and 78 percent of those were in support of the proposal.