Creating place
by Dawne Belloise
I grew up in the cold so I wasn't dying to get back to freezing winters, but there's so much about Crested Butte that I love that it made it worth it," Stephanie Ballard says about her recent move to this town.
Her journey to the mountains started in the Midwest and took in both coasts. After being cast as a designer on a home renovation television series in 2016, she followed her heart to the valley and hasn't regretted that decision. Her new designing challenges incorporate the style and magic of the nearby mountains.
The winters in Muncie, Indiana, where Stephanie was born and raised, most likely felt far colder than even our crispest sunny winter days here. Muncie was a small blue-collar, quintessential Midwestern town where most of the residents were employed by the Ball canning jar factory.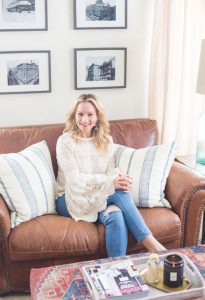 "My grandparents met at Ball and my parents worked there as well, and I was born in the Ball hospital. Ball was the heart of our town. I had a very humble upbringing and was raised by all these salt of the earth people," Stephanie says. She was very close to her grandparents, spending much of her childhood at their house just down the street and recalls faking sick, knowing that her working mom would have to take her to her grandfather's barber shop if she couldn't attend school. "My grandfather taught me how to fish and my grandmother taught me how to sew," she says.
Stephanie played competitive volleyball and realized early on that it was to her advantage that her school was "a volleyball dynasty and I was bred on it. I started playing when I was eight. It was pretty intense." Stephanie was also always into art and throughout high school, she had a propensity toward interior design, even when she was much younger. "I became very aware of my surroundings. I wanted to make everything around me really beautiful and I wanted to make people around me comfortable," she says.
She graduated from high school in 1999, wanting to focus on design but as a top volleyball competitor, she couldn't pass up a full athletic scholarship at the College of Charleston, in South Carolina. Unfortunately, that college didn't have an interior design program. She was named conference-wide freshman player of the year, but in her sophomore year she blew her ACL and wound up taking a medical red shirt.
During the summer, Stephanie enrolled in design classes at the New York School of Interior Design in Manhattan, and interned for a designer in Charleston. After graduating in 2003 with a degree in corporate communication and French, Stephanie took off with her best friend to backpack through Western Europe for a couple months.
"It had always been my intention to go to grad school for design but instead I kept falling into these great sales jobs with Fortune 500 companies and making a lot of money," Stephanie recalls. She was selling houses for Beazer, a large national homebuilder. "I was doing well. I had stayed in Charleston and bought and renovated my own house by the time I was 24. I don't think I had ever envisioned myself staying in Charleston but the jobs were so good," she says.
The competition was a compelling factor for her. "I loved the people part of it. Buying a home is the biggest financial decision people will make and it ends up being very stressful for them. I think I loved being the person who got to lighten that load for them and shoulder the burden, making it something that was fun and joyful. I was working closely with the builder, helping people basically design the house from the outset, pre-construction, and holding their hand throughout the entire building process. It was really fun," Stephanie says of her five years there.
Having just renovated her own house, Stephanie had the design itch and since her grandparents were getting older, she wanted to be closer to them, so she moved to Chicago. But once again, design school was put on hold as the market tanked and she took another sales job in 2011, selling medical devices. For the four years Stephanie was working sales, she was also doing design work on the side, and created a lifestyle blog with her high school friend.
"We called it Covet Living. We write about travel, design, and even have DJ play lists. It was like a raw stream of consciousness with a very positive undercurrent. We both had a zest for life and seeing the sublime in the ordinary. I kept having side projects from people who read the blog. We were also mentioned in House Beautiful in 2010, just a small blurb but it put us on the map," she smiles.
In spite of the fact that she loved her job selling medical devices, and loved the people, Stephanie was now 31 and she vividly remembers, "I had a 'Come to Jesus' moment that life is short and I didn't have any more time to waste. I wanted to be doing the thing I loved the most, even though I knew it meant jumping back to the bottom of the totem pole and starting over again."
She moved to San Diego in early 2014 when a high-end designer, who was following her Covet Living blog, needed an assistant. "I started as a junior designer. I was like a little sponge. I was so excited to be in the field that I had always wanted to be in. I learned everything I could, as fast as I could. I got a lot of needed technical experience. I knew just enough to be dangerous but I learned a ton from her and I took classes on the side. I dove into that career and the design community."
Stephanie didn't have a conventional path into the interior design business but says, "It makes me appreciate where I am now so much more. I don't generally adhere to hard and fast rules, I don't dabble in trends much, I think that my goal in every space is for it to always have a timeless element to it because if you're fortunate, maybe you get to build your home or renovate once, maybe twice, in your life and to me there's such a sense of permanence to what goes into a renovation or a design so I'm always very mindful. That's why I don't adhere to trends, because who has the money to redo their house every year?"
Southern California was Stephanie's happy place. The sunny, 72-degree weather was uplifting and she loved the air that smelled like saltwater. "It was a new, fresh start in a place I wanted to be and I was doing a job I knew and loved. I made amazing friends, quickly carving out a great network there." But all that was about to change.
In spring of 2016 Stephanie met Chris Driscoll, who was a rep for a medical orthopedic device company and was living in Crested Butte. "We started flying back and forth and it became apparent pretty quickly that it was serious."
At that time, Stephanie had her own design business, Covet Living Interiors. "I had cut my teeth working for the designer and also independently designing kitchen and bathrooms, and custom cabinetry for a high-end custom cabinet maker. I had a big backlog of projects from referrals and people who had read the blog for years."
That same year, she was cast as the designer on a home renovation television series that was due to film for the better part of 2017. Stephanie and Chris had logistically concluded it would work out better for her to move to Crested Butte since she had to travel for most of her jobs anyway. Between the requisite time commitment for the show, and her business going full-throttle, she was in southern California until the autumn of 2017. As soon as she wrapped filming, Stephanie headed to Crested Butte to be with Chris.
What she loves about doing Colorado design is that the indoors and outdoors are pretty malleable. "The surroundings are so beautiful that there's always an inclination to bring the outdoors in. What I'm personally so excited about in doing designs here is that I get to use a lot more natural materials and rich heavy fabrics that I haven't typically been able to use in a coastal climate," she says.
"It's not just that I love the creative aspect of what I do, it's the process with the client that I love so much, and that it enriches peoples lives in such a personal, tangible way."
Having grown up in a small town with "good salt-of-the-earth people," Stephanie feels connected to that same dynamic here. "The sense of family and community where everybody knows everybody. I always feel safe," she says. "It's like Cheers but in six square blocks. The first time I came here, I thought, "Am I in a Hallmark Christmas movie?" I loved it, even though it was definitely a shift from being in a bigger city and having everything at your fingertips. It's a different lifestyle, a more wholesome, slower pace but the most beautiful place I've ever seen."