Take the long way home
by Dawne Belloise
He was a wandering hippie who was part of the free-spirited generation and attended Woodstock, and Moss Wagner's home is cozy with everything in its place and notably, an entire wall of floor-to-ceiling shelves with an impressive collection of music, from vinyl albums and cassette tapes to CDs and digital mastering DJ equipment.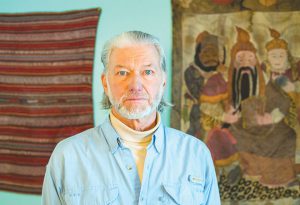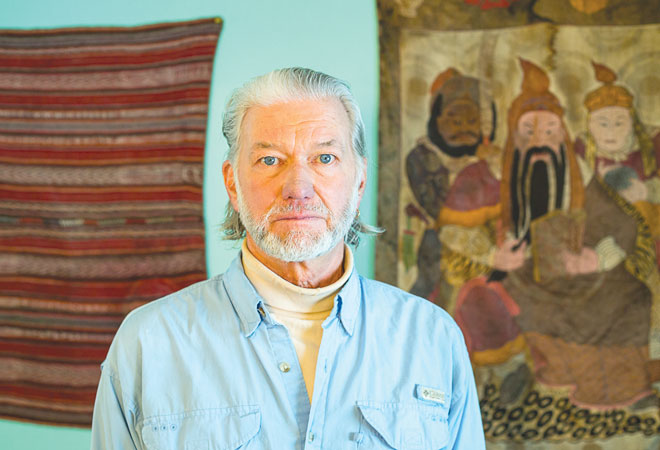 There are vintage psychedelic concert posters, magazine articles and photos on the walls that reflaect his almost seven decades of life lived to its fullest and complement the expansive views out his mountain condo windows.
Moss has taken the long and winding road to arrive here, creating the life he enjoys in a place that he loves, and seemingly light years away from the start of his journey on the shores of the Delaware River in a small town in New Jersey.
Living on the banks of a constantly flowing river is an adventurous world for a growing kid and Moss remembers spending his days swimming, boating and watching the big ships go by.
"It was a great little town to grow up in," he says of its quiet and safe environment. "Now I think it would be boring because I've lived in resort towns for 40 years where there's so much going on."
Moss excelled in gymnastics throughout high school and excelled on the side horse, now called the pommel horse, taking the New Jersey state championship in his senior year of 1965.
When Atlantic City featured the same musical line-up as Woodstock, Moss trotted off to attend, hitting Woodstock's three days of peace, love and understanding two weeks later. As it was for many of that generation, the experience was life altering.
"It was a mind-blowing thing and we had gotten there so early so we already had tickets. We set up the tent and wandered around, catching the show from a distance and soaking up the love."
Despite all the turning on and tuning out that was going on then, Moss received a scholarship from Temple University in Philadelphia for his nationally ranked gymnastics talent. He graduated in 1969 with a degree in education. Unsure of what he wanted to do for a lifetime career, but knowing that he liked kids, he taught for a Head Start program and physical education for a couple of years in Philly.
In 1972, he and his girlfriend decided to travel around the world, which was indeed a hippie thing to do, especially hitting all the trendy destinations at the time: Europe, Amsterdam, and at the top of the list, Morocco and India. So the couple set out for Morocco.
They were told that if they entered the country through Spain, he might have to cut his hair. "Hippies don't like that," Moss chuckles, "so we went around to the south border."
Tourist extortion was somewhat prevalent and Moss was forced to pay their hired cab driver double the agreed-upon price, then had to spend the night sleeping in an alley, waiting for daylight before an attempted border crossing from the Spanish Sahara into Morocco. They rode all night on top of a large truck with many other passengers but as indefatigable youth, Moss recalls only the stunning colors of an exotic, strange land.
"It was a beautiful, gorgeous sunset. We stopped in the middle of nowhere to take meals and just outside of Tan-Tan, the driver dumped all the passengers off to walk the rest of the way to town," he said of the carrier who was also a smuggler, probably using his load of people as a front for whatever he was illegally transporting.
The couple walked into the tiny village at 1 a.m. and discovered that the popular cheap hotel, where young travelers stayed, had no vacancy. "So we wandered around; it was a beautiful night with all these noises, donkeys braying and growling wild dogs in the distance. We slept in a dry riverbed since the sun was going to come up soon. The next day, after getting our passports stamped, we moved up the coast hitting Tunisia and Algiers."
Moss and his girl traveled for six months, returning to the United States to work in order to get more funds to travel. The wanderlust bug had bitten hard and in 1974 they took off for India and Nepal.
"The fashionable place everyone was going during the holidays, especially New Year's Eve, was Goa. It was great and it was a nude beach," Moss says.
Or so he thought, but as he was soaking up the sun, snoozing in the hot sand, Moss awoke to his feet being kicked and a circle of police surrounding him. He and four of his friends were arrested for nudity and hauled off to jail. All five men and women were thrown into the same cell, a cement room with a rebar gate, where, despite the sparse amenities, they were fed excellent curry.
Held overnight, the group missed the big New Year's Eve beach bash and the next day the police hustled the offending five into a cab for court. The judge wasn't amused with their loose mores and fined them ten rupees each, which was the equivalent of $1.30, finally threatening them with prison if they ever shed their clothes in public again.
Moss left the idyllic, never-nude beach town of Goa and traveled around the rest of India before trekking to Nepal.
Moss liked Nepal since it wasn't crowded like India. He hung out in the din of Kathmandu, inhaling its clamor and determined to find original wall hangings, not the cheap, common tourist ones, but the real deal.
In Moss' quest, he met an Italian who connected him with His Holiness the Chine Lama, the high Buddhist lama of China, who was run out of his country the same time the Dalai Lama was exiled from Tibet. The Chine Lama was the pope and caretaker of the Boudhanath stupa and he happened to have piles and piles of fine, handmade silk wall hangings.
His Holiness reached into one of the large layers of silk and extracted the perfect wall hanging, handing it to Moss. It was exactly what he had in mind, a collage of richly colored brown, silver and grey silk, a detailed story, brushed and sewn with intricate stitches of embroidered figures and symbols. It still hangs on his wall today.
After roaming the Himalayas and traveling for three months, Moss returned to his home in Delaware, where he opened the Bethany Beach Ice Cream Parlor, a successful, but seasonal, business.
"I just fell into it. I liked ice cream, I guess," he grins, pulling out several magazines with articles and photos featuring the business, including a line in National Geographic that claimed the parlor "dominates summer nightlife."
Besides serving up ice cream, Moss was politically active as vice mayor of Bethany Beach and was on its town council. He worked to get surfing, once outlawed, legalized. "They didn't like surfers," he recalled. He also fought for the use of absentee ballots for local elections.
When Hurricane Gloria tore through, the mayor skipped town and the responsibility of evacuation was hoisted onto Moss. "When it started getting really bad, everyone left except one old lady who was finally convinced to leave with the emergency crew."
The hurricane destroyed their beachside boardwalk and Moss took charge to ensure its reconstruction. He and a few other locals started the Fourth of July parade since there wasn't one and in 1987, Moss inaugurated the Bethany Beach Jazz Funeral for the end of summer, celebrated on Labor Day when summer business officially died for the tourist town. He donned robes and the title of the "Not Too Grim Reaper," a character similar to his Crepitus, the Grump Advocate, a leper sort of guy Moss created who tries unsuccessfully every year to argue in favor of not burning the Grump.
In the winter of 1994, Moss' sense for adventure fired back up when he decided he wanted to live in a small mountain ski town, and his résumés flew out with the mail. He had attended the Cayce School of Massotherapy in Virginia Beach a few years earlier, with the forethought of finding massage work in a Crested Butte.
Bill and Jennifer Rose, who were going to India, needed someone to cover their massage clients while they were gone, and his ice cream parlor was closing for the winter, so at summer's end, Moss packed up and came west. "I had a job and a place to live and at that point, I started thinking about what I needed to do to move here permanently. I still had my ice cream business back in Delaware and I ran it through the summer of '95," after which, he sold out of the East Coast life, trading it in for permanent residency in Crested Butte.
Moss started his own outcall massage business that year, mostly working through hotels, and that evolved into gigs at the Crested Butte Club on the mountain and later, the Sheridan and Club Med. Club Med operated from 2000 through 2006, and in Moss' opinion, "It was a great, juicy gig that brought big bucks. It was exciting; you got to meet a lot of interesting people. President Carter and his family were my clients, and world ski champ Johnny Mosely."
Moss continues to massage aches, pains and woes from his clients now at Sea Level Spa on Elk Avenue.
When Club Med left, Moss needed more work so he signed on to Mountain Express as a bus driver in 2006, and he now proudly sports the decorated 10-year service pin.
If you didn't know Moss from his diverse talents and characters, you'd probably recognize his voice as a KBUT deejay since he's been spinning the tables for almost 20 years. In his first three years with the station he had an oldies show called "Classics from the Golden Vault," featuring R & B and do-wop from the 1950s and '60s. Now he does intricate production shows that include music, spoken word, comedy, rockumentaries and documentaries.
When Moss first moved here it was Vinotok weekend, "Our great local celebration that's distinctly Crested Butte in nature, and that was my first impression of the town. I thought, wow, I picked a good town to move to sight-unseen. I wanted to be part of it. I originally started out as a torchbearer but I didn't think the Grump was getting a fair trial. It was a kangaroo court, so I created the Grump Advocate character. I did the makeup, costume and wrote all my lines. I wanted to be the defender of the Grump. It goes back to my days in Delaware of defending the surfer," he laughs, and his Crepitus, Defender of the Great Grump is now an integral part of the Vinotok event.
As the snow falls on this epic season, Moss marks his 23rd winter here. "I'm getting too old for world traveling now. I ended up here," he says happily, "but where else could I go that would be better, where I have things to do, I know people and I've got a job and a place to live, I get to do my radio shows and Vinotok?" he shines with gratitude. "I'm still pretty much a recluse, which is a title the Crested Butte News gave me in an April Fool's issue one year. It's an honor to get lampooned, it means you're somebody around town!" he laughs with the knowledge that his many journeys have landed him exactly where he's supposed to be.