by Dawne Belloise
Editor's Note: W Mitchell will be the featured keynote speaker at High Country Conservation Advocates' Dinner at the Depot: 40th Anniversary Celebration on Sunday, July 30, from 5 to 9 p.m.
"I'm just an ordinary man living in an extraordinary situation." — W Mitchell
In the James Cameron film Avatar, the protagonist who saves a planet from the evils of a greedy off-world mining company is a paraplegic warrior, a former Marine who leads the native population to a rebellious victory and succeeds in ousting the mining company from their paradisiacal world. The beloved and once former mayor of Crested Butte, W Mitchell, was the real life Avatar hero for Crested Butte in the 1970s when the AMAX mining company sought to extract the mother lode of molybdenum from Mt. Emmons, aka Red Lady mountain, the western sentinel of town.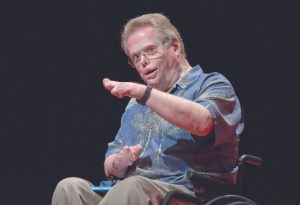 Mitchell began his life outside of Philadelphia and joined the Marines when he was 17, attending the University of Hawaii at night while he served. When he was discharged from the service, he stayed in Hawaii, working as a bartender and a deejay. Both, he says, came in quite handy later when he moved to Crested Butte. For a while, he moved back to his hometown of Philly, working as a substitute teacher. "The only skill I possessed for that job was that I was alive. I loved it," he laughs.
Mitchell became involved in Robert F. Kennedy's presidential campaign, going to rallies, and even spending a little time with the New York senator before Bobby's assassination. In June of 1968, having been to San Francisco briefly during the previous year's "Summer of Love," he found himself in Height Ashbury alongside the famed Diggers. "I was eating their free lunch. They had a truck that went around and that also parked at the entrance of Golden Gate Park and they served anyone a free lunch," he recalls. "The lunch was whatever they had and were serving that day. The Diggers believed everything should be free. They had a famous store where you could go get a free pair of jeans or anything that anyone had left." Although Mitchell never considered himself a hippie, he was pretty progressive.
His first job was as a taxi driver, with a little bartending in between. But he remembers, "The coolest job I had was driving a cable car. It was the coolest job in the whole world. It was fun, and it's the only, and the last street cable car company in the world. You had to physically work hard to operate the cable. The cable runs under the ground, continuously running, like a ski rope tow, and there's a device in the car that has a grip that extends down from the car with a two-inch slot. The grip is operated by a gripman, and I became a gripman. There were only 60 people on the planet with that job," he says.
"You pulled back on the lever and each time you pulled it back, you squeezed the cable. You're pulling a car with 125 passengers on it, a tremendous amount of weight. You get skinny, but you get biceps," he says of the perks of that hard labor, and says he lost so much weight in the first month that his uniform had to be refitted and altered. He also loved that the job was more or less outdoors, and he grins about the coolness factor. "There were lots of pretty girls who love guys who are in charge, and guys who are in uniform, whether it's Sgt. Pepper or guys in cable uniforms," he says.
In the summer of 1970, Mitchell and a Marine buddy took a motorcycle trip to travel across America and in Tuba City, Arizona, the two stopped to visit his friend's cousin, who told them about this magical place called Aspen. "We spent the summer camping in Aspen. We blew off the rest of the trip because Colorado was so magnificent."
After several weeks, the duo was getting ready to head out to continue their Easy Rider adventure when, driving over Independence Pass, Mitchell ran out of gas. "My buddy went on to get gas to bring back. This was the most beautiful day in Colorado, which every day that I've ever spent in Colorado is the most beautiful day in the history of Colorado."
It was a couple of hours before his friend arrived back because, not knowing where the nearest gas station was, his buddy also ran out of gas. "All we did was look at each other. I don't think we said five words. Finally we got on the bikes and thought how stupid could we be that we would want to leave this magnificent place, and to think that we could find any place more beautiful. And that was the end of our journey. We spent the rest of our summer in the Aspen area."
Mitchell's girlfriend at the time joined him from San Francisco and they bought ski passes for that winter season.
Returning to San Francisco in the spring of 1971 to his gripman job on the cable cars, Mitchell started taking flying lessons. "That June I had gotten far enough in my flight training that I soloed for the first time. That afternoon, on a brand new one-day old motorcycle, as I was approaching an intersection, a laundry truck ran a stop sign and we collided." His bike went down, the gas cap popped open, and the heat of the engine ignited the gasoline, severely burning Mitchell.
"A guy with a fire extinguisher ran out of a car dealership and put out the flames but I was burned over 65 percent of my body, including my face and hands." He spent four months in the hospital, and had most of his fingers amputated. His helmet saved his life and kept his head from being burned. He was only 27. "I was young and healthy and had good care. I went home but I had to be taken care of a lot. Because of the extensive burns on my hands, I couldn't touch anything." He recalls the pain and inability to do simple things like reach into his pocket. He had to be dressed and bathed and fed.
"Think about a three-month old baby's needs. I needed all of that. I couldn't use my hands. Period. They were so sensitive. Over time, in about two years, I was able to drive and I started my flight training again," says the undefeatable Mitchell.
Mitchell and his girlfriend drove back to Colorado in the summer of '72 to visit friends in Aspen, exploring the Western Slope in their camper. One of the places they hit was Crested Butte, camping in Gothic, where Mitchell recalls, "The mosquitoes were horrendous, so we left the campground, went into town and stayed in bunk beds at the Forest Queen. We ate at the Bistro, the same building the Grubstake was in. People were kind of snotty and that kind of offed me a little for Crested Butte," he remembers. "I was used to Aspen, which was a little more sophisticated and upscale and here in Crested Butte people seemed a little snottier because they were 'locals' and I was an out-of-towner."
The following spring, he settled his insurance case for his motorcycle accident and used the money to buy a plane. One of the first places he and his girlfriend flew to was back to Aspen to find his friend, Suzie Fisher. However, upon arriving, he learned she had moved to that snobby town of Crested Butte. "We landed at Tony Verzuh International Airport," he jokes. "It was just a field, mowed a little bit, sort of where the sewage plant is now. When it rained, the east end was under water and in winter it was covered with snow but plowed. The strip is now all houses in the Verzuh plat."
He found their friend Suzie and a few days later, Mitchell bought his house on Maroon Avenue, across from the fire station. "It was $35k, an old two-story coal miner's house. I later found out that I was the greatest fool who ever arrived in Crested Butte, because anyone who spent that much on a Crested Butte house was a fool," he says.
Mitchell learned this from the old timers at Tony's Conoco and hardware store (now the Museum). "I went to get the key to the house at Tony's and there were all these older guys around the pot- belly stove. No one had spent $35,000 on a house in the history in Crested Butte. The house had sold previously for $3,500, and before that for $350, but at that time the town was gone and there weren't 300 people here for the winter, the mines had closed."
But this was the summer of '73 and Mitchell felt Crested Butte was just perfect and stunning. "Back then there were only about 500 residents, really small, and that was perfect. One of the things that I loved about town was, the first person I met asked what happened to me," and he explained his burns and accident to them.
"And in 15 minutes everyone in town knew, so I didn't need to keep explaining what happened to everyone I met." He feels that although some might call that gossip, "It's usually because people care and Crested Butte was a town where everyone took care of each other," he discovered.
Tony Verzuh was a prime example of how people in this town took care of each other, despite their differences. Mitchell had tragically crashed his plane in Gunnison in November 1975, which paralyzed him, confining him to a wheelchair for life.
"Moving my car was a hassle, so I made a side yard and Tony Verzuh, my neighbor at the corner of Third and Maroon, would plow that and would not take any money for doing it. A lot of the old timers got upset with me when I ran for mayor against the mine in 1977. Tony stopped talking to me too. It snowed one day, and I went outside and my side yard had been plowed. He wouldn't talk to me anymore but he continued to plow my yard and that's what Crested Butte is to me. That's what community does, that's what neighbors do. Even if they don't like you that much, if you need help, they're there."
After Mitchell's motorcycle accident and burn and his paralyzing plane crash, his house caught on fire—the entire second floor was completely destroyed and uninhabitable—and once again the community came to his aid. "The town showed up to save my house when it was burning. They saved all my furniture."
After being coerced, practically guilted into filling a vacant Town Council seat for a few months until the election, Mitchell saw an article in the local paper about some exploratory drilling that was going on up on the face of Red Lady.
"When you think of AMAX, you think of Leadville, Mt. Bartlett, the mountain that's no longer there because they mined it. They took the mountain out of the mountain and the town is buried under all those tailings. We made Amax take us on a mine tour, Gillette, Leadville, about six towns where mining was a big industry." Mitchell notes that in every one of those towns there were serious problems—domestic abuse, drug addition and alcoholism, and mental health issues.
"The social impacts are greater than the environmental impacts in many instances. They were going to spend $2 billion to build the mine here. It would have been the biggest industrial project in the history of Colorado. In the construction phase, you have a gigantic turnover of people. You need all kind of workers, steel, concrete, bulldozers, ten times as many to build the mine as you need to run the mine. You have to find a place for all the construction-phase workers and schools for their kids, and then most of them are going to go away. And there's no commitment to the community," Mitchell says.
"And we all saw that it would be a social and environmental nightmare for Crested Butte, and there's never been a mining project that hasn't had a bust after the boom," he says. That's when Mitchell decided to run for mayor. He would be the leader to stand for the community and declare, "NO."
When AMAX pulled out in the summer of 1981, the headline ran, "W Mitchell: the Mayor who saved the mountain."
These days, as a motivational keynote speaker, Mitchell reflects, "I talk about that in every speech. I love that because I don't know how many people they've met that have saved a mountain." Grinning, he admits, "I have the headline, but it's not true. I explain that it was the community that saved the mountain. It was a town full of people who had a greater commitment to the air and the water than a pound of molybdenum. I got the headline because I chose to be the leader but it was all of us working together who saved the mountain."
Today, W Mitchell lives in California and is a respected environmentalist and conservationist who has repeatedly testified before Congress. His accomplishments have received media recognition on shows such as Good Morning America, The Today Show, NBC Nightly News and others around the world. He's been a radio and television host, a successful author and an award-winning international keynote speaker. Most Crested Buttians who have known him feel that he is undoubtedly the Avatar who helped save his people and paradise from an evil and greedy mining company.
It's impossible to include all the many accomplishments and stories of W Mitchell in one news feature, so for more, go to wmitchell.com.