Call to artists: Mountain Express has new buses to paint
Mountain Express has two new town buses to paint, and, in keeping with the colorful themed buses in the fleet, the new buses need some character. Mountain Express is currently accepting proposals from artists interested in joining the long line of artists who have made the MX fleet a motorized canvas of creativity. Complete details and guidelines on how to submit a proposal can be found at www.mtnexp.org. You can also stop by the office, Monday through Friday, 9 a.m. to 4 p.m. at 803 Butte Avenue and pick them up. To request an emailed or faxed copy of the guidelines, or for more information or questions, contact Chris Larsen, transit manager of Mountain Express at (970) 349-5616 or email thenry@crestedbutte-co.gov.
Yoga for Everyone: Thursday, June 25, 9 to 10 a.m. 
Take advantage of the beautiful summer weather with yoga classes on the CB Center for the Arts' Outdoor Stage. Yoga for the Peaceful instructors teach this relaxing and rejuvenating all-levels class. Just drop in! Your full class tuition goes to benefit the Center. Bring your own mat. Class meets every Thursday June 25 to August 6.
Therapy and horses open house
Cochetopa Therapeutic Horsemanship will host an open house on Wednesday, July 15, from 4 to 7:30 p.m. Cochetopa Horsemanship teaches basic horsemanship classes to riders with disabilities. The horse is a proven teacher and therapist for riders with special needs. See their lesson horses in action, and experience horse painting at 8610 Hwy. 114, which is 8.75 miles south of Hwy. 50 on Hwy. 114. See their Facebook page at https://www.facebook.com/CochetopaHorsemanship
Plein Air Watercolor Workshop Series: Wednesday, July 1. 
Flowers are popping and summer is in the air! Suzanne Piersonbrings her expertise in painting outdoors to both beginner and intermediate painters. Learn new techniques as you capture Crested Butte scenery during the most beautiful time of year. Small watercolor sketches are the focus and Suzanne can help you capture either a realistic snapshot or an impression of your chosen subject to whatever style appeals to you!
Workshop at the Elk Avenue Garden
Mountain Roots presents "All About Herbs: Growing a Kitchen Garden" with Diane Bober on Sunday, June 28, from 4 to 6 p.m. at The Elk Avenue Garden in Crested Butte. This is a hands-on workshop as part of the sustainable living short courses. Expect to take home a little container garden. Suggested $10 donation; more information is on the Mountain Roots website.
Canvases & Cocktails at Bonez: Tuesday, June 30 
Join this exciting happy hour step-by-step painting class held in the relaxed and fun atmosphere of Bonez. Instructor Becky Chappell guides the group through a painting from start to finish, giving instruction on setting up to paint, mixing color, composition and more. Class meets every Tuesday night from June 30 to August 4.
B'not Mitzvah Weekend
Friday night there will be a dinner in honor of the very special three generation B'not Mitzvah celebration of Skylar Klemme, Gloria Beim and Adele Beim to be held at the home of Joe and Becky Williams at Red Mountain Ranch. Please bring a generous dish to share with our community and out of town guests. RSVP if you can so we can send you the Pot Luck form if you haven't already received it by email. Call Ofra with any questions at 349-5211.
Birthdays:
June 25– Jade Schichtel, Ian Eldridge
June 26– Johnna Bernholtz, Mandy Gillie, Alexandrea McCartney, Heidi DuVal, Mallory Mikeska, Nolee Moscatelli, Sarah Baskfield, Adam Curtis, Jaima Giles
June 27– Bill Dowell, Jim "Beach" Thomas, Paul Barney, Graeme Roberts, Kathryn Bashore, Taylor Reeves, Katie Fries, Melanie Swaine, Trisha Lewis, Doug Hudson, Lydia Stern, Thomas McLean
June 28– Kevin Beltz, Alicia Lypps, Pi DuVal, Braillyn Krill, Matthew Holze, Xavier Fane
June 29– Ben Sweitzer
June 30– James O'Connor, Thomas Rutherford
July 1– Patricia Dawson, Michael Garren, Eric Ross, Shea Hillman, Amber Orton, Liz Berry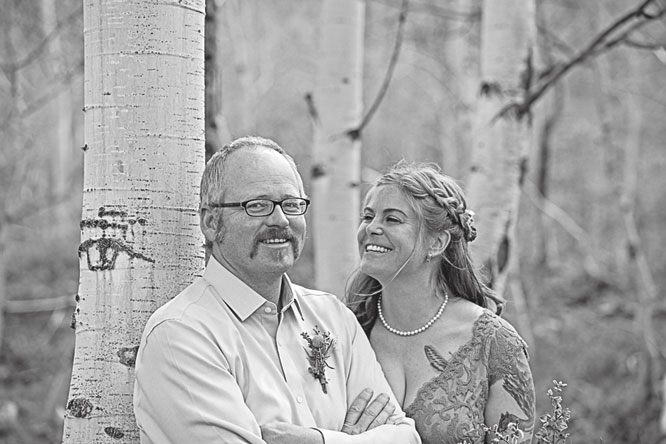 CB WEDDING:  Kendall Tankersley and Matt Smith tied the knot on May 30th at the Woods Walk.  Their reception was held at the Town Ranch, and yes, there was Third Bowl ice cream for all.  Congratulations!  photo by Alison White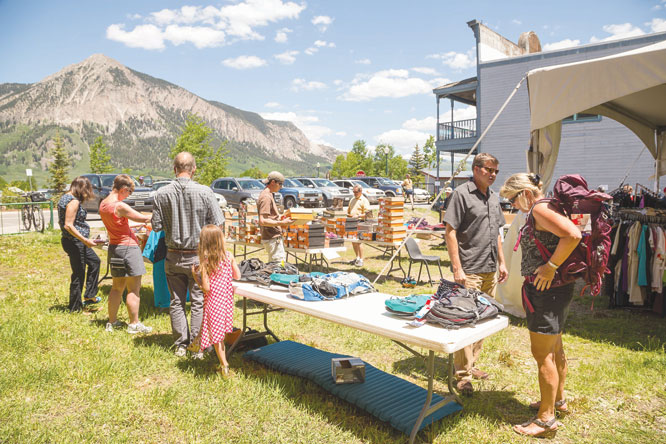 SALE!:  The Alpineer held its annual Father's Day tent sale last weekend with all kinds of outdoor gear and clothing items.      photo by Lydia Stern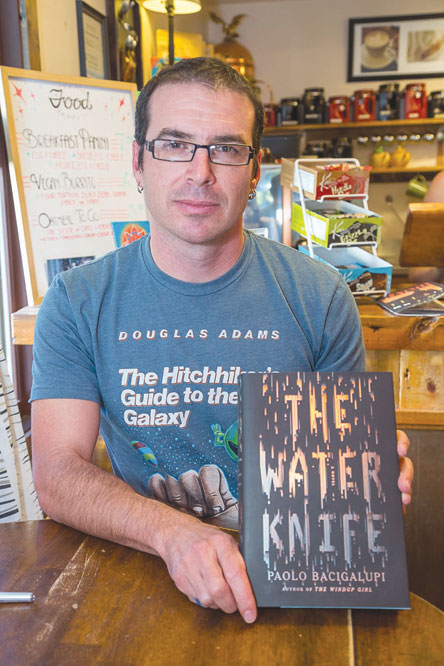 BOOK DISCUSSION:  Paolo Bacigalupi signed his new book The Water Knife for readers at Rumors on Thursday, June 18.  photo by Lydia Stern
Cameo Question: What did you do for the solstice?

Mellow climbs and strong beers with good friends.
Chris Garren

Drank beers by Long Lake went home and made bratwurst.
Peter Ferrell

Danced in the sunlight.
Nel Burkett

Enjoyed some climbing, food and friends.
Jocelyn Leroux

Climbing in Taylor canyon until 10 pm.
Will Ninez