"No game is over when you're the home team"
by Than Acuff
The team has got heart, there's no doubt about that. All season long, for the second season in a row, the Crested Butte Blue Jackets baseball team has suffered through numerous lopsided losses as they faced older and more experienced adversaries. With that in mind, what happened Monday night at Tommy V Field is all the more impressive.
The Blue Jackets opened their four-game home stand Thursday, June 18 against Olathe, a team they beat once earlier in the year. In addition, the team got a boost from the addition of Sage Long to their roster. As a result, confidence was high heading into the game as coaches Tom Consentino and Kirk Petersen and their players were looking to tally their second win of the season.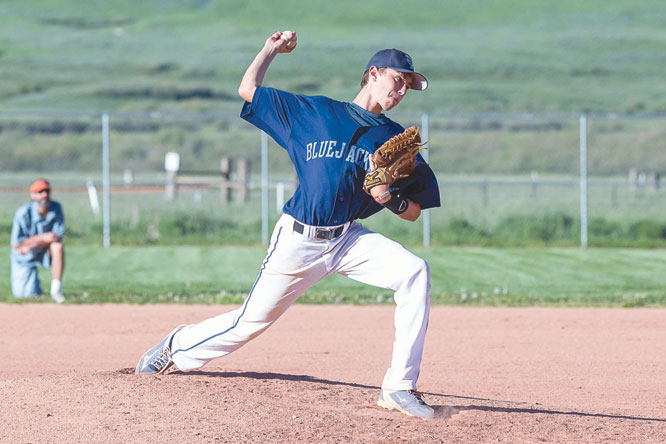 "We felt pretty good and the kids were excited to have Sage Long back," says Consentino. "He was much needed, started the game and pitched great."
Crested Butte mixed in solid pitching from Long, Turner Petersen and Hunter Wright with good hitting and patience at the plate to cruise to a 20-4 win over Olathe for their second win of the season.
The Blue Jackets then ran into a buzz saw on Saturday as they hosted the heavily talented Montrose team for a double header. Facing an experienced and well-oiled machine, Crested Butte dropped both games that day.
"We didn't play well, especially in the first game," says Consentino. "The one good thing is that when you play a team like that, one that is well-coached and doesn't make mistakes, it's really good to see and I think we learned a lot from them."
The Crested Butte team returned to Tommy V Field on Monday, June 22 to host Hotchkiss for the final home game of the season. Hotchkiss got the best of the Blue Jackets earlier in the season and are notoriously aggressive both at the plate and on the base path. Nevertheless, the Blue Jackets felt like they had a chance to play a tight game against Hotchkiss.
"We felt pretty positive that we'd be in the game," says Consentino.
Aiden Gunderson started out on the mound and got off to a great start striking out one batter as the other two popped and lined out.
Crested Butte opened the scoring in the bottom of the first when Ryan Ellis and Turner Petersen capitalized on errors to get on base and advance into scoring positions and Ellis then scored on a passed ball.
Gunderson continued to throw strikes, fanning another Hotchkiss hitter, and his defense backed him up making plays on grounders and fly balls.
Hotchkiss threatened to pull away in the top of the third inning but Crested Butte held them in check.
Turner Petersen tracked down a grounder to deep short to toss to third for a tag, and a relay home tagged out a Hotchkiss runner stretching for additional run, but Hotchkiss capitalized on fielding miscues to score five runs.
"It was the errors that hurt us that inning," says Consentino. "It should have been a one-run inning."
The Blue Jackets hung in the game through the next two innings as Sage Long drove in a run with a single and Dante Marchitelli tapped a sacrifice RBI hit to pull the Blue Jackets to within three runs heading into the fifth inning.