Flush with talent, young and older
by Than Acuff
Maybe this will be the year, the year the Crested Butte Kickers get a chance to defend their home turf and make it to the finals as they host the 21st Annual Crested Butte Coed Soccer Tournament this Saturday and Sunday, June 27-28.
For the past 20 years the Crested Butte Kickers have hosted a tournament. It's had its ups and downs, and in the past several years teams from the Front Range dominated the tournament.
This year, though, things could be different. For starters, the local team received a boost of youth this summer and may field as many as four recently graduated high school players to add a little speed.
In addition, they have some talent from across the pond out on the field as current WESA program director Sully Desai will be suiting up for the games on Saturday.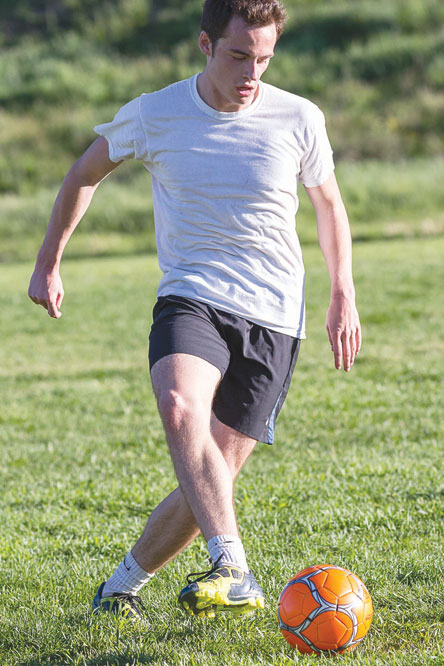 Furthermore, for the 21st year in a row, Brian Fenerty will be out there. Granted, he may have missed a tournament or two over the years due to injury but he's the longest-playing member of the Kickers team. The man defies time.
And finally, no coed team would be solid without an influx of talented women. This year not only are the Kickers women talented, but, for the first time in a while, they will actually have reserves to ensure fresh legs on the field at all times.
This year organizers have reached out far and wide to bring in more teams than ever before. In years past the tournament was maxed out at eight teams, but this year 12 are signed up, including a strong Front Range contingent, teams from Glenwood Springs, Durango and Grand Junction as well as some ski town squads from Winter Park, Steamboat and Telluride.
Games will be at the school field and Rainbow field all day Saturday as teams battle through pool play. The Kickers face a Colorado Springs team at 8:30 a.m. at Rainbow and then head to the school field to play Steamboat at 11:30 a.m. The first day of the tournament concludes with drinks, a pasta feed and skills competition at the Rainbow Pavilion at 7 p.m.
Sunday is when the stars shine. Every team gets a third game Sunday morning but only the top teams from each division will battle in the semis Sunday at 9 a.m. The championship game is slated for 1:30 at Rainbow Field on Sunday.