Get your cowboy or cowgirl on
It is rodeo weekend in Gunnison with Cattlemen's Days. Take the time to check out an authentic part of this valley's culture Thursday, Friday or Saturday at 7 p.m. The rodeo really is a fun place to be this weekend.
KBUT's Fish Fry July 17 
Every summer, KBUT is proud to host the Friday Night Fish Fry, a fun-filled community party held in Crank's Plaza right outside the KBUT studios in Crested Butte, and this summer it's Friday, July 17 starting at 4 p.m. and going on until 8 p.m. Catfish, crawfish, beignets, coleslaw, cornbread, red beans and rice with Andouille sausage, homemade desserts, craft beers and specialty hurricane cocktails are all on tap for this annual celebration of the KBUT radio program "The Friday Night Fish Fry" which has been airing for 19 years. The Fish Fry raffle has some great prizes including custom Romp skis, Norco townie bikes, Phish tickets and hotel stays in Telluride and Ridgway. For more information contact KBUT at (970) 349-5225.
Townie Books to host author David Gessner
Author David Gessner will read and sign his new book, All the Wild That Remains: Edward Abbey, Wallace Stegner, and the American West, on Thursday, July 16 at 6 p.m. at Townie Books. The event is free and open to the public. Gessner explores the legacies of writer-environmentalists Abbey and Stegner and the intertwining literary lives of the two men. The book tackles the contrast between the boozy, irascible, lustful Abbey, known for his Monkey Wrench Gang, and the buttoned-down, disciplined professor Stegner, Pulitzer Prize-winning author of Angle of Repose. In a region beset by droughts and fires, by fracking and drilling, and by an ever-growing population that seems to be in the process of loving the West to death, Gessner asks: How might these two farseeing environmental thinkers have responded to the crisis?
Wine tasting fundraiser at Old Rock
Janet Farmer, president of the Crested Butte Friends of the Library, has chosen four of her favorite Italian wines to share with guests at the second wine tasting fundraiser of the season. The fundraiser will be held on Tuesday, July 14 at 6 p.m. and tickets can be purchased at the Old Rock Library for $30 each. Aaron Tomcak, the sommelier for the evening and owner of Mountain Spirits Liquors, will discuss the characteristics of the four wines and be ready for questions. All proceeds will benefit the Old Rock Library throughout the year by funding material purchases and speakers. For more information go to gunnisoncountylibraries.org/calendar.
Make a Splash: Beginning Watercolor at GAC
Learn about watercolor paints, brushes, values and drawing in a fun, nurturing atmosphere on Thursdays from July 9 through July 30 from 6 to 8:30 p.m. at the Gunnison Arts Center. Karen Hill will teach this four-week session. The course fee of $60 includes all supplies. You will be amazed at how quickly you progress. Learn to see like an artist, develop basic drawing and brushstroke techniques, and learn the value of light and shadow to add drama to your paintings.
Teen Hip Hop at the GAC 
Teens, learn hip-hop steps Wednesdays through August 12 from 6 to 7 p.m., ages 13-18, for $55 for the six-week course with instructor Christy Besecker in the Gunnison Arts Center Dance Studio. This introductory-level hip hop class provides a structured method of learning various hip hop dance movements in a fun-filled and vibrant class environment and offers a new set of combinations and routines every time.
Birthdays:
July 9– Kathy Joyce, Sean McEachen, Cory Watt, Monica Bilow-Makler, Neil Windor, Pete Basil
July 10– David Fischer, Alexandra Hudson, James Ray Spahn
July 11– Angie Hornbrook, Suzanne Hadley, Kathleen Curry
July 12– Mary Holder, Glena Galloway, Derek Shomler, Randi Stroh, Mark S. Peterson
July 13– Addie Raab, Mandy Griffith, Steve Reep, Mary Pavillard, Addison Raab, Owen Murray
July 14– Bookie Louise, Lipstick, Mark Calve, James Bivens, Fred Koval
July 15– Hank Ebbott, Kat Cooke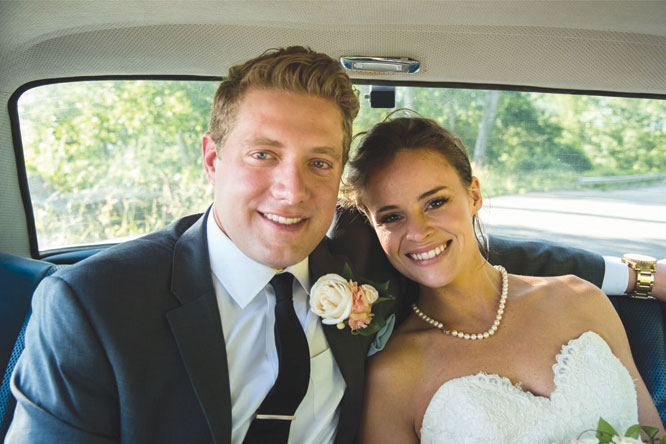 CONGRATS!:  CB locals Willy Coburn and Katherine Oliver tied the knot on June 20, 2015 in Asheville, North Carolina. The newlyweds are now back home in Crested Butte.    courtesy photo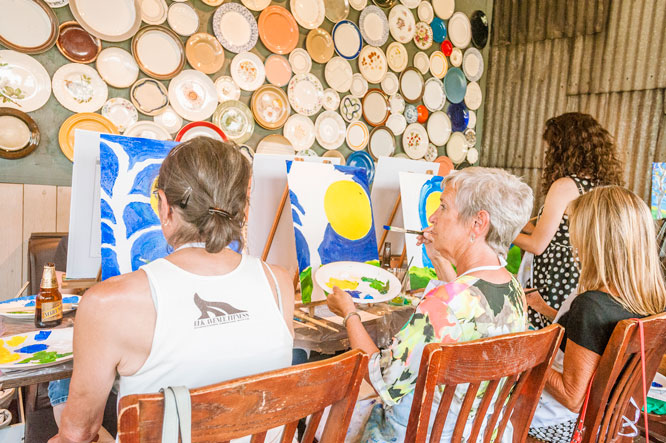 WINE AND PAINT: Art hour at Bonez was complimented with some good wine and beer.
photo by Petar Dopchev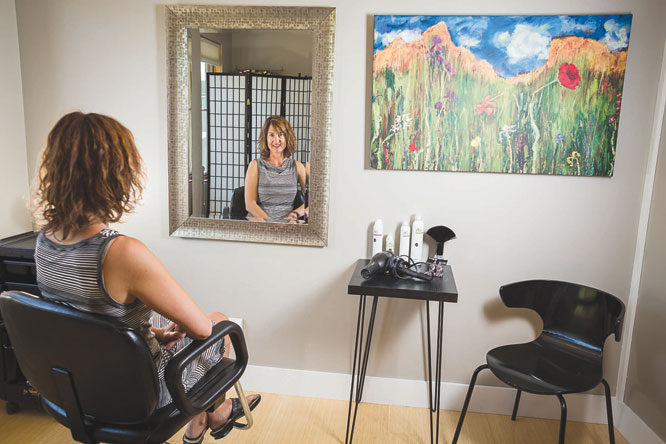 STUDIO BE:  Rebecca Elkins has opened Studio BE hair design, a hair salon that specializes in cuts and color for men and women.  Retail hair products are also available.  Studio BE is located at 306 Bellview and can be reached at (970) 596-8721 to make your next appointment.  photo by Lydia Stern
Cameo Question: What did you do for the 4th of July?

Watched the fireworks from my deck and worked at Treasury Liquors.
Brien Morse

Worked all day, partied all night.
William Gayle

Watched the fireworks from the Peach Tree lift.
Parker Barry

Enjoyed the fireworks from my hot tub.
Jessie Blitz

Spent it with my wife.
Jeff Slack