by Adam Broderick
Editor's Note: There is more to living in a resort town than the difficulty of finding a place to live or the long political discussion over how to provide so-called affordable housing. Reporter Adam Broderick looks at different angles of the issue in this summer series that explores what it's actually like to live in deed-restricted affordable housing in Crested Butte and Mt. Crested Butte.
Last week we spoke with elected officials and housing authorities in other mountain resort towns—Park City, Telluride, Jackson Hole and Aspen—about their efforts to house their local workforce and how they each plan to offer housing for employees in the future. Well before the most recent economic recession, resort towns faced a housing "crisis," and it's on the table again. Finding and providing affordable housing is a challenge, particularly where a high quality of life is the area's main attraction. This week we discuss opportunities for local organizations in this region and future plans to help house the local workforces.
A little background
Homes that used to be listed under $500,000 on the free market are no longer available in this valley.
"Or, the quality of those homes is a bit more questionable," said Russ Forrest, assistant county manager for community and economic development. Forrest explained that there is a lot of competition for anything that's available for rent in both the upper and the lower Gunnison Valley. But he thinks the private market in the lower valley hasn't yet had a chance to respond. Even though affordability is greater in the lower valley, Forrest said there aren't a lot of built homes available for purchase.
"A report from 2014 showed 25 percent of people renting in Gunnison County spent 50 percent of their income on rent," Forrest said. "In April 2015, the median price of a 1,500-square-foot home north of Almont was $683,750. That's the median price. The average price would be more than $1 million. In terms of income to afford that, that's approximately $130,000—and 9 percent of the population makes that sort of money."
As for Crested Butte, town planner Michael Yerman said the town is making a huge difference in affordable housing. "We currently have 204 units. We're going to add 91. If over a quarter of our housing stock in town is deed restricted for affordable housing, we're doing a pretty good job," he said. "I see our future is with regional collaboration with the county. This is a countywide issue, not just a Crested Butte issue."
On the horizon
In Gunnison County, Forrest said there are still opportunities to do something about affordable housing. "Unlike the I-70 corridor or the Roaring Fork corridor, we still have land opportunities. Through the One Valley Prosperity Project [OVPP] we see that as a tool and a forum to deal with regional issues like this. We don't know all the issues yet, but by connecting mass transportation, like the Rural Transportation Authority connecting Crested Butte South where a lot of employees are, and with the connection it has to Gunnison, you have the infrastructure to be strategic about where to put housing," he said.
According to Forrest, from a regional standpoint, the idea is to connect transportation to housing opportunities and create the maximum bang for the buck. "A needs assessment study [a near-future project of the GVRHA] could tell us how many employees are out there and need housing," he said. "There are land opportunities in and around Gunnison. There are approximately one million square feet between Camp 4 Coffee and Tully's in Crested Butte South that have been approved in the context of mixed-use development. So there are land opportunities, but the next step is figuring out how to do it.
"It's a tough problem to deal with. I've always said I had a full head of hair before I dealt with housing problems in the mountains. You don't change it overnight," Forrest said.
Yerman said the new deed-restricted rental development in the town of Crested Butte called Anthracite Place, which will be located at Sixth and Belleview and offer 30 deed-restricted units, is anticipated to be done next July. There is a five-year build out expected for Blocks 79, 80 and 76. The town broke ground on Blocks 79 and 80 on July 8. Roads and utilities are being installed and affordable housing options should be first available for the local workforce in the spring of 2016. Block 76 probably won't begin for about five years, due to budgeting constraints.
"Right now our biggest goal is to have anything we do with affordable housing be successful for the applicant or the person living in it," Yerman said. "Too often we overregulate or devise things that look good on paper, but when it comes down to the person actually building and paying off the loan, they could potentially be in a situation that is not successful for them. So we work to create—whether it be through ownership or rentals, we'll get there."
The town of Mt. Crested Butte also wants to maximize the availability of affordable housing, but David Clayton, mayor of Mt. Crested Butte, said there is limited vacant land for new affordable housing projects. He also said Mt. Crested Butte does not have a sustainable mechanism to generate funds the town can spend on housing.
"We have quite a few lots available in the Homestead project in Prospect and the town has architectural plans developed for the next building that will be constructed but we do not have sufficient funds in the affordable housing fund to start the next building," Clayton said. "Income to that fund comes from affordable housing fees charged to new commercial projects, which have not happened lately in Mt. Crested Butte."
Erica Mueller, director of innovations and relations at Crested Butte Mountain Resort (CBMR), told the News that the Homestead project at Prospect was put together in conjunction with CBMR and the town of Mt. Crested Butte.
"CBMR constructed all of the basic infrastructure, roads and utilities, etc. Also, as per the annexation agreement, we deeded 16 lots to the town and we own/owned 25 lots. We built and sold six units in 2007/2008 and then we all know what happened with the economy, so we haven't built anything up there since then. Currently both CBMR and the town have lots that can be built on as part of this affordable housing neighborhood," Mueller said.
Mt. Crested Butte town manager Joe Fitzpatrick provided some facts concerning workforce housing in Mt. Crested Butte:
—There are 63 rental or owner-occupied units with some type of deed restriction.
—A triplex has been designed in the Homestead (Prospect) subdivision and is ready for construction; however, the funds are not available to construct the building.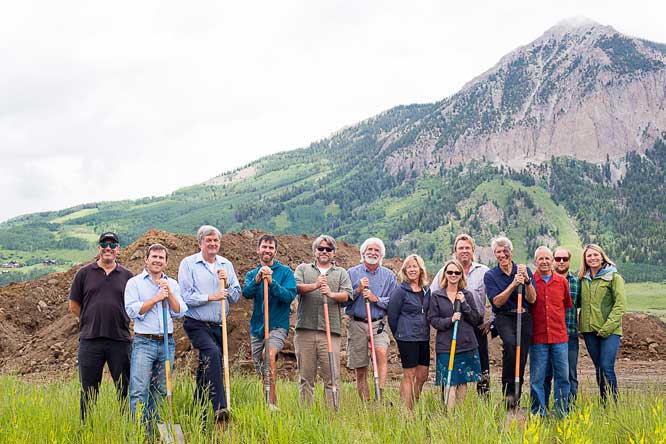 —The Timbers Apartments (old Marcellina Apartments) are currently going through a major remodel; seven of the units are deed restricted and will once again be available for occupancy when the building remodel is complete.
—There are multiple "free market" multiple family lots in Mt. Crested Butte that could be used for the construction of "workforce housing;" however, considering today's market and the cost of construction, the economics for rental housing have not been attractive to developers.
—The town owns only one other piece of vacant land, Inn Site II, and it currently serves as a parking lot. [Locals know it as the "Rasta Lot," at the corner of Gothic and Treasury.]
According to Clayton, "It takes so much money to build a unit, over a million dollars for a triplex to be built. We really lose about 50 percent of construction costs."
Clayton believes the town of Mt. Crested Butte would be willing to look at creative ways to build new units, but they don't even have a good statistical handle on what the true need is. "That's one of the things that the county, the GVRHA and the municipalities are looking at—updating our housing studies," he said.
Local businesses chipping in
Some of the larger businesses in the area have been providing affordable employee housing for years, and some are just starting to make moves in that direction. CBMR, Irwin/Eleven, and RMBL offered some insight.
At CBMR, Mueller explained that the resort manages units they rent to employees in the Lodge at Mountaineer Square, Crested Mountain Condos and The Plaza. For winter housing, they work with some properties in Almont and Gunnison to house some international employees and other employees. As for the future, Mueller said CBMR is exploring options for more development but nothing is set in stone.
"Anything we would or could do is at least a few years out, as it would require a lot of financing, permitting, planning, constructing, etc.," Mueller said.
At Irwin, Jake Jones, director of North American operations for Irwin Guides, said Irwin/Eleven has four suites located within the town of Crested Butte. Two of the suites come with employment and two of the suites rent to employees at 50 percent below market rate. All the suites are furnished and include utilities.
"We often use housing as an incentive for our internship program or for traveling staff that may be working in Crested Butte from overseas or out of state," Jones said.
At the moment there are no future plans for more employee housing at Irwin/Eleven.
Rocky Mountain Biological Laboratory isn't immune to the challenge either. "Housing is a real problem for us. RMBL's future opportunities are currently limited by the ability of scientists and permanent employees to find offsite housing," said RMBL executive director Ian Billick.
Approximately 11 full-time employees live on-site for free. Billick said the staff gets meals and RMBL handles utilities. "RMBL will have approximately 70 people on payroll this summer, about half of whom are working full-time or close to full-time. There is also growing demand by scientists to use RMBL's services. The ability to find housing offsite has been important to accommodating this demand. This summer has been a real wake-up call, however. We're actively exploring options and looking for other employers who might want to collaborate with us," Billick said.
So far, the consensus is that life ain't easy for the majority of residents in mountain resort towns. Tune in next week for Part IV of Living the Resort Town Life. We'll dive into the history and future of deed restrictions in this region and hear what other local stakeholders and decision makers think of the direction we're headed with housing for locals.