Winter is knocking
Okay, it started feeling like the transition from summer to winter began this week. Snow on the peaks, chilly temps and the town crew going around collecting bike racks and benches. Remember to remove all bicycles from Town bike racks in preparation for winter. If they are locked, the locks will get cut soon.
Snow Sports Swap
Gear up for winter! Crested Butte Snowsports Foundation and Crested Butte Nordic are hosting the annual Snow Sports Swap on Friday, October 23 from 6-9 p.m. and Saturday, October 24 from 9 a.m.- 1 p.m. at the Lodge at Mountaineer Square. Unload your old gear and pick up some slightly used new gear. For more information check out crestedbuttesnowports.org or cbnordic.org.
WESA soccer club fundraiser 
Save the date: West Elk Soccer Association (WESA) is hosting its second annual Golden Goal Fundraiser on Friday, October 30, from 6 to 8 p.m. at Bonez. Join others for a margarita, celebrate the end of the fall soccer season and hear about what's coming for 2016. Tickets are $25 and can be purchased in advance at westelksoccer.org or at the door. WESA relies heavily on business sponsorships and personal donations to support our programs. Donations help pay for our program director, coaches, equipment, field rentals and more. Business sponsorships for the 2016-2017 season will be available, including the opportunity to be a uniform sponsor. For more information on sponsorship levels check out westelksoccer.org.
Motor vehicle renewal alert
And this from the county motor vehicles department: "Your November renewal notices from the Department of Revenue have an incorrect expiration date on the backs of your notices. The correct date should be December 31, 2015! Sorry for any worries this may have caused and please be reassured that you are NOT late after the October 31, 2015 date stated."
OVPP gathering November 5
The One Valley Prosperity Project invites you to attend "Prosperity—Getting From Here to There" on Thursday, November 5, at 5:30 p.m. at the University Center Ballroom. The OVPP definition of prosperity is ambitious in that we want to protect what we love about the community and we want our community to be better. We are seeking feedback to confirm goals, brainstorm challenges and guide action planning. Free food, drinks and childcare will be provided. More info at www.onevalleyprosperity.com or call Cathie Pagano at 970-641-7985 with questions.
Become a comic book artist
Do you like to write interesting stories and dream up exciting characters? The comic book illustration class is the Gunnison Arts Center class for you. Learn drawing, inking and shading techniques used by professional comic book artists to create your very own story line. Students will leave class with a completed comic book. Class will be Wednesdays, 4:15 to 5:45 p.m. from November 4 to December 16, with instructor Cameron Andrzejczak. The cost is $45 and includes all supplies. Call (970) 641-4029, stop by 102 S. Main St. or go to gunnisonartscenter.org for more information or to pre-register for class.
Birthdays:
October 22- Dave Rose, Everett Garcia, Ilo Hawley, Tracy Davenport
October 23- Sarah Smith, Drew Braunell, Katey Nelson, Kristy Swanson, Cody Buchholz
October 24- Megan Paden, Spencer Reeves, Lynne Quint, Brenda Snyder, Dylan Alagna, Lori Annarelli, Donna Spahn
October 25- Ted Evans, Willy Hamblett, Hallie Phillips
October 26- Annie Coburn,
Michelle Austin
October 27- Frank Glick, Jack Linehan, Raye Lynn Malzhan, Matt Smith, Maria Merritt, Amber Jeck
October 28- Jackson Cooper, Jim Dean, Russ Lallier, Nick Lypps, Danny Stoneberg
Cameos: What is your favorite fall fashion item?

Wet suit
Ross Tunkey

Knit sweaters
Olivia Guerrieri

Hockey skates
Maggie Dethloff

Elk
Laurel Walker

Boots
Cindy Ervin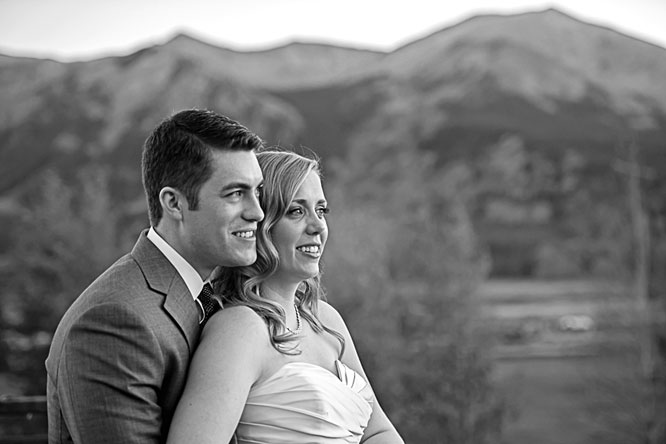 FALL WEDDING:  Ashlea Mangum and Matt Sheridan were married at the Woods Walk on September 19, 2015. Their reception was held at The Club at Crested Butte.  photo by Alison White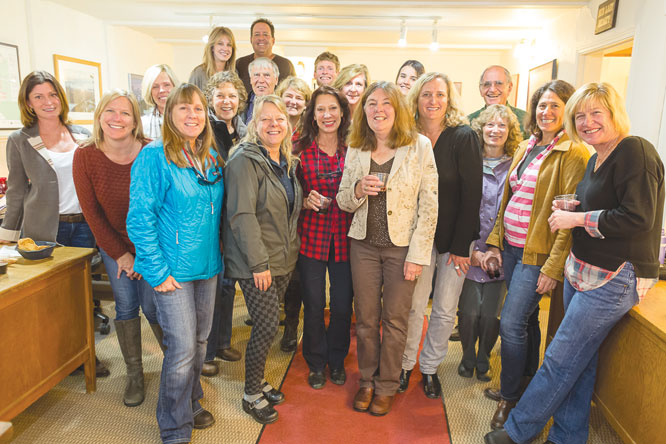 HAPPY RETIREMENT:  Red Lady Realty celebrated the retirement of Kathy Hooge on Monday, October 19.  photo by Lydia Stern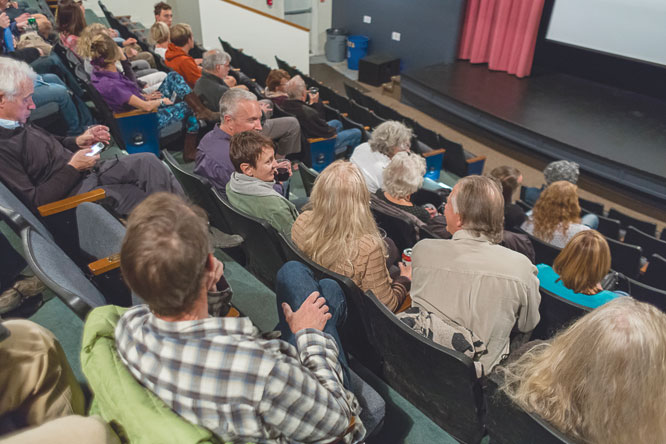 MONTHLY SERIES:  The Crested Butte Film Festival hosted a screening of  The Little Death at the Center for the Arts on Thursday, October 15.  photo by Lydia Stern