Adopt a Family
The Holidays are upon us and it is time for giving!  "Adopt A Family" is an anonymous program, through Oh Be Joyful Church, in which families in need are "adopted" by local families and organizations. The adopting families or companies provide Christmas gifts (needs and wants) for families who can benefit from this assistance. The names of adoptees do remain anonymous. If you know a family that is in need of assistance this Christmas, or if you would like to Adopt-A -Family for Christmas, please contact Rosalind (918) 645-2109 for more details.
Warren Miller film Thursday
On November 19, Warren Miller Entertainment returns to Crested Butte with its 66th ski film, Chasing Shadows. The film plays as part of the Crested Butte Film Series, November 19, 7 p.m. at the Center for the Arts. Tickets are $15 and are available at cbfilmfest.org, the Center, and any remaining, at the door. The film also takes a glimpse into the world of the U.S. freestyle team with skier Jonny Moseley, and snowsports that live on the fringe: monoskiing, powsurfing and speedriding—the obscure multitudes of ways to get yourself down the hill.
GAC presents Muscle Shoals
The Gunnison Arts Center's monthly film series will screen Muscle Shoals, a documentary about a place filled with magic and music, legend and folklore. The film will run Saturday, November 21 in the Gunnison Arts Center Black Box Theater. Doors will open at 6:30 p.m. The film will start at 7 p.m. A full bar and popcorn will be available. Admission is $10.
Poetry at the Gunnison Arts Center this Friday
The Gunnison Arts Center and Headwaters Poetry Festival Reading Series presents Shelley Read, Toni Todd and special guest Danny Rosen. Stories and poetry begins at 6:30 p.m., Friday November 20. General admission is $10,and for students, $5. Danny Rosen runs the Lithic Press and the Lithic Bookstore and Gallery in Fruita. Shelley Read has taught writing, literature, environmental studies, and other subjects at Western State Colorado University since 1991. Toni Todd is lecturer in strategic communications at Western.
Town Hall meeting with a state senator
State Senator Kerry Donovan is going to be having a town hall meeting in Crested Butte on November 24 from 9 a.m.-10:30 a.m. at Rumors Coffeehouse.
Baby Boom
Mason Authur Chester was born on October 7 at 5:30 p.m. to parents Shannon and Wes weighing 7 lbs. 2 oz. and measuring 19 inches. Tristin James Clarke was born on October 2 to parents Katie and Aaron at 7:41 a.m. weighing 8 lbs. 15 oz. and measuring 21 inches. He has three sisters: Morgan (age 9), Moriah (age 7), and Lena (21 months old). Dane Roberson was born to parents Heather and Dave on September 29 at 5:20 a.m. weighing 6 lbs. 8 oz. and measuring 18 inches. He has one four-year-old brother, Grant.
Birthdays:
November 19- Than Acuff, Jennifer Rose, Cindy Azud, Lyndsey Oberosler
November 20- Erin Garcia, John Theis, Alain Boscaro, Dylan Boscaro
November 21- Scottie Moss, Kate Grimes, Mark Sawyer, Mac Bailey, Tricia Guthrie
November 22- Calla Cloud, Hannah Valian, Chris Muhr
November 23- Matt Berglund, Mike Raterman, Andrea Ouimet, Logan Boscaro
November 24- Justin Hastings, Theodore Trujillo, Dylan Tyzzer
November 25- Loree Mulay Weisman, Charlotte Rotner, Alison White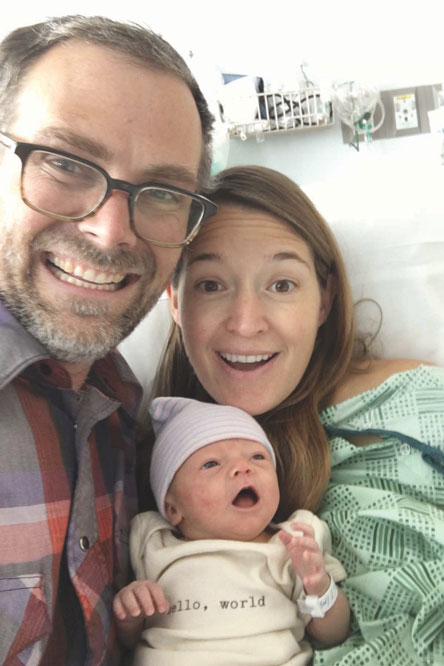 CONGRATULATIONS:  Josie Grace Ward was born to parents James and Jenny on November 11 at 7:58 p.m. weighing 5 lbs. 1 oz. and measuring 17.5 inches.  courtesy photo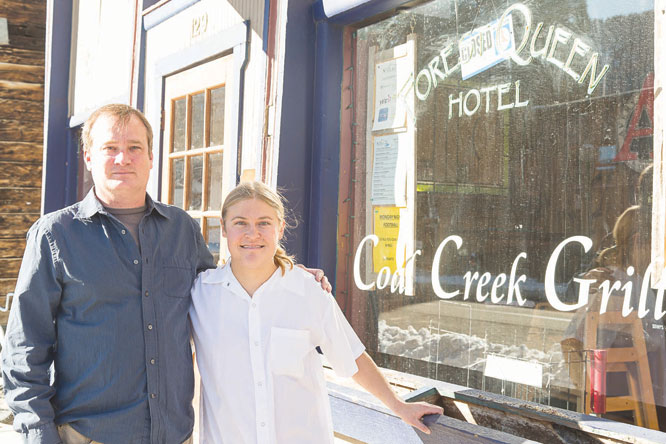 NEW OWNER:  The Coal Creek Grill has changed hands. Douglas Dodd, a seasoned pro in the restaurant business, has taken ownership of the restaurant and historic Forest Queen Hotel. Chef Ashley Davis will feature her culinary talents as head chef.  photo by Lydia Stern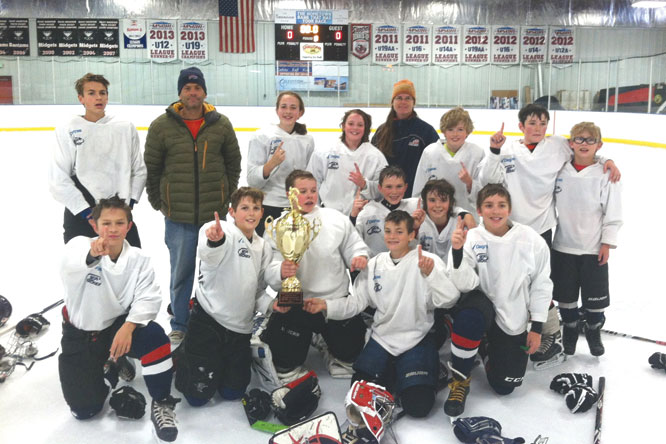 WHITE OUT:  The WEHA Pee Wee "White" team won the Pee Wee Drop the Puck hockey tournament in Gunnison last weekend.  courtesy photo
cameos: How do you fire up for opening day?

Cleanse the system before the abuse to come.
Julia Kortz

Pre-rolls and PBRs.
Terren Judson

Skis are waxed, not in the locker yet, but I'm good.
Gordy Spencer

Load the sled, head for
deeper snow.
Brant Gruber

Lots of squats.
Courtney Burton