Magic Meadows 7
The Magic Meadows 7 is this Saturday, January 9 from 8 a.m. to 3 p.m. based out of the Magic Meadows Yurt. The MM7 is a fundraiser for the Crested Butte and Gunnison Nordic teams and participants can ski on their own, in a team, in spandex or in costume. All ages and abilities are welcome. Cost of entry is $25 in advance, $30 the day of and includes free food, beer and a raffle ticket. For more info check out cbnordic.org.
The World's Largest Ski Lesson is Friday, January 8 at 10 a.m.
CB Nordic is participating in The World's Largest Ski Lesson – A Guinness World Record Event on Friday, January 8 at 10 a.m. The lesson will be a beginner – intermediate classic lesson and will be half price ($25 and $30 with rentals).  You can sign up at the front desk or by calling the Center at 349-1707.  Each participant gets a certificate for participating in the World's Largest Ski Lesson!
The Junior Team Yurt Dinner Fundraiser is Saturday, January 16 at 6 p.m.
The Crested Butte Nordic Team will host a Yurt Dinner Experience on Saturday, January 16 at 6 p.m.  The dinner includes trail passes for the day, equipment rentals, transportation, guides, a five course dinner, live music, and libations.  CBNT skiers and coaches will ski with participants and provide service at the yurt.  To request a reservation, visit cbnordic.org.  Come on out to support the team during this special Yurt Dinner.  Remember, season pass holders receive a one-time special yurt dinner discount.
Syllables & Sound  will showcase local talent on Friday, January 22. 
Calling all musicians, songwriters, bands, bards, spoken word aficionados, poets, short story writers, performance poets and all other forms of musical and written art! Celebrate the local talent of the Gunnison Valley by signing up as a performer and sharing your art with your community. Sign up by January 21. Required sound check at 4 p.m. January 22. Contact Joe Knight at (214) 364-3222 or joe@crestedbuttearts.org to sign up.
STAYCEE PEARL dance project: PLAYGROUND coming to CB
The Pittsburg-based STAYCEE PEARL dance project (SPdp) interprets and mirrors the human condition through dance and dance-centered multimedia experiences. Using journaling, improvisation, and collaborative discussion, the troupe created a youthful world that reflects the varied ages, backgrounds and experiences of its members. They will be at the Center for the Arts on Wednesday, January 20 at 7 p.m. Opening performances will be held by the Crested Butte School of Dance and Crested Butte Dance Collective.
Artist reception at the Center:
A Brent Laney Artist Reception will take place Thursday, January 14 from 6:30 to 8:30 p.m. It is free. Brent's show, "My Life in Acrylic," shows his inspiration springing out of day-to-day life – from realistic constructions of business signs on Elk Avenue, to abstract interpretations of wildflowers and mountaintops. Come by the Piper Gallery at the Center for the Arts and check out Brent's artwork.
Birthdays:
January 7- Kathy Hecker, Mike Klein, Zeb Early, Angie Greevy, Gordon Reeves
January 8- Ryan Sylvester, Maggie Chlipala, Mary Martin, Sandy Murphy, Eliane Wissocq, Sandy Parker, Cody Hillman, Elvis
January 9- Jeremy Rowland, Michael Baim, Cotton Harris, Lena Weisman, Megan Clark
January 10- Ben Morello, Mark Soleri, Anthea Schmid, Izzy Acuff
January 11- Alex Theaker, Jeffrey Isacc, Heather Garrison
January 12- Lisa Chase, Jenna Velardi, Ben Gillie, Jackie Scalzo, Josh Harvey, James Patrick Page, Christy Kong-Eaton, Rose Reyes, Mary Hayes-Larson
January 13- MacKenzie Mailly, Darren Glick, Karina Steele, Gary Hillman, Tate Young, Ian Billick, Maria Fenerty, Rob Carney
Cameos: What is your prediction for 2016?

Love and happiness for all Buttians.
Tammie Slack

God will make more of an appearance in people's lives.
Susan Sierra

America will raise the drinking age to 25.
Savannah Padek

Trump is going to die of heppaghonnasyphalaids.
Dean Davis

Bernie Sanders for president.
Andy Testo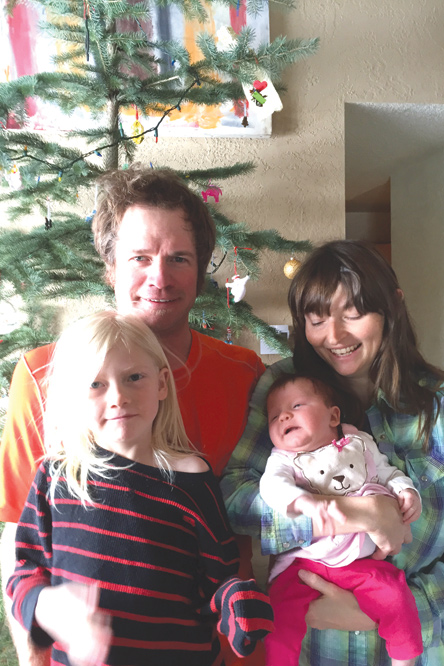 IT'S A GIRL:  Senja Stai was born to Brock and Sarah, joining five-year-old brother Eero, on October 19 at 7:51 p.m. weighing 5 lbs. 14 oz. and measuring 20 inches.    courtesy photo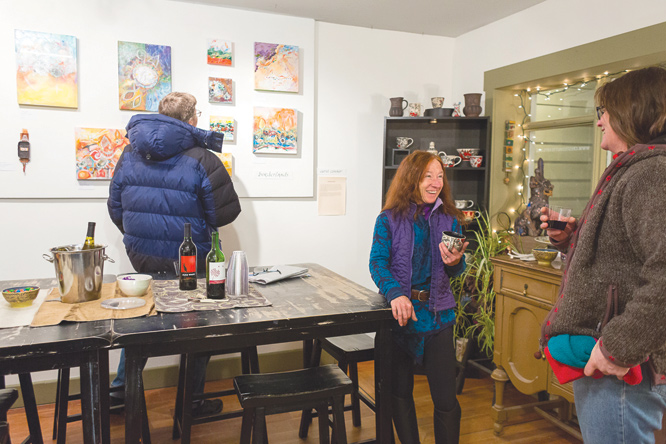 ARTIST RECEPTION:  Carol Connor hosted an opening of her work at the Art Studio on Thursday, December 31.    photo by Lydia Stern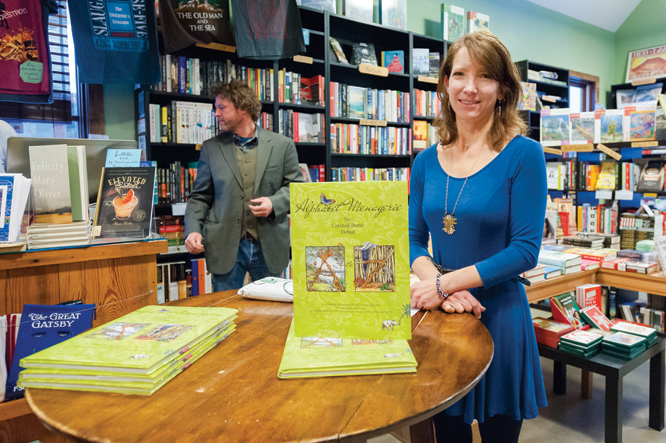 ALPHABET MENAGERIE: Lian Canty hosted a reading and book signing in December, featuring Alphabet Menagerie: The Crested Butte Debut, an illustrated book featuring the art and writing of local authors. 
photo by  Petar Dopchev