Imagine the possibilities: The Environmental Possibilities Series returns
High Country Conservation Advocates and the Western State Colorado University Master's in Environmental Management Program are once again collaborating to present the "Environmental Possibilities Series." These free presentations and inspired discussions will take place on select Sundays throughout the winter at The Guild, in Crested Butte at 21 Elk Avenue. Brian Bernhardt will present "Keeping It in the Ground: Lessons from Contemporary Indigenous Resistance" on Sunday, January 24 at 5 p.m. at The Guild. Light refreshments will be provided. Two other talks are scheduled for February and March. For more information about this series go to www.hccacb.org/events or contact Mel Yemma, community outreach and events coordinator, at events@hccacb.org.
Coat drive starting at end of January
Keller Williams Colorado Heritage invites the community to take part in their warm clothing and coat drive January 14 through the 28.  Keller Williams will be partnering up with St. Mary's Garage, a place of charity in Crested Butte, where community members can find clothing and bedding free of charge. Donations can be dropped off at the Keller Williams office during business hours of 8:30 – 5:30 p.m. weekly and 9 to 5 p.m. on the weekends. The real estate office is located at 211 Elk Avenue in Crested Butte.
River Ice Jam Warning for county rivers
Given the early and significant ice build-up on area-rivers and creeks, residents living in those areas are reminded that unlike spring run-off, ice jams can cause fast and unexpected changes in river levels and conditions, at a time of year we normally would not associate with flooding. Unpredictable at best sums up what to expect of the rivers and creeks in the coming months. For residents living in flood-prone areas, remember that there is a 30-day waiting period for flood insurance through the National Flood Insurance Program. For more information on flood insurance, contact your insurance agent or City of Gunnison Floodplain Manager Eric Jansen 970-641-8151, or Gunnison County Floodplain Manager Neal Starkebaum 970-641-7930.
Life Drawing Session: Nude Model
When you need a break from skiing, come to the Gunnison Arts Center and sketch with fellow artists in Life Drawing Sessions with live nude models on Friday, January 22, from 6 to 8:30 p.m. Artists of all experience levels are invited to join these single-day, live nude model drawing sessions at the Gunnison Arts Center. These fun, professional Friday night sessions will include light instruction and are intended to be an open practice time for artists to hone their skills with facilitator Gail Socivk. Wine and beer will be available for purchase. The cost is $10 for students and $5 for WSCU students. Visit www.gunnisonartscenter.org for registration. These classes fill quickly and the talented instructors are standing by.
Birthdays:
January 14- Ben Frame, Tom Dill, Terry Camp, Ralph Christopher
January 15- Pat Wallace, Kevin Krill
January 16- Ric Ems, Barbara Winter
January 17- Alex Reinhardt, Allan Roman, Toby Martineau
January 18- Al Smith, John Gregg, Elle St. Pierre
January 19- Tanner Gordon, Ashley Sargent, Isabel Aragon, Alan Bernholtz
January 20- Annie Rijks, Blake Woodward, Tim Essig, Aaron Huckstep, Lauren
Murry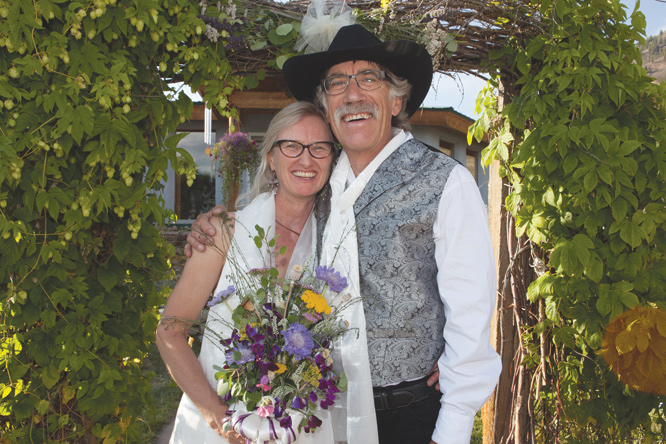 LOVE FEST:  Nancy Wicks and Jim Dirksen were married on August 29, 2015 at the base of Round Mountain and all had a good time!      courtesy photo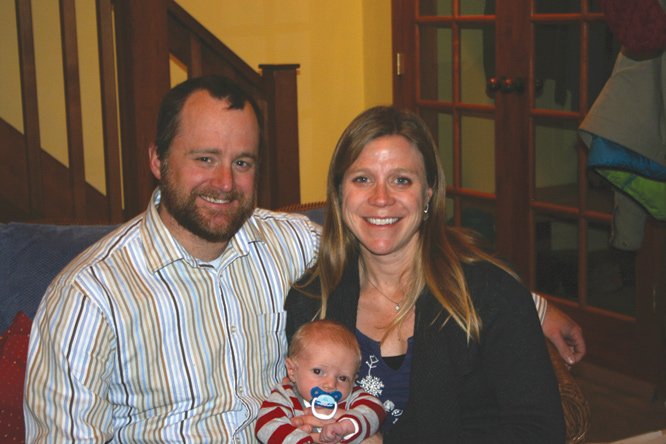 IT'S A BOY:  Fredrick Arthur Schumacher was born to parents Eric and Beth at 4:32 p.m. on December 16, 2015 weighing 7 lbs. 14 oz. and measuring 21.5 inches.      courtesy photo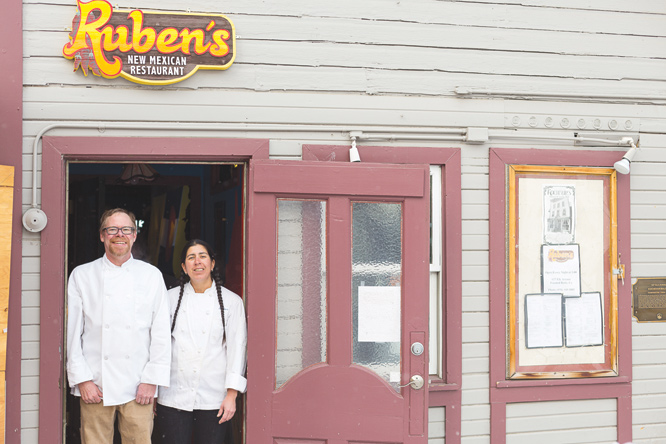 NEW LOCATION:  Owner/Chef Alan Cunningham and Sous Chef Barbara Peters of Ruben's are pleased to bring their traditional New Mexican cuisine to Crested Butte after nine years in CB South.  Now located in the Karolina's Kitchen next to Kochevar's, come enjoy the flavors of Santa Fe!       photo by Lydia Stern
Cameos: What is your favorite winter beverage?

Gang bang
Sue Wallace

Whiskey and a beer
Laura Acuff

Hot chocolate
Lauren Mauldin

Tea
Keely Olson

Agua
Jonathan Augello