Events & entertainment  
Borealis Fat Bike Worlds
It's going to be off the hook. Over 200 riders will invade Crested Butte Thursday through Sunday for the inaugural Fat Bike World Championships. Odells beer will be flowing throughout the entire weekend of events and don't forget to catch Lez Zeppelin on Saturday on the Town Ranch. For all the info you could ever need on the event, check out www.cbchamber.com.
East Side Nordic Closure for Saturday's Fat Bike Worlds
Crested Butte Nordic is proud to provide the venue for Saturday's Fat Bike Worlds race which will be taking place on the East Side trails on Saturday, January 30. All East Side Trails will be closed from 10 a.m. until 2 p.m. with the exception of the Town Ranch and the Riverbend Connector which will remain open.
Go Deeper
The Crested Butte Avalanche Center and the Brick Oven are hosting the third annual Go Deeper beer tasting event at the Brick Oven on Friday, January 29 from 7-10 p.m. Beer from Colorado breweries will be on tap for tasting and there will be a raffle. It costs $25 for unlimited samples, $20 if you are a CBAC member, please bring your card. Proceeds to benefit the CBAC.
Kickin' it Old Skool this February
The Crested Butte School of Dance brings their third annual winter showcase "old skool" sty-lee, to the Center for the Arts stage Friday, February 5 at 7 p.m. and Saturday, February 6 at 4 p.m. and 7 p.m."Kickin' It Old Skool" brings rad remixes and ragin' dancers, ages 12 through adult, with extraordinary choreography in tap, jazz, hip-hop, ballet and contemporary dance that highlights the amazing talent and hard work of these dedicated dancers. Tickets for kids are $5 and for adults they are $10. Find tickets and information at dancecrestedbutte.org.
Calling all photographers for Land Trust
If you have taken some incredible images of the Gunnison Valley, share them for your chance to be featured in the Crested Butte Land Trust's 2017 calendar. The annual calendar showcases the beauty and character of Gunnison County while helping to save this place we call home. Submit up to 30 photographs to Claire at the Crested Butte Land Trust, and please include your last name in the title of each. Photos can be submitted on a disc to 308 Third Street or P.O. Box 2224, Crested Butte, CO 81224, or via Dropbox to outreach@cblandtrust.org. Photographs should be print quality, focus on all four seasons and must be taken in Gunnison County. The submission deadline is February 28. Contact Claire at outreach@cblandtrust.org or 349-1206 with any questions.
Birthdays:
January 27-John "Smalls" Lumadue, Crista Shaffer, Blake Courtney
January 28- Nancy Vogel, Jim Truettner, Katie Kupcinski, Ofra Reynolds, Dave Dlugasch
Ja
nuary 29- Julia Kortz, Siena Truex, Anika Jobson, Paul Andersen
January 30- Melissa and Sara Ruch, Erika Hosier, Joel Reycraft
January 31- Edgar Villanueva, Ade Smith, Becky Barkman, Dave Polster, Gracie Coburn, Ellie Feder
February 1- Annie Starr, Molly Minneman, MJ Simmons, Beth Hanson Schumacher, Jeff Scott, JC Leacock
February 2- Scotto Wimmer, Dayna Christy, Gavin Jobson, Lara Moscatelli, Tom Gifford, Adam Radziej, Margaret Ritter, Liz Sotelo, Kendyl Butler-Truettner, Shelby Kopf, Dalynn McEldowney Trujillo
February 3- A.J. Leonard, Annaliese Houseman, Mindy de Compiegne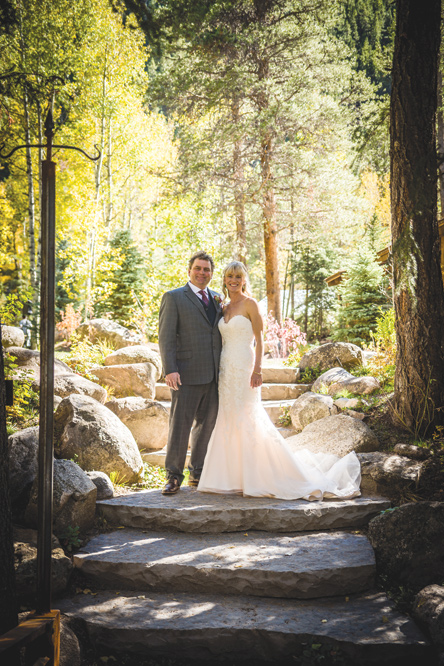 CONGRATULATIONS:  Adam Chater and Ali Fuchs were married amongst family and friends on September 26th, 2015 at the beautiful Taylor River Lodge.  photo by Sweet Tea Studios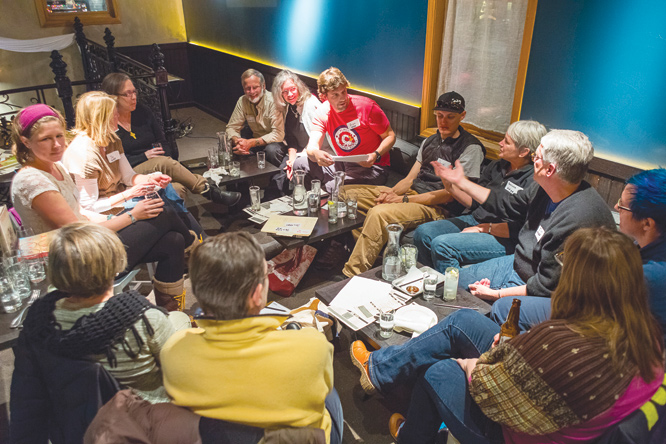 BOOKS-N-BARS:  Readers gathered for a discussion of The Boys in the Boat: Nine Americans and Their Quest for Gold at the 1936 Berlin Olympics by Daniel James Brown at LoCo on Wednesday, January 20.  photo by Lydia Stern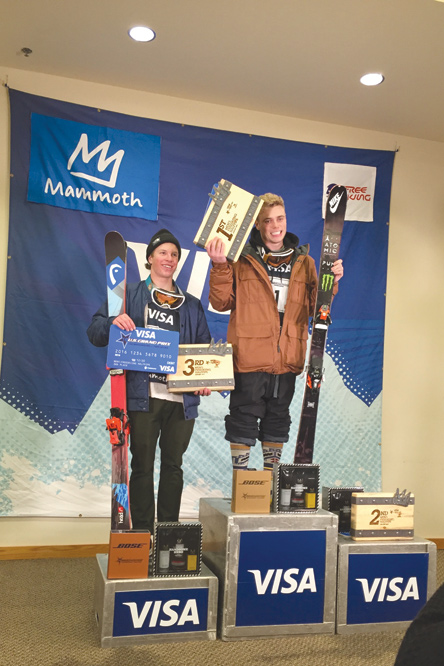 AIRIN' AARON: Aaron Blunck (left) placed third in the skier halfpipe at the VISA U.S. Freeskiing Grand Prix at Mammoth Mountain last weekend.  courtesy photo
Cameos: Besides predicting the early or late arrival of spring, what else would you like the groundhog to predict on groundhog day?

Winning lottery numbers.
Mike Ryan

Who will be elected president? (So we know if we should leave or not)
Kelsey McElroy

Am I going to get in to
Anthracite Place or not?
Holly Harmon

Whether or not our kid is going to be a male.
Brandon McElroy

A win by the Broncos in the Super Bowl.
Bill Carter