Move the Butte is this weekend
The Crested Butte Dance Collective's wildly creative signature production, Move the Butte 2016, celebrates the connection and joy we share through dance. It showcases local adult artists and choreographers of all levels. This year's innovative show features a stunning variety of dance modalities such as rockabilly, contemporary, tango, pop, theatrical, Bollywood, tap, and aerial dance arts. The show grows every year and consistently impresses with its professionally produced homegrown talent. Tickets do sell out for this one weekend performance. Show Times: Friday, February 19: 8 p.m – Saturday, February 20: 4 and 8 p.m.
Local GOP prepping for state caucus
Gunnison County Republicans ask that you "save the date" for the upcoming GOP County Caucus, Tuesday, March 1 in the University Center South Ballroom at Western State Colorado University. From 5:30 p.m. until 6:30 p.m. you'll be able to register to vote or change party affiliation in the foyer outside the South Ballroom immediately preceding the caucus. Doors open at 6:30 p.m. and the caucus meeting begins at 7 p.m. You must be a registered Republican to attend the caucus. With questions, call Jane at 349-7744/ 275-3166 or Brad at 275-2923.
Study opportunity for high schoolers
Late Night Study Hours for High School Finals will be open at Old Rock Library from 7-10 p.m., Wednesday, February 24th. This is a free event: refreshments, wifi, desktop computers, black-and-white printing, scanning, prizes(!) and quiet atmosphere will be provided.
Yappy Hour Trivia benefiting Paradise Animal Welfare Society is coming up
Now's your chance. Show your smarts and be rewarded. Prizes and the reward of knowing you've helped a furry friend have a chance at a better life. Join PAWS at the Brick Oven on Sunday, February 28, from 3 to 6 p.m. There will be fun and games for the entire family. From 3 to 4 p.m., there are  Kid's Trivia, Patio Games and Face Painting (weather permitting). At 4 p.m. the winners of the Furry Friends Bus Contest will be announced. From 4 to 6 p.m. play Adult Trivia. Trivia entry is $10 for a team of two. There will be prizes for the winning teams in both age groups.
Win the Flauschink button contest
Design this year's Flauschink button to win fame and a fat check. Be sure to include the word "Flauschink" and the year. Send all entries to Sherrie Vandervoort, PO Box 152, Crested Butte, CO 81224. All entries must be in by February 26.
Gunnison Business Women present a healing event
A healing event—Interact, Engage, Learn, and Ask—will take place February 27 from 10 a.m. to 2 p.m. at the Fred Field Center, with table presenters and lectures. Focusing on natural healing options and self-care for women. For more information, contact Gunnison Business Women at (970) 275-0323.
Birthdays:
February 18- Donna Arwood
February 19- Trent Sweitzer, Laura Martineau, Polly Oberosler, Marie McHale, Royal White
February 20- Donna Rozman, Honeydew Murray, Diana Graves, Pierre Choucroun, Tom Caron, Slater Weil
February 21- Ben Arwood-Levine, Abby Hird, Karah Cunningham
February 22- Rowan Piccaro, Dom Piccaro, Nicholas Gainous, Mary Covelli, Jani Wedmore, Wyatt Williams
February 24- Addison Bogardus, Sherry Deetz Nelson, Ryan Dowell, Sally Hensley, Ryder Miller, James Andrew Herndon, Sarah Steinwand, Skylar Donnell, Michelle Bivens, Anna Cole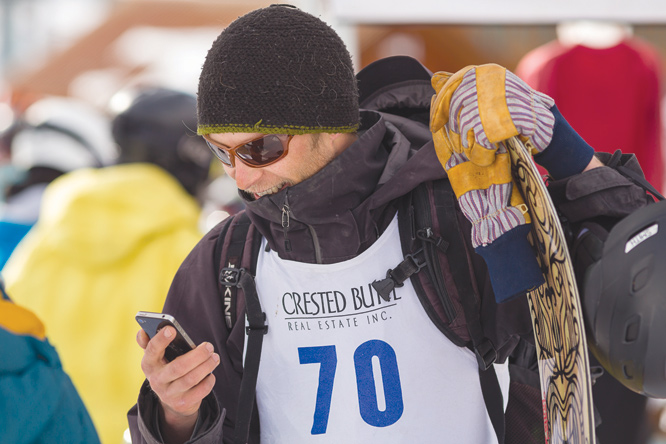 VERTICAL CHALLENGE:  Robbie Vandervoort checked the app on his phone that tracked his progress in the Vertical Challenge, a Snowsports Foundation fundraiser on Sunday, February 14.  photo by Lydia Stern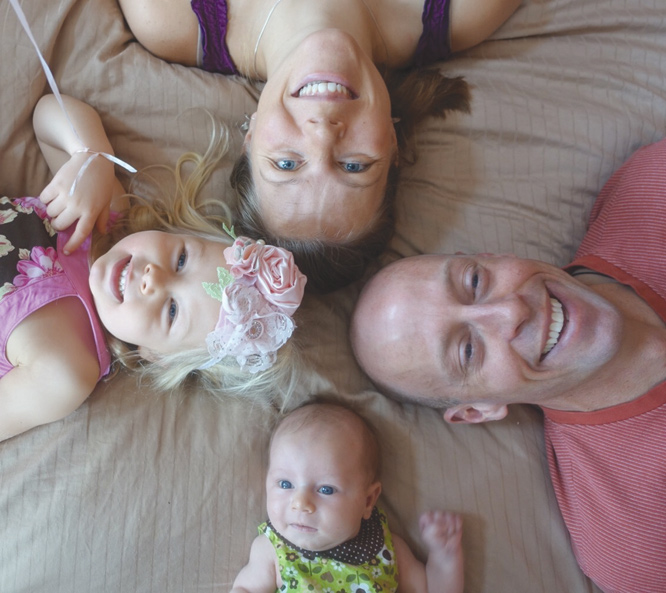 CONGRATULATIONS:  Big sister Reese, along with Sarah and Zeno, are thrilled to welcome Olivia Sydney Tyrer, 7lbs., 20 inches, and a real sweetheart!   courtesy photo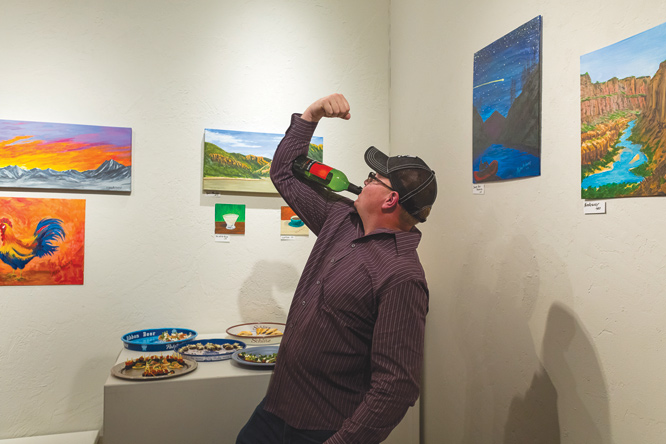 RANDOM PAINTINGS COLLECTION:  An artist reception for Mike Arbaney was held at the Piper Gallery on Wednesday, Feburary 10.  Mike says, "The inspiration had to come from somewhere…"   photo by Lydia Stern
Cameos: What do you do to make it snow?

Crazy snow dance.
Ryan Fraley

Get in the hot tub.
Liz Sequeira

Various sacrifices to Ullr.
Lauren Daniel

Say a prayer.
Jenny Wolicki

Not wear my snow boots.
Erica Canada